'Big Brother 22': Kemi Fakunle Reportedly Warned Bayleigh Dayton and Da'Vonne Rogers About David Alexander Before the Season
In Big Brother 22 Week 3, David Alexander shared a rumor to Da'Vonne Rogers about her trying to flip the votes last week to send him home. He implicated Tyler Crispen and Cody Calafiore, causing the three-time competitor to fact-check with the guys. The small situation has become a big thing in the house, resulting in the main alliance wanting to target David and Da'Vonne. According to Bayleigh Dayton, BB21 star Kemi Fakunle reached out to her and Da'Vonne regarding David before the season.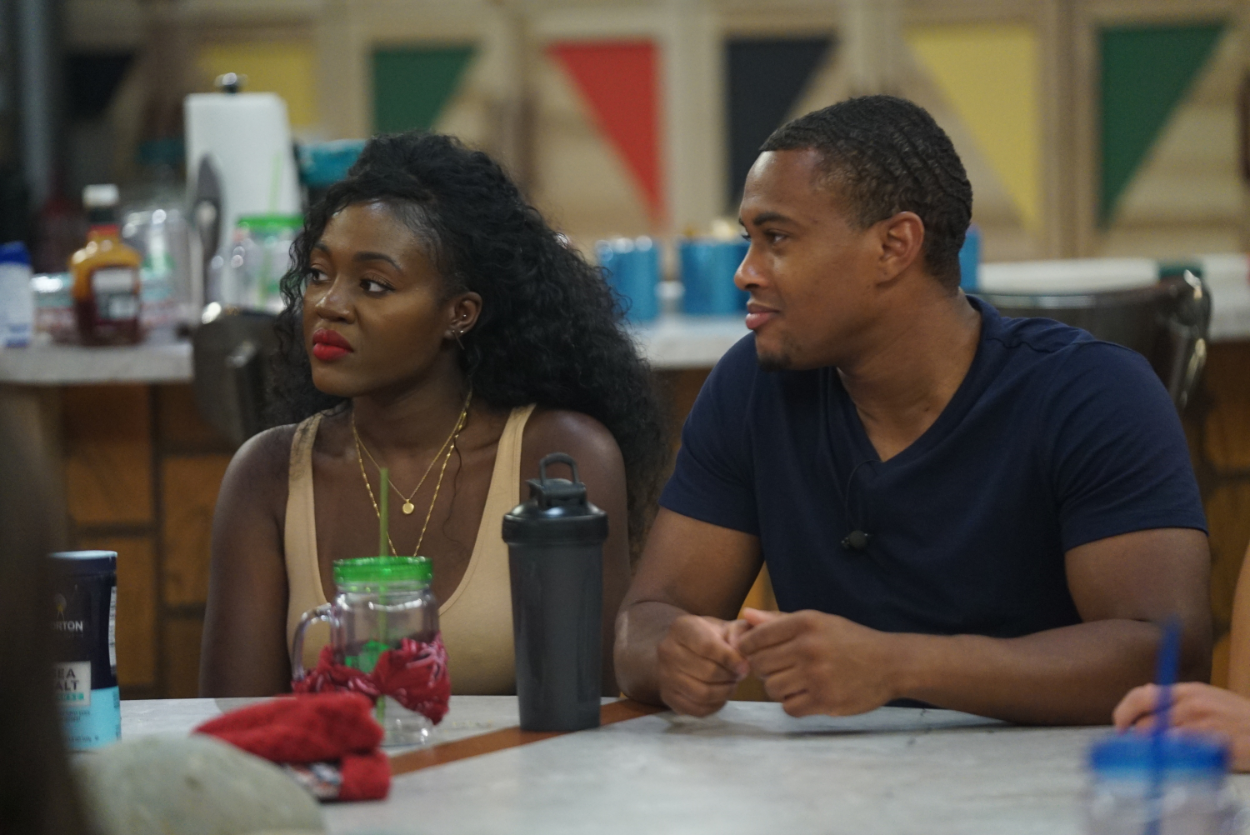 Kemi Fakunle and David Alexander on 'Big Brother 21'
On Day 1 of BB21, newly elected Camp Director Jackson Michie had to "banish" four of his houseguests. He chose David Alexander, Cliff Hogg III, Ovi Kabir, and Kemi Fakunle, nominations many deemed racially motivated.
David did not make his way back into the house after the banishment, earning the first spot in Camp Comeback. The houseguests targeted Kemi in the second week because they felt she played "too hard too fast" and knew she started an all-girls alliance, The Black Widows, thanks to Isabella Wang.
RELATED: 'Big Brother 21': Kemi Talks About That Heated Shaker Bottle Moment and Says Jack Is Egocentric
She ended up getting evicted that week and joined David in Camp Comeback. Both of them lost the re-entry competition a couple of weeks later and were sent home.
During their time in the house, Kemi experienced racism from a few houseguests. David insisted he never heard anything negative until fans sent him clips of the things said behind his back.
Bayleigh, David, Da'Vonne working together on 'Big Brother 22'
Shortly after entering the house, BB20's Bayleigh Dayton, BB17 and 18 Da'Vonne Rogers, and David all wanted to work together for the "bigger picture."
When David ended up on the block during the second week, Da'Vonne told several houseguests she would save him because she couldn't vote out a black person. He advised her to stop campaigning for him because he didn't want people to pair them up, upsetting Da'Vonne.
RELATED: 'Big Brother 22': Who Are the Week 3 Nominations?
Later, David began to doubt his ally as Tyler Crispen told him that Da'Vonne tried to flip the votes to eliminate him. A week later, he confronted Da'Vonne about the accusations, and she became emotional as she felt she jeopardized her game to save him.
The dispute between the group has now spread to several members of the main alliance, as David named Cody Calafiore and Tyler as the people who told him about the rumor, and Da'Vonne wanted to "fact check." Many are confused by David and feel he doesn't understand how to play the game.
Kemi warned Bayleigh and Da'Vonne about David before 'Big Brother 22'
Before David confronted Da'Vonne about the rumors, he spoke to Bayleigh regarding his feelings about their ally. He explained that he gets the "vibe" from Da'Vonne that she's paranoid he's going to turn on her.
Therefore, he doesn't feel as if he can trust her. Bayleigh understands and explains it's difficult for her because she knows David outside of the house. However, Da'Vonne and David haven't spoken before entering the BB house a few weeks ago. Therefore, the mother-of-one hasn't had a reason to trust him yet.
Additionally, Bayleigh explained that Da'Vonne feels wary about David because of the negative interactions he shared with Kemi last season. According to the BB21 star, David did not have her back when the other houseguests were saying racist things.
RELATED: 'Big Brother 21' Winner Jackson Michie Explained Why He Wanted To 'Mule Kick' David Alexander
She then stated that Kemi reached out to both of them after BB21 and shared her story with the ladies. While Bayleigh also heard David's side, Da'Vonne has only heard what Kemi had to say about the situation.
It's unknown exactly what Kemi expressed to the ladies regarding David, but it's made it difficult for Da'Vonne to trust him.
Big Brother 22: All-Stars airs Sundays, Wednesdays, and Thursdays at 8 p.m. EST on CBS. Follow Tamara Grant on Twitter.