'Big Brother': Angela Rummans 'Disappointed' She Didn't Get To See Tyler Crispen Read Her HOH Letter
After Tyler Crispen won his first Head of Household competition of the season, his girlfriend and Big Brother 20 star Angela Rummans wanted to hear him read her letter aloud to the other houseguests. However, she admitted CBS airing a bidet segment instead "disappointed" her.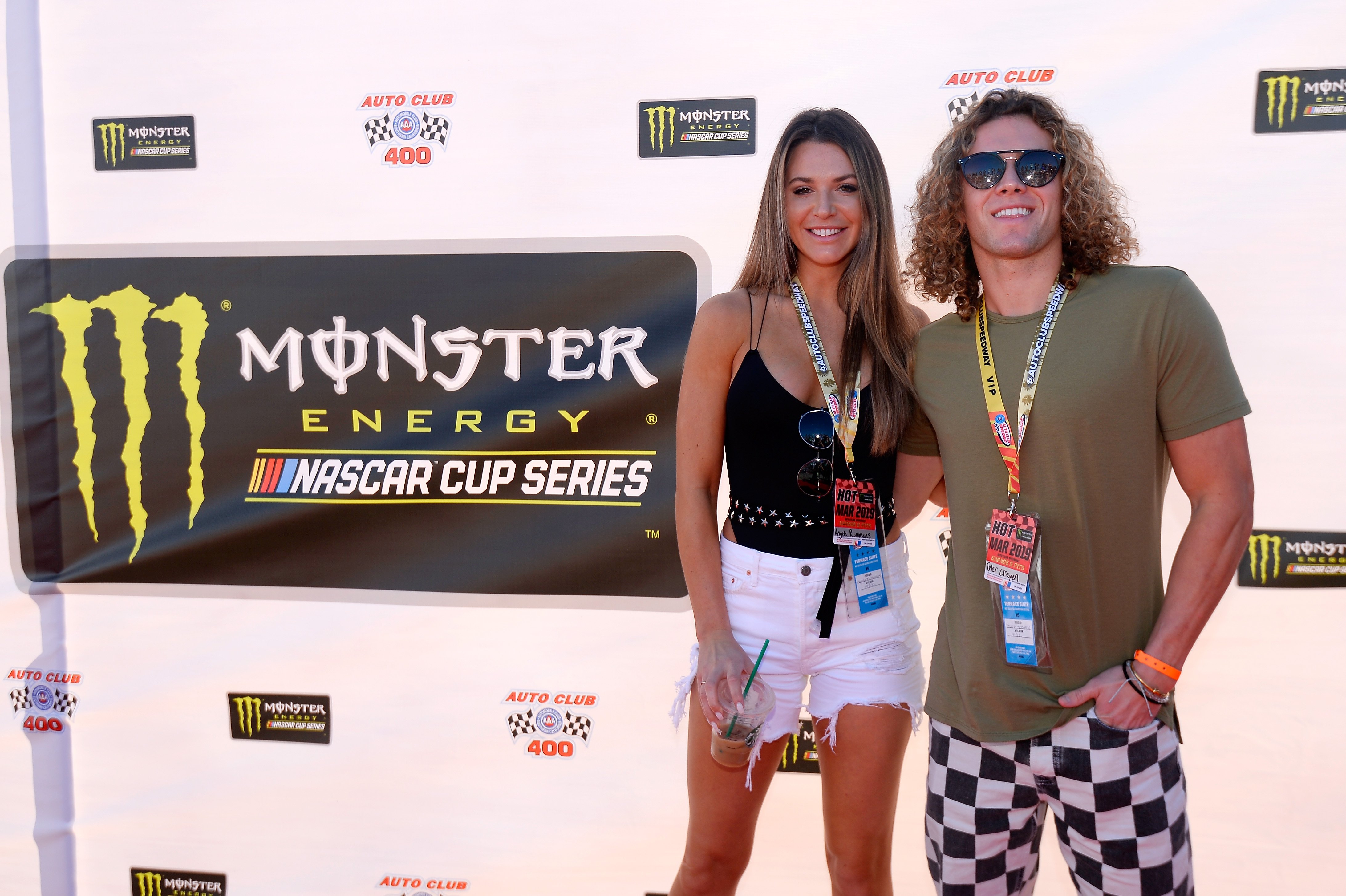 Angela Rummans and Tyler Crispen started dating after 'Big Brother 20'
Two years ago, Hilton Head, South Carolina based fitness model and entrepreneur Tyler Crispen met while competing on Big Brother 20. They quickly found out they were from the same area, and Tyler wanted to distance himself from Angela to avoid the other houseguests believing they were a pair.
However, they didn't stay away from each other for long as Winston Hines formed the Level Six alliance during Tyler's Week 1 Head of Household reign and brought in the future couple.
Angela and Tyler eventually formed a showmance even though they attempted to downplay their relationship to other houseguests. They were also competition beasts and won a total of 11 challenges throughout the series.
Although the couple had a final three pact with eventual winner Kaycee Clark, floater JC Mounduix won the last HOH and evicted the fitness model. Tyler made it to the final two seats but lost in a close 5-4 vote.
Regardless, he won America's Favorite Houseguest and began dating Angela. The two have traveled the world together and opened a jewelry company, Naut and Chain.
After living in California for a while, the couple have relocated back to South Carolina, where they own a house together.
Tyler Crispen returned for 'Big Brother 22'
Initially, viewers thought Tyler would return alongside Kaycee or Angela and wondered how he would play without them. However, the jewelry company co-owner is doing well, even though he clearly misses his girlfriend.
He's already involved in multiple alliances and socializes on a personal level with the other houseguests. The 25-year-old has also shown he can still win competitions as he became the HOH in Week 3.
Even though he seemingly wanted to work with Janelle Pierzina and Kaysar Ridha initially, he ended up nominating the two allies to appease the house.
Currently, the jewelry company co-owner is in one of the best positions in the best and isn't on anyone's immediate hit list. 
Angela Rummans 'disappointed' CBS didn't air Tyler Crispen reading her HOH letter
A perk to winning HOH other than safety and choosing the nominees are the letters the houseguests receive from their families. Cody Calafiore became the first HOH but didn't get a message.
Memphis Garrett won it next and received a heartfelt letter from his son, who filled his dad in on his camp-related experiences. Even though it wasn't featured in an episode, viewers watched it on the Live Feeds.
When Tyler got his room, the feeds cut to stars until after he finished reading his letter from Angela. Additionally, the show didn't include it in the following episode, upsetting his girlfriend.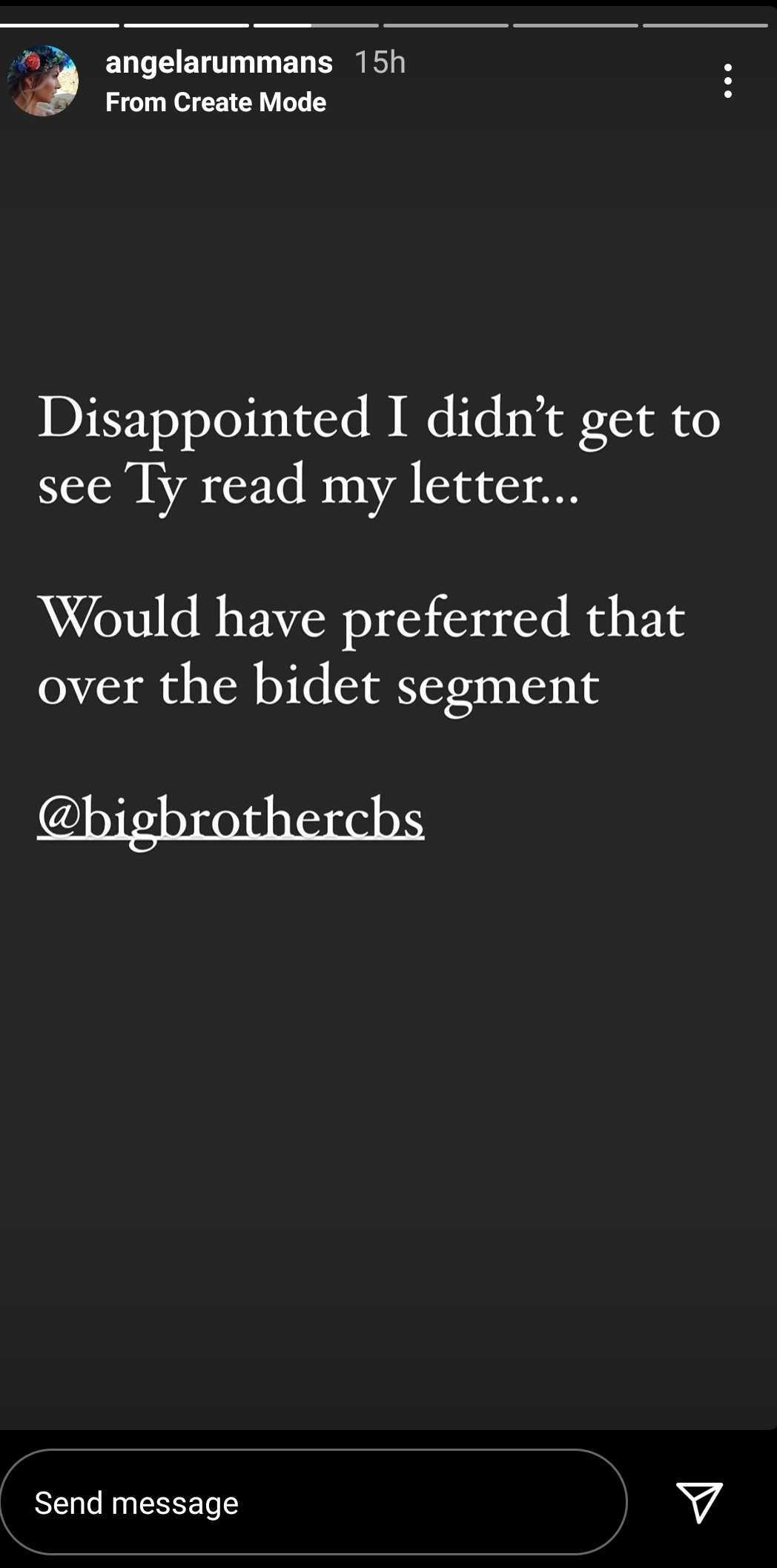 After it aired, she took to her Instagram Story to admit she was "disappointed" that she didn't get to see her boyfriend read the letter she wrote him.
The fitness model also noted she would have preferred to see that over the bidet segment CBS chose to include and tagged the Big Brother Instagram account. She and viewers might be able to see Tyler read the letter during Episode 9 when the houseguests compete for the Power of Veto.
Big Brother 22 airs Sundays, Wednesdays, and Thursdays at 8 p.m. EST on CBS. Follow Tamara Grant on Twitter.