Big Hit Entertainment Just Posted a Cryptic Tweet About BTS — Here's What It Could Mean
D-7? May 24? What does it all mean? That's what we, along with every other ARMY in the world, are trying to figure out. On May 17 at midnight KST, Big Hit Entertainment posted a vague tweet about BTS. The tweet features a grayscale background with "D-7" written on it, and the caption also reads "D-7" with no other context.
The tweet was originally posted on the Big Hit Entertainment Twitter account and then it was retweeted by the BTS_official Twitter account, meaning it does not have anything to do with Tomorrow X Together.
Let the investigation begin.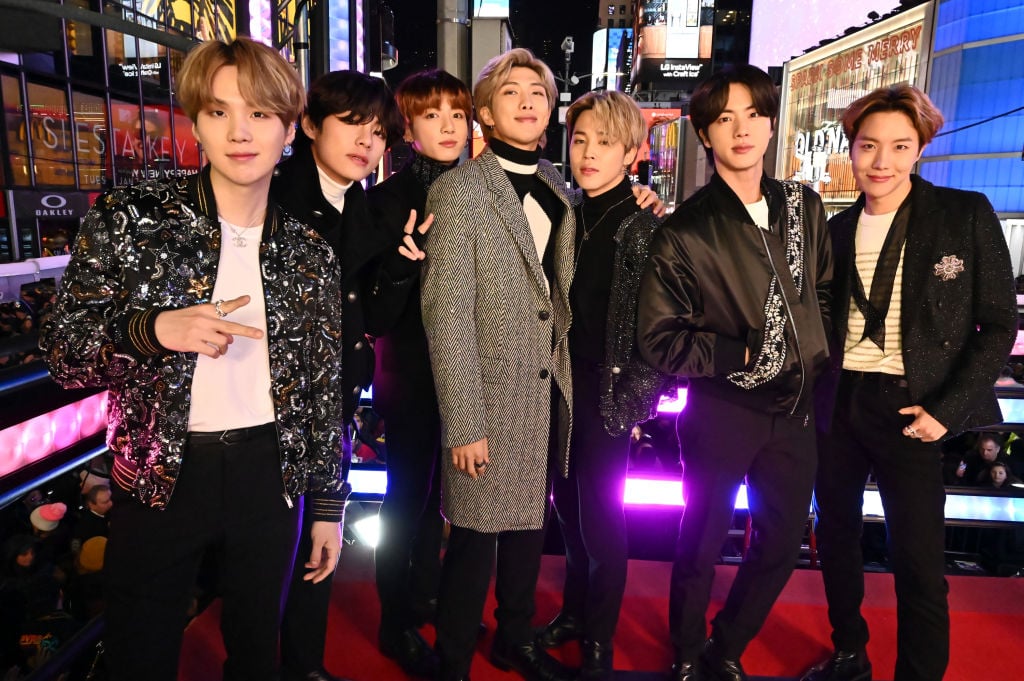 The tweet has something to do with BTS's upcoming album
Right now, the Korean band is in the process of making a self-produced album. In addition to their normal songwriting and producing work, each member is taking on a different assigned role to bring the album to completion. BTS is also sharing the album-making process through livestreams on YouTube.
During Suga's YouTube Live on April 24, the rapper hinted that teasers for their self-produced album could drop soon.
"Yes, well, right now we're starting to work again on the album. We started by deciding on the leaders. General manager… Visual general manager? Music general manager? We split it up this way…," Suga said. "Today we discussed among ourselves and made decisions. Related videos will be out soon, so stay tuned!"
RELATED: BTS Wants to Make Another Song Like 'Spring Day' on Their New Album
It has something to do with Suga's mixtape
Suga released his debut mixtape Agust D in 2016 under his alter ego Agust D, which he uses to differentiate from his work as Suga of BTS. Fans have been anxiously waiting for a second mixtape from the rapper, and he has mentioned multiple times that he has a second mixtape in the works.
In a BTS: Bon Voyage episode from the most recent season, Suga told the BTS members he finished producing the music for a second mixtape. Then during BTS's New Year's Eve VLIVE he said his mixtape was originally supposed to be released in 2019.
RELATED: BTS: Suga's Tweet Has Fans Thinking the Follow-Up to His Mixtape 'Agust D' Is Coming
During Suga's YouTube Live on April 24, he painted a large canvas. ARMY was quick to notice that if you take his painting and edit it with a grayscale, it resembles the background of Big Hit Entertainment's tweet. This could mean the tweet has to do with Suga's next mixtape.
However, Suga told fans not to expect the mixtape for awhile. Because of this, it seems more likely that the tweet has something to do with BTS's self-produced album.
The tweet is related to BTS Festa or 'BANG BANG CON The Live'
Every year, BTS and Big Hit Entertainment put on BTS Festa, a celebration that commemorates the group's debut. The days-long celebration begins every June, and includes new video content, songs, and more.
On June 14, BTS will hold "BANG BANG CON The Live," a virtual concert. BTS's debut date is June 13, 2013, so the virtual concert will take place the day after BTS's seven-year anniversary.
There's a chance Big Hit Entertainment's tweet could be related to BTS Festa or "BANG BANG CON The Live." Out of these two options, the most likely case would be that Big Hit Entertainment would release the official Festa schedule on May 24.
However, the problem with this is that typically the BTS_official Twitter account promotes Festa along with BTS's film and TV content. Big Hit Entertainment's Twitter account is usually the one that promotes music content.
Big Hit Entertainment's tweet is about Jungkook or V's mixtape
Both Jungkook and V are currently working on mixtapes. Jungkook has wanted to release a mixtape for a long time, and in 2019 the singer announced he was working on one. While Suga recently told fans not to expect his mixtape anytime soon, he did mention that Jungkook's mixtape sounds good, making it seem like it is close to being finished.
During Suga's audio VLIVE on May 15, V told fans that he is currently making a mixtape as well. However, he did tell Suga he is still working on it, and he has not even decided if he would release it under a different stage name.
Going forward, only time will tell what Big Hit Entertainment and BTS have up their sleeves. Based on the group's past releases, it seems like the tweet is a teaser for an upcoming album, whether that's BTS's self-produced album or a member's mixtape.