'Big Little Lies:' Are Reese Witherspoon & Meryl Streep Friends in Real Life?
The HBO dramatic splendor Big Little Lies has returned, and it came back swinging with a premiere introducing Meryl Streep. In Big Little Lies, Meryl Streep plays Mary Louise Wright: the grieving mother to season one's abusive Perry Wright. Mary Louise shows up in the quiet little town of Monterey – where moms hover and bake sales mean war – to discover exactly what happened to her son.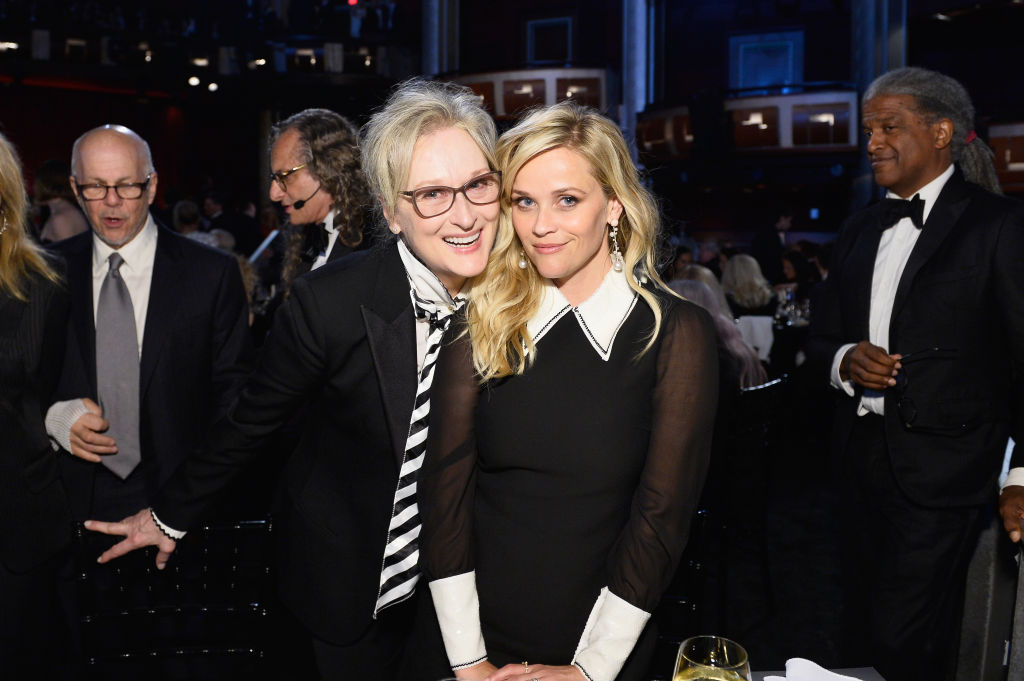 Mary Louise knows that her steadfast, career-focused, and admirable (from her perspective) son would not have just "slipped" to his ultimate demise. So, she comes looking for clues and, from the get-go, fans realize that Mary Louise and Madeline (Reese Witherspoon) will not be the best of friends.

In the first episode of Big Little Lies, Mary Louise tells Madeline that her short stature must indicate she is untrustworthy. Furthermore, in various video promotions for season two, fans saw Madeline flinging an ice cream cone at Mary Louise's head. Thus, their relationship is unlikely to turn healthy anytime soon.
With Meryl Streep and Reese Witherspoon at each other's throats – as much as you can be in a town where gossip is the strongest divider – fans are curious as to the relationship between the two actresses off-screen. Are they friends? Do they get along? All signs point to a relationship filled with mutual respect between Witherspoon and Streep.

Inside the relationship between Meryl Streep and Reese Witherspoon

Though Reese Witherspoon and Meryl Streep both starred in Rendition in 2007, Big Little Lies has presented both actors with the chance to grow fond of each other. Promoting the show as they run the press junket marathon – and engage in exciting after-work activities – has brought the co-stars closer together.
Reese Witherspoon, according to Elle Magazine, stated:

"I have to be honest, I found the one thing Meryl Streep is not good at—it's bowling…But she was darn cute doing it and such a good sport to go out there and do it with the whole crew. But it was fun! Yeah, we always had fun and found time to do fun things"

With Big Little Lies, Meryl Streep and Witherspoon have had time to enjoy each other's company, and it seems that Witherspoon has gotten a real kick out of Streep. Not to mention, Witherspoon couldn't be more grateful for her presence on the series. According to Fox, Witherspoon stated that having Streep on the show is "a dream come true."
In joining 'Big Little Lies,' Meryl Streep endorsed Reese Witherspoon and all that she stands for

Reese Witherspoon is a producer on Big Little Lies. Boasting a production company committed to creating roles for strong female leads, Reese Witherspoon is one of Hollywood's most important influences at the moment. She is reminding the world that audiences want and crave films and TV shows with females at the center.
Meryl Streep, bringing her star power to this series, is an act of support for Witherspoon, and her production company's goal. Meryl Streep gets to be picky about her roles, and she chose to star on this show as just another ensemble member. Such a decision speaks volumes. Regarding this matter, Witherspoon stated:

"She spent the collateral that she has in her career on a show like this means the world to us. There's nothing better than female partnership."


Fox
Based on all reports, it seems that Meryl Streep and Reese Witherspoon enjoy each other's company and respect one another to the utmost degree possible. Do they hang out on weekends? Based on reports, it seems like they do not. However, there's no denying that there is nothing less than admiration between the two.