'Big Sky' Season 2 Episode 17 Recap, 'Family Matters'
The Big Sky Season 2 Episode 17 recap of "Family Matters" reveals Jenny Hoyt (Katheryn Winnick) searching for Travis Stone (Logan Marshall-Green). In episode 16 of the highway ABC drama Richard Ford (Dallas Roberts) made his way to the Bhullar family ranch with a gun. Richard's son died in Big Sky Season 2 Episode 14, and the father is seeking revenge. Scarlett Leyendecker (Anja Savcic) makes a threatening phone call to Cassie Dewell (Kylie Bunbury). Lastly, Jag (Vinny Chhibber) and Ren (Janina Gavankar) find Travis' true identity and their father, Veer's (Bernard White) secret, in the Big Sky Season 2 recap.
[Warning: This article contains spoilers from Big Sky Season 2 Episode 17, 'Family Matters.']
'Big Sky' Season 2 Episode 17 recap: Who is John Milton?
When Big Sky Season 2 Episode 17 opens, Jenny checks on Sheriff Tubb (Patrick Gallagher). Richard Ford shot him, but he pulled through. When Jenny arrives to his hospital room there is a strange man (Brian Landis Folkins) hovering over Tubb — the same man who killed Wolf Legarski. He works for the syndicate and told Wolf that "John Milton sends his regards."
RELATED: Is 'Big Sky' Season 2 Over? Here's How Many Episodes Remain and When It Returns
'Big Sky' Season 2 Episode 17 recap: Ren finds out about Travis' true identity
Meanwhile, Jag waits all night for his father and then confronts him for cutting the drugs. Veer says it was about money, but Jag suggests that their father step down. They arrive back at the ranch to find Richard with a gun. Richard takes Veer and Jag to the place where his son died. Veer explains that he knows what it's like to have a "weak son," and insists Richard kill Jag not him. When Veer walks away, Richard shoots Jag.
Cassie and Jenny find Travis and Ren each tied to a chair in Big Sky Season 2 Episode 17. However, they leave them tied up to search for Jag and Veer. On the way there, Jenny worries that she and Travis are no longer on the same team. Meanwhile, Ren reveals that she knows Stone is a cop. She looked into Kate Garza, who was an informant. Veer found out and had her killed.
When Jenny and Cassie arrive at the scene, Richard threatens to kill himself. Jenny tells Richard that the drugs were his wife, Mona's for her pain. Cassie insists that Richard's daughter needs him. They convince Richard to put the gun down, and they find that Jag has a pulse.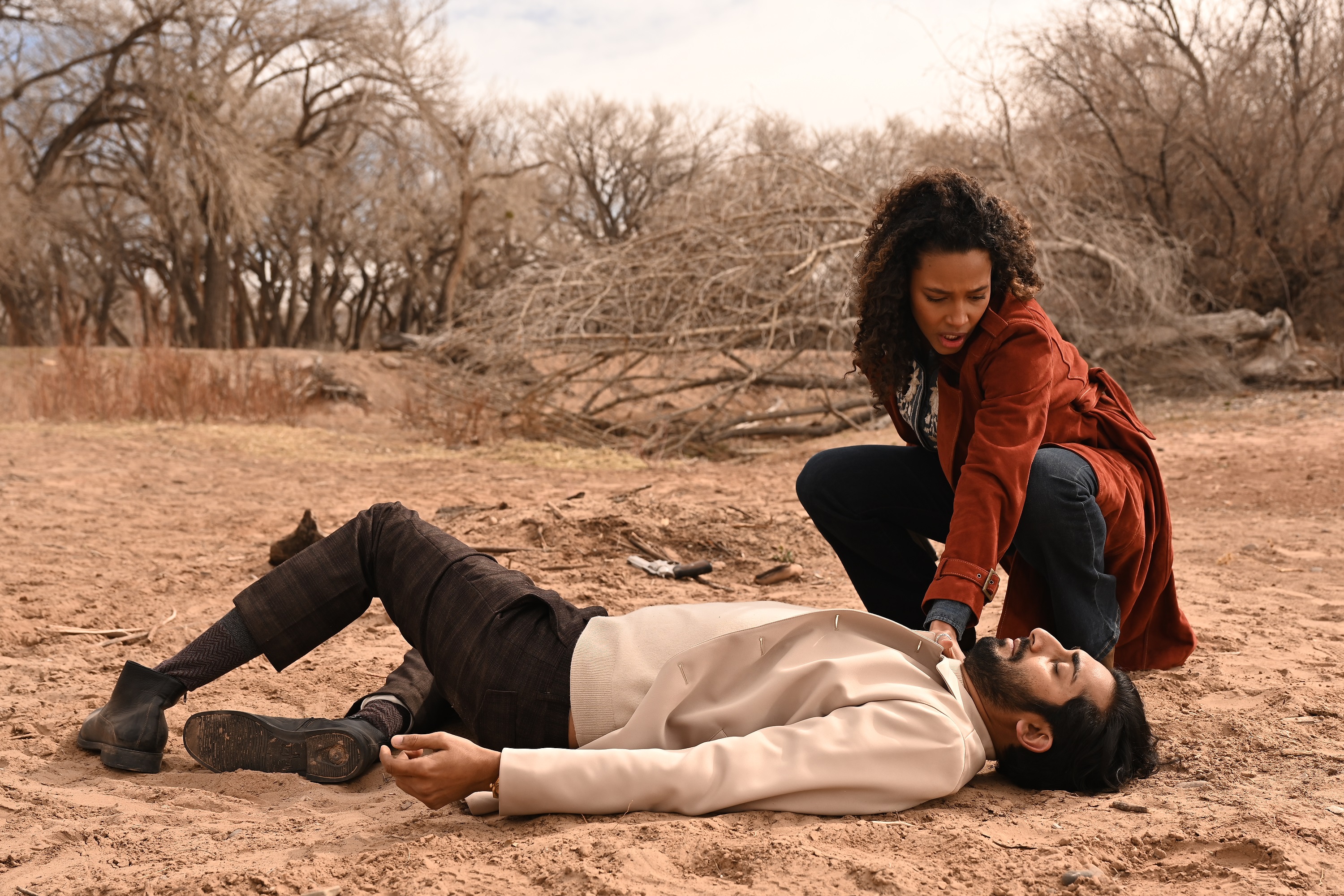 Meanwhile, Donno (Ryan O'Nan) accompanies Ren to the hospital and argues with Jenny. Ren teases Jenny about Travis working for her now. Donno and Tonya (Jamie-Lynn Sigler) discuss Travis the cop in the waiting room.
Alicia (Constance Zimmer) and Ren ask what happened to Jag. However, Veer confronts Ren about suggesting that he step down from the family business. Veer screams at Ren, but she counters, insisting she can handle the business better than him. Later, Alicia asks about how Juggat was shot. She suggests it's time for the children to take over the business, but Veer gets upset when Alicia is not on his side. Alicia gives him an ultimatum — step down or she will leave him.
Scarlett makes a phone call to Cassie Dewell
Later in Big Sky Season 2 Episode 17, Denise (Dedee Pfeiffer) tells Cassie a sweet story about her father. Cassie admits that Ronald's death didn't help her feel better. She finally takes Denise's advice and attends a support group.
Then in another clip, Scarlett and Phoebe (Zoë Noelle Baker) run into the mystery man who killed Wolf. They get away from him, but he quickly finds the girls in a public restroom. The man tells Scarlett that he needs the files she made a copy of, but she hides behind the door with her daughter.
Scarlett makes a dangerous phone call to Cassie to protect her daughter. However, Cassie tells her she should be afraid of the syndicate. Scarlett is angry with Cassie for killing Ronald Pergman (Brian Geraghty).
RELATED: 'Big Sky': What Happened to Ronald and What You Can See Brian Geraghty in Next
'Big Sky' Season 2 Episode 17 recap: Tubb insists that Travis could be 'dirty'
In another scene, when Sheriff Tubb finally wakes up, Jenny tells him she's worried that Travis flipped sides. However, Tubb reminds her that she might have to take Travis down. Jenny contacts Travis's handler and she insists they are going to cut their losses. She advises against doing anything about Travis.
When Jenny arrives home, Travis is in her house and wants to say goodbye. He wants to see things through for Kate. So, it looks like Travis is about to switch sides to get closer to the Bhullar family.
In the last few moments of the episode, Veer tells Ren he's ready to hand the family business over to her. Then the episode skips to a scene of Scarlett spying on Cassie.
Jerrie Kennedy (James Jesse Keitel) and Mark Lindor (Omar Metwally) do not appear in Big Sky Season 2 Episode 17, but hopefully they will return for the season finale on May 19.
Big Sky Season 2 airs on Thursdays at 10 p.m. EST on ABC.
RELATED: 'Big Sky' Season 2 Episode 14 Recap, 'Dead Man's Float' — Jenny Is In Trouble