'Big Sky' Season 2 Finale Recap, Episode 18, 'Catch A Few Fish' — A New Sheriff Comes to Town
The Big Sky recap of the season 2 finale, episode 18, "Catch A Few Fish," includes the introduction of Sheriff Beau Arlen (Jensen Ackles) to the cast. He helps Jenny Hoyt (Katheryn Winnick) track down Travis Stone (Logan Marshall-Green). Meanwhile, Cassie Dewell (Kylie Bunbury) receives a shocking surprise from Scarlett Leyendecker (Anja Savcic). Additionally, Ren (Janina Gavankar) and Jag (Vinny Chhibber) finally come to a conclusion regarding their father, Veer (Bernard White). Here's our breakdown of ABC's Big Sky Season 2 Finale recap of Episode 18, "Catch A Few Fish."
[Spoiler alert: This article contains spoilers from Big Sky Season 2 Finale Episode 18, 'Catch A Few Fish.']
'Big Sky' Season 2 finale recap: The syndicate storyline is not over
The Big Sky Season 2 finale opens with Scarlett and Phoebe (Zoë Noelle Baker) in a bus station. Scarlett pulls the John Milton hard drive out of a locker and tells her daughter that she has to take care of something. Later, Phoebe watches Scarlett kill the man (Brian Landis Folkins) following them from the syndicate. However, before the man who killed Wolf Legarski dies, he tells Scarlett that more will come.
Mark Lindor (Omar Metwally) worries to Denise (Dedee Pfeiffer) that Scarlett might go after Cassie. He believes that the syndicate is following her and were the ones who killed Wolf. Julian McGuill is the paramedic that worked on Wolf, but he's not showing up at work or answering his phone. Cassie and Mark arrive at Julian's house, but they find him dead out back — the syndicate's work.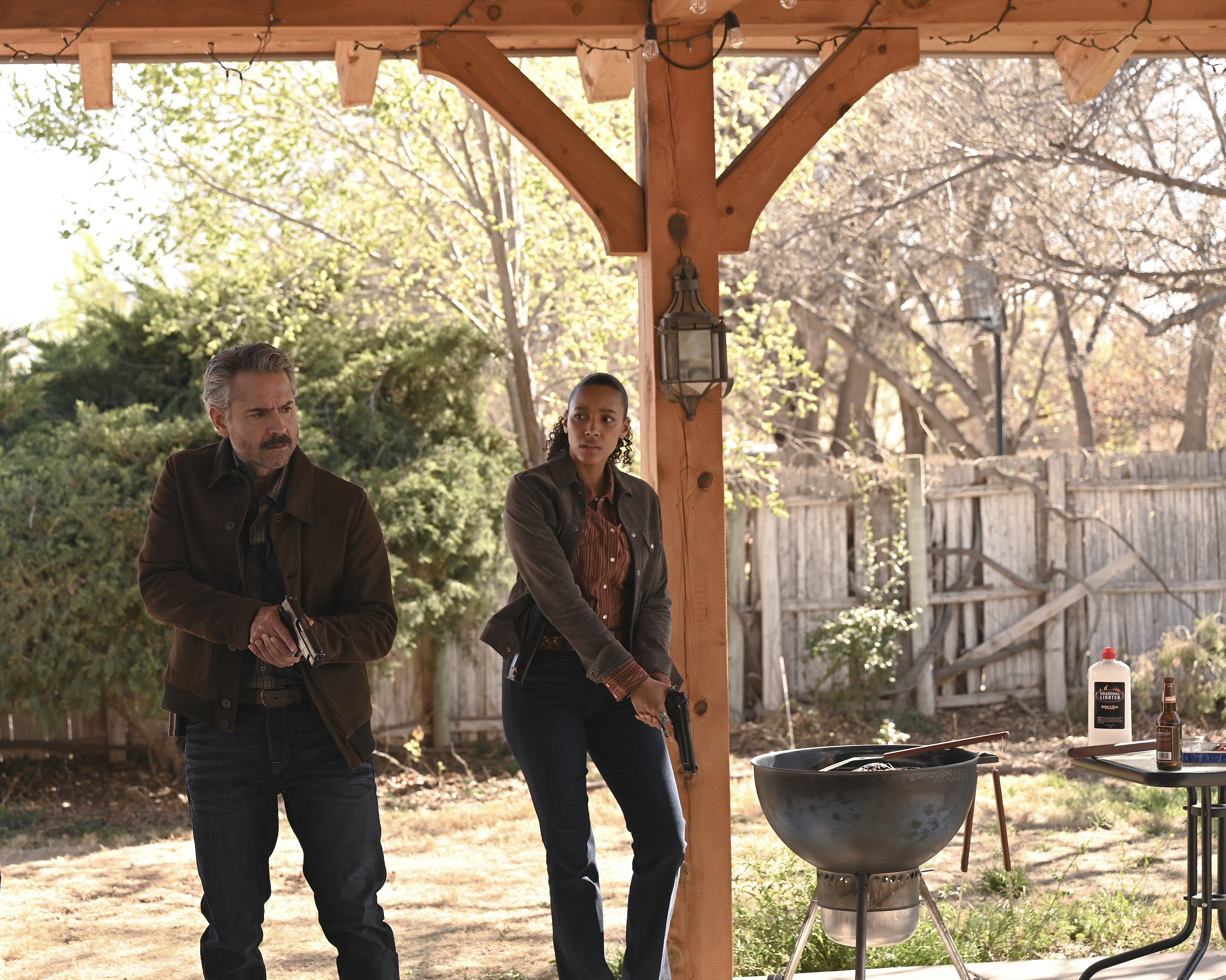 When Cassie returns home, she finds Phoebe at her house. Then she gets a call from Scarlett begging to help protect Phoebe. Scarlett also left John Milton's hard drive for Cassie. In the last few moments of the episode, Mark and Denise try to make sense of the hard drive. However, viewers feel that someone is about to descend on them as they search.
Jensen Ackles guest stars as the new Sheriff — Beau Arlen — in the 'Big Sky' Season 2 finale
Later in the Big Sky Season 2 finale, Cassie runs into Sheriff Beau Arlen. He admits that he was on the way to Cassie's grief counseling meeting, but his truck, "Pedro," held him up. Later, Beau introduces himself to the team at the station, and then Jenny asks for a word. When Beau offers to help her find Travis before the no-longer-undercover cop kills Veer, Jenny is shocked.
Meanwhile, Ren and Veer visit Jag in the hospital — Richard Ford (Dallas Roberts) shot him in Big Sky Season 2 Episode 17. When Ren and Jag suggest that Veer tried to save himself by offering up his son, he won't hear it. So, Ren puts her father in a truck with Travis and a gun. Veer tries to pay him off, but Travis wants to talk about his dead informant and the love of his life, Kate Garza.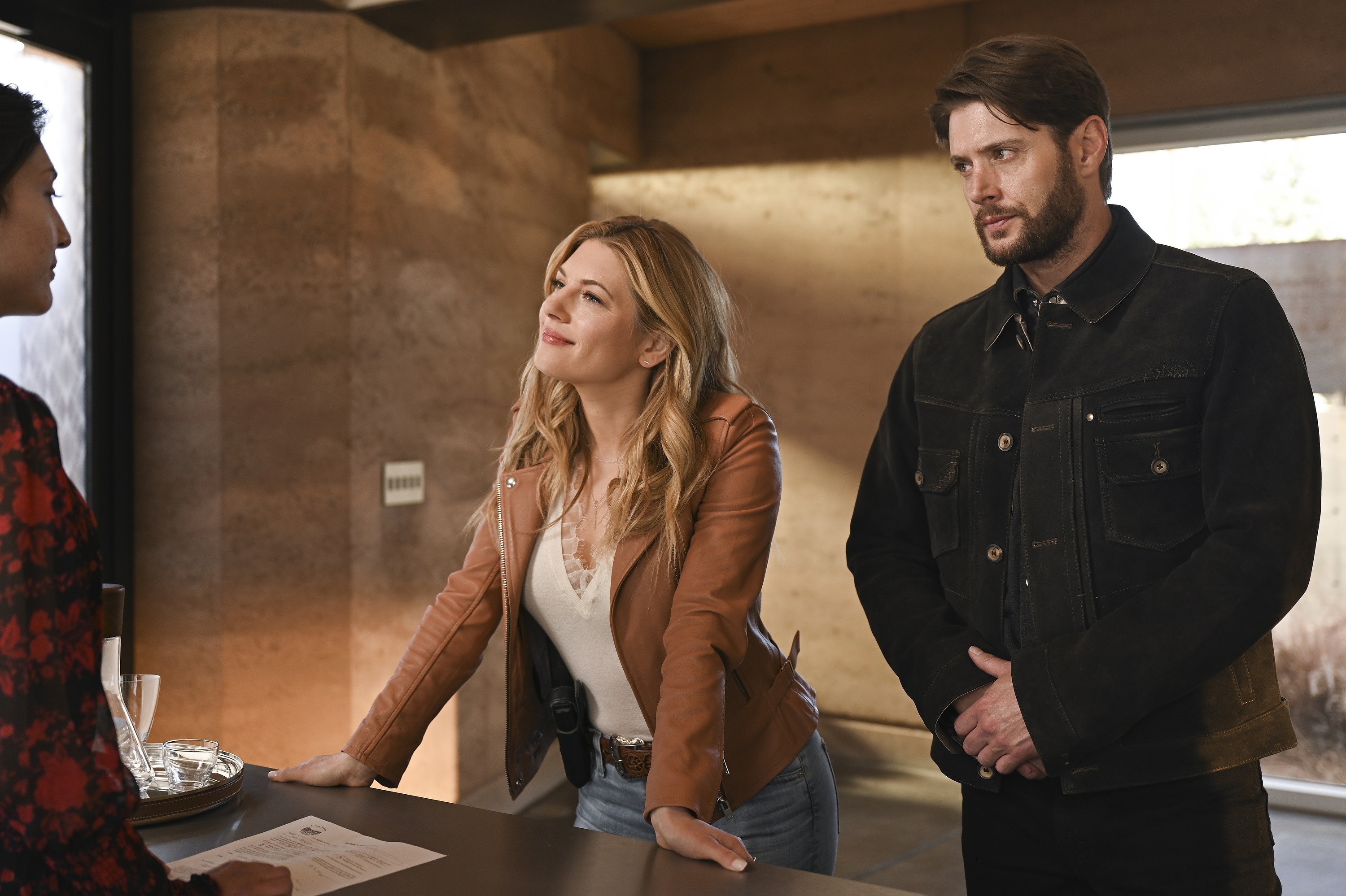 Jenny and Beau show up at the Bhullar's ranch with a warrant for Veer's arrest. Ren shockingly gives up the location of Travis and Veer. However, not before Beau strikes Donno (Ryan O'Nan) in the throat, proving that the new Sheriff is not all talk.  
'Big Sky' Season 2 Finale Recap: Jenny lets Travis go
Later in the Big Sky Season 2 finale, Beau and Jenny find Travis repeatedly hitting Veer until the man is almost dead. Before the police arrived, Veer admitted that Kate was still alive.
After Jenny and Beau arrest Travis, they find that the state wants him back. However, Instead of driving Travis to his handler, Jenny lets him go to find Kate. She cries as she drives away from Travis.
Constance Zimmer and Bernard White leave 'Big Sky'
As the Big Sky Season 2 finale comes to a close, Jag murders his father in the hospital by suffocating him with a pillow, adding to the list of deaths in season 2. Then Ren walks in and helps his brother out of the room. Bernard White won't return for Big Sky Season 3. Then brother and sister hug it out as they leave the hospital. 
Later, Tonya says goodbye to Alicia (Constance Zimmer), who is heading to London. Before Veer died, she managed to get the cartel owner to sign the business into her name. So, Ren had to buy her out or run the cartel together. 
Meanwhile, at the Boot Heel bar, Jenny and Cassie have a drink together now that things are over. Beau finds the two women at the bar and tells Jenny that he has her back. The three share a tequila shot, and the Big Sky Season 2 Finale closes without a cliffhanger. The syndicate is still out there, but Cassie accepts that Scarlett is gone after turning over the hard drive.
When will 'Big Sky' Season 3 return?
Big Sky Season 3 returns to ABC in the fall of 2022 on a new night — Wednesdays at 10 p.m. ET instead of Thursdays. Look for the return of Jenny Hoyt and Cassie Dewell sometime in late September 2022. Reba McEntire joins Big Sky for season 3, and the new Sheriff becomes a recurring character in the show.