'Big Sky' Season 2 Premiere and Burning Questions We Have After Episode 1
At first, ABC's Big Sky Season 2 Episode 1, "Wakey, Wakey," picks up right where the season 1 TV show finale left off. Viewers watch Jennie Hoyt (Katheryn Winnick) fight for her life in the hospital after Ronald Pergman (Brian Geraghty) shot her. Then the show jumps six weeks ahead and right into an intriguing new case in Montana.
[Spoiler alert: This article contains spoilers from Big Sky Season 2 Episode 1 'Wakey, Wakey.']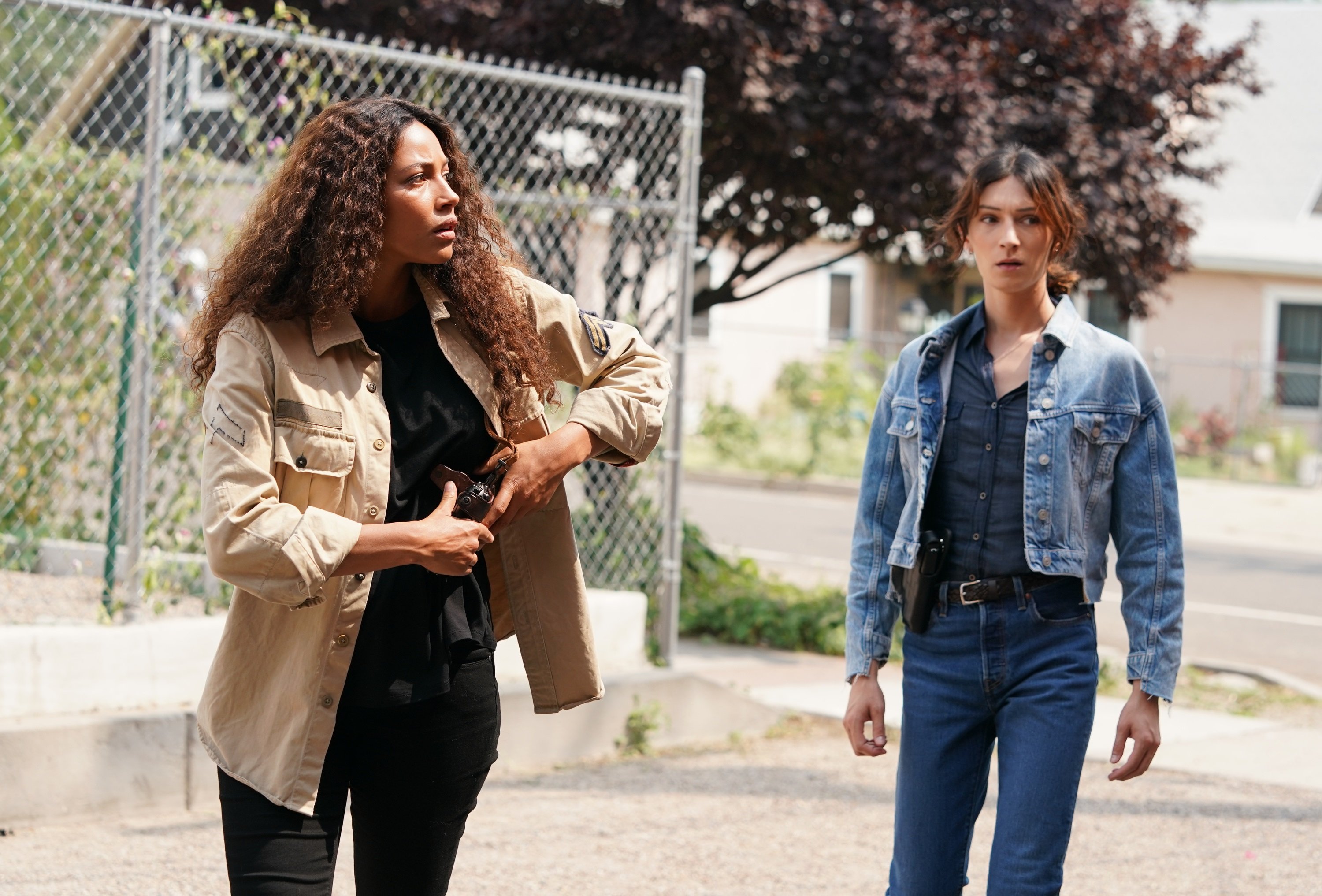 Jennie and Cassie continue to stick together
In the Big Sky Season 2 Episode 1, Jennie is at home six weeks later but still has a deep wound from the gunshot. However, she heads into Detective Walter Tubb's (Patrick Gallagher) office and tells him she misses her badge. Then she heads over to her private investigation office. Cassie (Kylie Bunbury) is happy to see her but still has no idea who helped Ronald escape. 
Deputy US Marshal Mark Lindor (Omar Metwally) also comes by the office to show Cassie a clip from a neighbor's bird camera. It shows that the same day Ronald escaped, State Trooper Dewey (Andreas Apergis) took Scarlet Leyendecker (Anja Savcic) from her house. Cassie heads to Dewey's house to question him. The officer insists that his superiors thought Scarlett might be in danger, so he took her into custody. He also warns Cassie to stop poking around.  
Later, Jennie tells Cassie that she's leaving the investigation office to wear a badge again, but the pair will continue to be partners.
Travis comes to town
Jennie recognizes an old friend at a bar, Travis (Logan Marshall-Green). He's currently working undercover in a drug ring, so he stops by her house afterward. The two end up sleeping together. Showbiz Cheatsheet previously reported that Marshall-Green is a new recurring character in Big Sky Season 2, so viewers will see more Travis.
A new group of teenagers joins 'Big Sky' Season 2
In the Big Sky Season 2 Episode 1, viewers meet four new teenagers. Maxie (Madelyn Kientz) hates her mom's new boyfriend, Tracy (Arturo Del Puerto), who calls himself "T-lock." She calls him a "creepy jobless loser." As soon as she walks in the door from babysitting Cassie's son, Kai (Gabriel Jacob-Cross), the boyfriend takes a portion of the money she made. Afterward, she sneaks out to meet her friend Harper (Troy Leigh-Anne Johnson) at "the ridge." Madison and her brother, Bridger, also come along. The girls give each other tattoos and wish that something exciting might happen. That's when they watch a truck crash nearby.
A strange accident brings a new face to Montana in 'Big Sky' Season 2 Episode 2
Early in the Big Sky Season 2 Episode 1, two men meet to swap bags of money and drugs. The deal goes South, and Ringo is shot. Ren (Janina Gavankar) calls him while he's bagging Ringo up. Except Ringo did not die, instead he wakes up and tries to grab the driver. The truck crashes and the new group of teens runs down to help. Ringo tells the kids to take the bags and run, or the driver will kill them. State Trooper Dewey arrives to investigate and shoots Ringo. 
The teens agree to stash the drugs and cash and decide what to do with it later. Max hides both bags under the floor in their shed. When the teens reconvene, Max informs them the bag holds $500,000. They agree to "sit tight." However, the missing money and drugs bring Ren to town in Big Sky Season 2 Episode 2.
'Big Sky' Season 2 Premiere: The last two twists
Later in the Big Sky Season 2 Episode 1, Jerrie Kennedy (Jesse James Keitel) and Cassie realize that Dewey's house looks like it was broken into. They head inside, despite Jerrie's insistence that they call the police first. They find Dewey dead, with a pair of pliers in his neck. A quick search through the house reveals a file showing that Dewey took pictures of Cassie and her son.
Meanwhile, Jennie heads to the scene of the truck crash. She finds the rock that the girls drew a heart on and threw after their tattoo session and then stares at the overturned vehicle.  
Finally, in the last few minutes of the Big Sky Season 2 Episode 1, viewers meet Rick Legarski's brother (also played by John Carroll Lynch). He's holding Ronald Pergman hostage, and viewers have so many questions.
The burning questions fans have after the 'Big Sky' Season 2 premiere
Why is Rick Legarski's brother holding Ronald hostage? Did Rick know about his brother's sex-trafficking job on the side? Was the creepy twin brother involved? What happened to Scarlet and her daughter?
According to IMDb, Big Sky Season 2 airs on Thursdays at 10 p.m. EST on ABC.