'Big T' Fazakerley Said She Had a Huge Crush on Kaycee Clark While Competing on 'The Challenge': 'She's Dazzling'
So far on The Challenge: Total Madness, we've seen intense elimination battles, surprising alliances, and, of course, unlikely romance. And Kaycee Clark, a rookie this season known for her win on Big Brother, seems to be the center of attention.
Clark is an athlete and came into the competition with her own strategies in mind. It seems she might not have expected to have to navigate so much romantic attention from other women in the house, though. And fellow rookie player Tula "Big T" Fazakerley told the Challenge Mania podcast that she was majorly crushing on Clark in the house, too. Here's what she said.
Kaycee Clark is a rookie on 'Total Madness'
Clark certainly hasn't had as much screentime as fan favorites like Johnny "Bananas" Devenanzio, Wes Bergmann, or Jenna Compono. But she still seems to be an ultra-strong competitor. Heavy reports she got her start on Season 20 of Big Brother back in 2018. Since she won that, there's no telling what she can do on The Challenge — especially because she's also a professional football player in San Diego.
Clark's gameplay hasn't been the center of attention on Total Madness, though. So far, we've heard a lot about her girlfriend back home, as many of the women in the house are interested in her. Heavy reports Clark is with model Taylor Jimenez, and they met each other back in 2018.
"Never would I have imagined that replying to a DM on Instagram would turn into finding a best friend, a lover and a year full of adventures!" Jimenez captioned an Instagram post of her and Clark.
Veteran player Nany González got super flirty with Clark on the show
Out of everyone on the show possibly interested in Clark, Nany González made her intentions known. Out at the bar, González got quite tipsy — and she admitted to Clark that Clark "for some reason" made her feel "so weird. Like, I feel like I've never felt before."
After that, González asked Clark if she wanted to "go to the bathroom" with her — and it was clear the advance was sexual in nature.
Aneesa Ferreira stepped in once she saw González making advances on Clark. "Nany, like many people, when they get a couple of drinks, get a little flirty, get a little close," Ferreira told the camera. "And Kaycee's a beautiful girl, and I think a lot of people are attracted to her — especially Nany."
Unfortunately, Ferreira's good intentions blew up in her face. González got majorly defensive at the bar and tried to grab on to Ferreira. And the situation escalated even more back at the house.
Tula 'Big T' Fazakerley said she also had a crush on Clark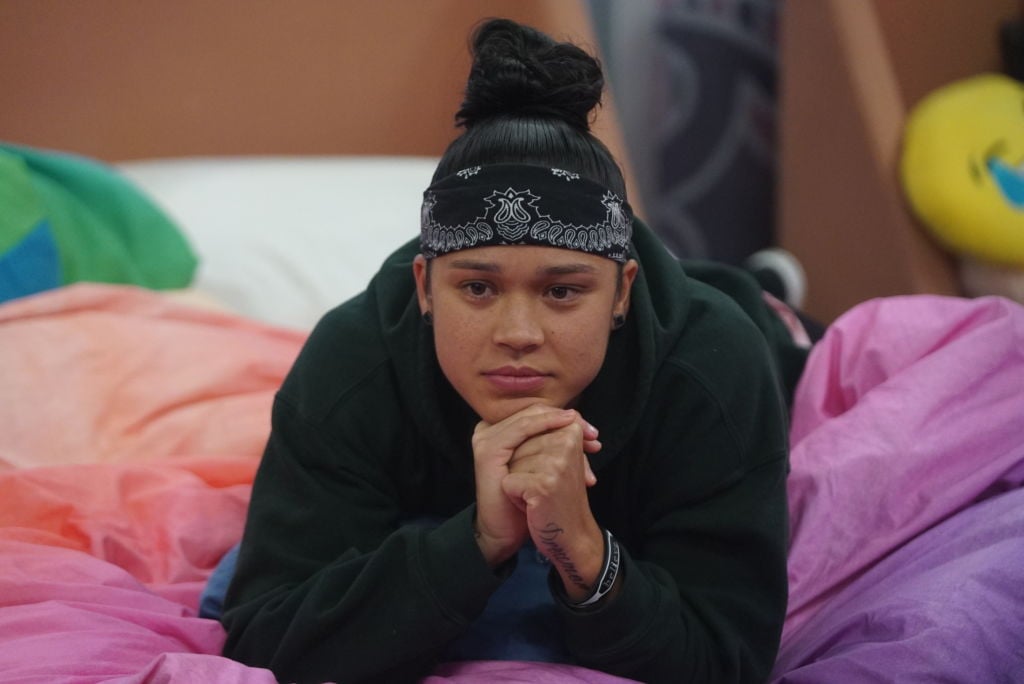 RELATED: 'The Challenge': 'Big T' Fazakerley Explained Why She Drank Too Much on 'Total Madness'
It looks like González wasn't the only one crushing on Clark. Fazakerley also expressed on the Challenge Mania podcast that she found Clark to be very attractive.
"Eye candy … definitely Kaycee was so hot. I was like, this girl is so cool and so hot and the rest of the female cast, you know, liking her," Fazakerley noted. But she was well aware that Clark had a girlfriend back home, so that stopped her from making any advances.
"Apart from that … the thing is there are not many single people this season," she added. "In general, it's a very good-looking cast. But I would say that … I thought Kaycee was beautiful. She's quite dazzling."
We'll have to stick around to watch the remainder of Total Madness to see if any more surprise romances crop up on the show.
Check out Showbiz Cheat Sheet on Facebook!