Bill Hader Shares What Drives Henry Winkler (and Everyone) 'Nuts' on the 'Barry' Set
Bill Hader said he will sometimes silently recite the 'Barry' script when he's directing, but also in a scene. And it drives co-star Henry Winkler, (and others) nuts.
Bill Hader knows exactly how to annoy Barry co-star Henry Winkler while they are shooting the HBO series.
Hader not only stars in Barry, but he is also a writer and director of the series. Juggling all these roles can be a little nerve-wracking, so he will sometimes mouth the dialog along with the actors during a scene – which drives the other actors, including Winkler, "nuts."
Bill Hader says he will sometimes silently recite 'Barry' lines along with the cast
During a live tour appearance on the Conan O'Brien Needs a Friend podcast, Hader said making a live appearance stresses him out more than directing Barry. O'Brien recalled that Winkler could see Hader sometimes, "mouthing along" the words as he's trying to act, Hader said.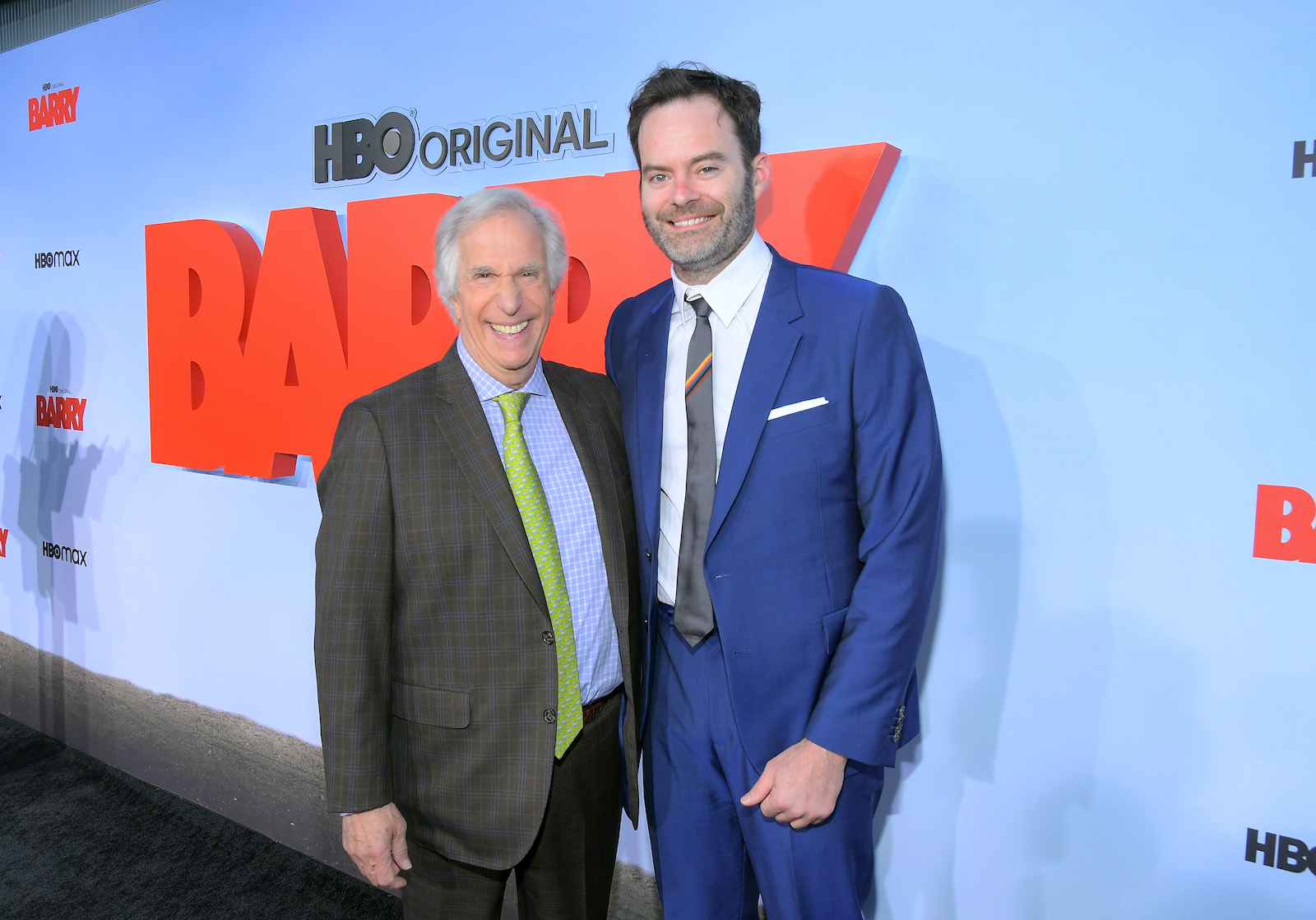 "Yes, drives him nuts," Hader confirmed. "It drives everybody nuts. All the actors on the show are like, 'Please stop.' And it drives people crazy."
O'Brien wondered if Hader did it when he was actually in the scene or was it when he was directing. "There's been times where there was a two-shot of us and then the DP's like 'I can see your mouth moving along with him.' F***! Sorry … sorry everyone, sorry."
Bill Hader doesn't get as nervous when he's directing
"Yeah, it's weird," Hader said earlier in the discussion. "[Directing] doesn't stress me out as much as like this. I'm fine now but it's the anticipation of it. It's the anticipation of coming out here. I wake up this morning I'm like, 'I'm gonna be on Conan. We're going to be at the Wiltern, oh boy.' And my heart gets a little … you know."
"But when you're directing, you're problem-solving," he continued about Barry. "And you have a very clear idea of what you want and that can kind of take over. And then you're working with great people like Henry Winkler and stuff like that. It's really not that hard."
He discussed having anxiety before he performs
Hader, who was a lead cast member on Saturday Night Live for eight years, has discussed his performance-induced anxiety. He spoke about being nearly terrified to take the SNL stage and used coping mechanisms to get through sketches.
"I think Bill started by doing impressions of people who were scary to him, as a defense," SNL creator Lorne Michaels told The New Yorker. "He did me, of course—nearly everyone on SNL does a Michaels impression—because he was convinced, despite all evidence to the contrary, that I was going to fire him every time he passed me in the hall."
Hader recounted on the podcast, but also to The New Yorker that actor Jeff Bridges gave him the best advice to help him tackle the anxiety.
"When Jeff Bridges hosted the show, he noticed me being nervous in rehearsal, and he told me 'I worked with Robert Ryan on The Iceman Cometh, and before every take, he'd be sweating bullets," he recalled.
"I asked him about it, and he said, 'I'd be really afraid if I wasn't afraid.'" Hader recounts. "'So that nervousness you feel, that's your buddy, man!' So now I always think that instead of fighting my demon, I am going to invite it to sit on my shoulder."