Billie Eilish Vented about Her 'Awful' Experience Wearing a 'Billie Eilish Wig'
Billie Eilish gained widespread fame for her 2019 single "Bad Guy." Along with her distinctive vocal style, the singer gained attention because of her unique stage presence. Part of that is owed to her fashion sense and the green and black hair she wore for a while. Now with a new look closer to her natural hair color, Eilish opened up about wearing a wig styled after her own hair.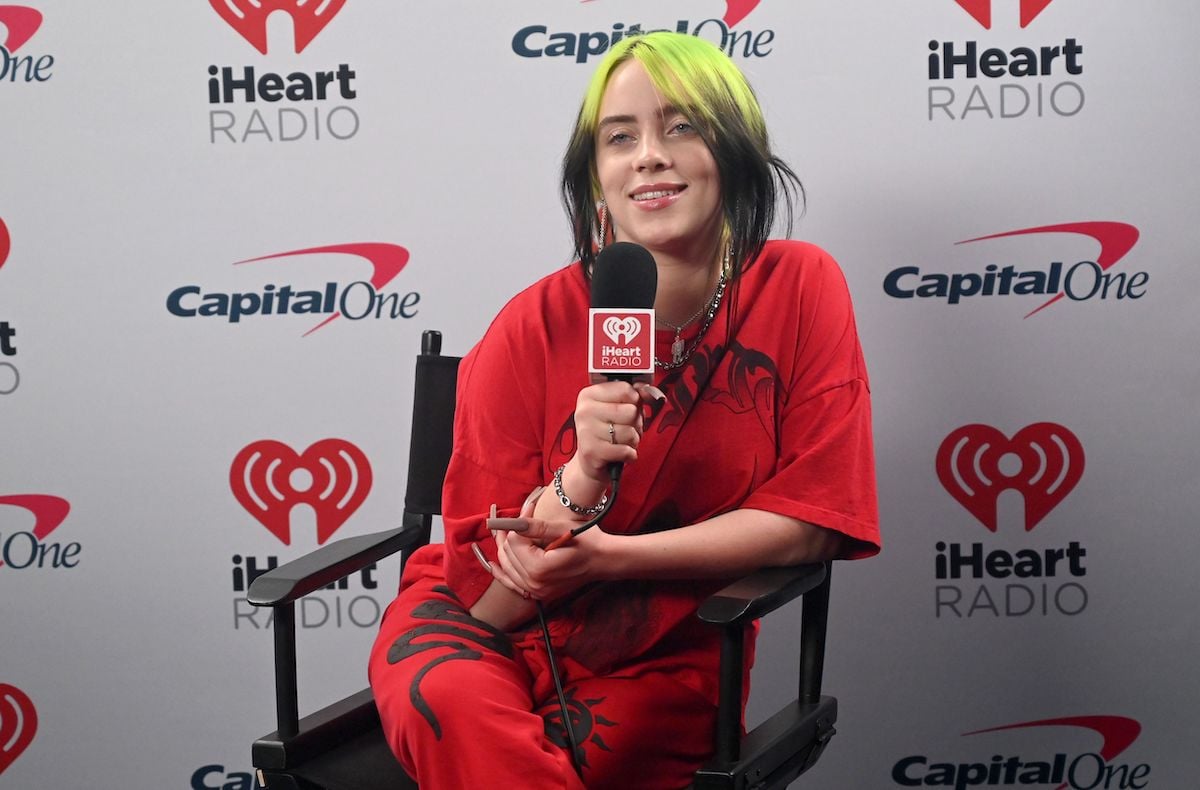 Billie Eilish recently surprised fans with a very different look
After becoming known for sporting dark hair and oversized clothing, Eilish threw fans for a loop in mid-2021. The singer made the cover of the British version of Vogue. Of course, it's not a surprise to see a popular singer like Eilish making magazine covers. But her hair and clothing in the cover photo left fans used to her old look shocked. Suddenly, Eilish reinvented herself.
On the British Vogue cover, Eilish sported long blonde hair and a corset. The singer revealed on The Ellen DeGeneres Show how she was inspired by a fan edit which imagined her with blonde hair. And so she ultimately started the process of going from black and green to blonde. According to Eilish, the road from one extreme hair color to the other took a while to complete.
RELATED: Billie Eilish Revealed the Reason Reason She Wore a Corset on Her Vogue Cover
Billie Eilish shared a story about how much she hated her wig
In fact, Eilish revealed on The Late Show with Stephen Colbert how she relied on wigs to conceal the various stages of taking her hair from black to blonde. In a pinch, she even purchased a wig presumably based on her own signature look. But Eilish didn't quite get what she expected with the "Billie Eilish wig" she purchased online.
"I knew that it would have these processing periods where it would look insane. And I didn't want to look insane. But I needed something quick. So I literally ordered a Billie Eilish Halloween costume wig on Amazon. … It was awful. It was the ugliest thing I've ever seen. It was literally a fully black wig this long, plastic and the green was only like [on top]. Don't do that. But the thing was, I wasn't trying to play a prank on the Internet. … I just looked f*cking crazy underneath, and I needed to look not crazy."
Eagle-eyed fans had long been speculating Eilish was wearing wigs. She'd also been seen wearing a lot more hats recently too. And the unveiling of her new blonde hair finally sets the record straight. Thankfully, the response to Eilish's new look has been very positive overall, with her following on social media stronger than ever these days.
RELATED:
Billie Eilish Broke an Instagram Record with her New Blond Hair
Could the singer become an Oscar winner for 'No Time to Die'?
As much as Eilish's career is going well, she could be headed for even bigger things in 2021 and beyond. In the Vogue interview, she hypes up her upcoming second album, Happier Than Ever. Due out in July 2021, it already boasts two hit songs in "Therefore I Am" and "Your Power."
But there's also No Time to Die to consider. Eilish did the title track for the James Bond film, which will be star Daniel Craig's final turn in the role. Originally set for release in 2020, it's now slated for fall 2021. And if it follows suit with the last two Bond films, Eilish could find herself with an Academy Award thanks to "No Time to Die."