How Billie Lourd's Mom Carrie Fisher Helped Her Find Her Wedding Dress
Carrie Fisher died years before daughter Billie Lourd tied the knot. But, in a way, she was there -- through the style choices Lourd made on her big day.
Billie Lourd is a popular young performer who has had featured roles in TV shows like American Horror Story and Scream Queens. Known for her deadpan delivery, Lourd is also a vibrant presence on social media, where she shares occasional tidbits about her life and career. As beloved as Lourd is for her acting, her connection to the iconic Carrie Fisher has helped cement Lourd's legacy in Hollywood. 
As Fisher's only child, Lourd has looked to her mother for inspiration on many things. Even though Fisher died in 2016, the star frequently references her mom. In March 2022, Lourd married her longtime partner. Billie Lourd revealed in an exclusive interview that she paid tribute to Fisher several times during the ceremony — including with her wedding dress. 
Billie Lourd is the heir to a Hollywood dynasty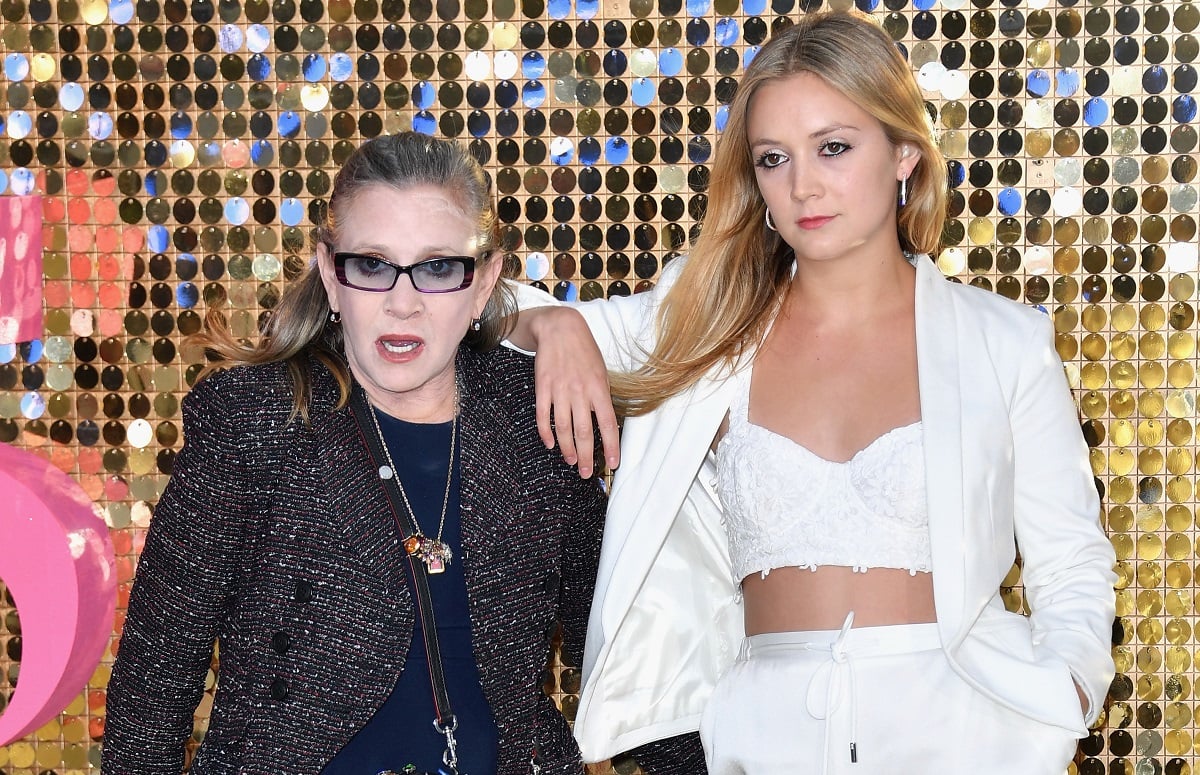 Billie Lourd was born in 1992 to Carrie Fisher and her then-husband, Bruce Bozzi. Fisher, who rose to fame in the late '70s for her work in Star Wars, was a massive star by the early '90s but took great care to keep Lourd out of the spotlight for the early part of her life. The granddaughter of iconic performer Debbie Reynolds, Lourd was exposed to show business from the time she was an infant. 
Lourd later revealed she struggled with "sharing" her mother with the world, especially when she grew old enough to realize the sheer impact of her mother's fame. However, she still felt drawn to a career in the entertainment business, and in 2015, she made her film debut as Lieutenant Connix in Star Wars: The Force Awakens, acting opposite her mother in a small role. 
How did Carrie Fisher help Billie Lourd find her wedding dress?
Carrie Fisher died in 2016 at the age of 60. Her mother, Debbie Reynolds, died just one day after her famous daughter. "It's completely surreal," Lourd said of their deaths. However, life goes on — in 2017, Lourd started dating actor Austin Rydell. And in September 2020, the two welcomed a baby together. Then, in March 2022, Lourd surprised her fans by announcing that she and Rydell had tied the knot in an intimate ceremony.
In an interview with Vogue, Lourd revealed that her mother's connections helped lead her to the perfect wedding dress, designed by Rodarte. "I discovered Kate and Laura (Rodarte's designers) after they interviewed my mom for an article in 2014 and immediately fell in love," Lourd noted. "So when I started thinking about who I wanted to design my wedding dress, they were the first people who came to mind," she continued. "I also felt a strong connection to them because of their connection to my mom and because they are California gals just like me!"
Billie Lourd paid homage to her mother in several ways at her wedding
Lourd gave several sweet nods to her late mother throughout her wedding ceremony. As reported by Vogue, Lourd wore her mother's favorite ring, and another ring Fisher had given one of her friends as her "something borrowed." Fisher's two best friends, Gavin DeBecker and Bruce Wagner, officiated the ceremony between Lourd and Rydell. As Lourd described, "It was the most hysterically brilliant and touching officiating in the history of officiating. And in true Carrie fashion, we threw glitter in the air at the end of the ceremony. It was magical. I could not have dreamed up a more perfect wedding."
Lourd also paid tribute to her late grandmother, Debbie Reynolds, by wearing a glittery "dance outfit" to the after-party, also designed by Rodarte. In the end, Lourd's wedding included sweet homages to late family members while also being a vibrant celebration of the future.