'Billions' Is Back — Season 5 Episode 8 'Copenhagen' Reveals Why Bobby Axelrod Can't Leave Well Enough Alone
It's been a long wait for the continuation of Billions Season 5, but it finally arrived. In Showtime's take on financial bigwigs, Bobby Axelrod (Damien Lewis) can't help himself when it comes to dirt-digging. And, unfortunately, Mike Prince (Corey Stoll) remains at the receiving end of Axe's quest for revenge. Here's everything you missed from season 5, episode 8, "Copenhagen."
[Spoilers below for Billions Season 5 Episode 8 "Copenhagen"]
'Billions' episode 'Copenhagen' reveals a clean-shaven Paul Giamotti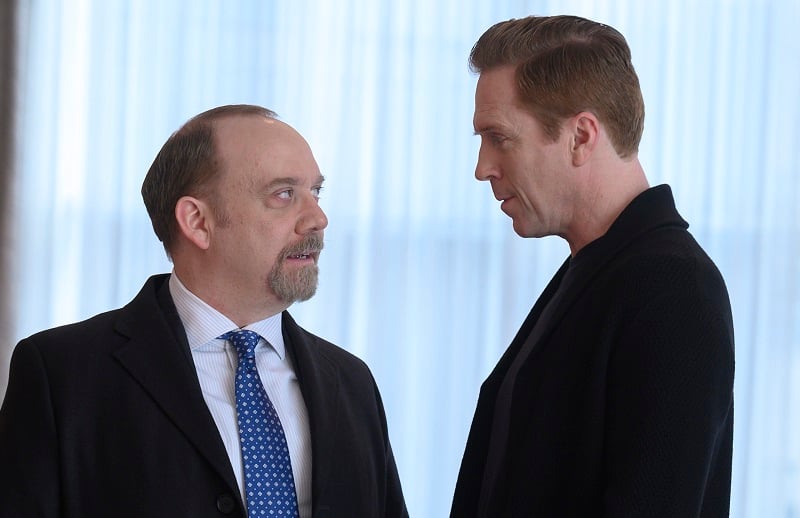 It's been a minute since Billions last aired. The mid-season premiere — a year later — doesn't try too hard to lure in viewers. In fact, much of the episode "Copenhagen" begins almost directly after last year's stopping point. There are no huge revelations or new storylines to catch up on. There is, however, a big change in star Paul Giamatti's look, which is incorporated in the most Chuck Rhodes way possible.
With comments about his newly clean-shaven face, he replies, "don't make a whole thing of it," which also alludes to the fact that Giamatti is debuting a noticeably different physique.
Paul's co-star David Costabile, who plays Mike "Wags" Wagner on the show, told Extra in July that he had "no idea" how Giamotti did it.
"Maybe he just fasted the entire pandemic," Costabile said. "I decided to keep the beard and add weight. I added all of Paul's weight. That's a lifestyle choice."
That said, Chuck faces the usual chaos in politics while working as New York's Attorney General. When former student Merle Howard (Noah Robbins) blackmails Chuck, Chuck's only way out is to resign or face the consequences from an old Yale vote-rigging scandal. Of course, that's Ira's signal to give the old pep talk to fight. And, as Chuck typically does, he did just that and won the battle (for now).
Bobby Axelrod is up to his old games
While Chuck fights the good fight, Bobby "Axe" Axelrod (Lewis) continues his takedown of another bigwig competitor, Mike Prince (Stoll). That jealousy bug bites Axe hard, and he isn't about to let up. They're both willing to go to war when it comes to getting an ambassadorship to Denmark, and we think this is only the beginning.
Michael "Wags" Wagner (Costabile) tries and fails to set up Prince on Axe's behest. When it doesn't work, Axe is left to dig up another kind of scoop. According to the partner's mother (Becky Ann Baker), Prince's past partner was killed in a drunk driving accident, and she blames Prince for swindling said partner out of a big deal. Undoubtedly, Axe will use this to his advantage to edge out Prince once and for all.
An update on Taylor and the rest of the 'Billions' crew
Along with all of that drama, Chuck has a big, humbling ask from jailbird Dr. Gilbert (Seth Barrish) about possible kidney donors to help his sick father (Jeffrey DeMunn). Meanwhile, artist Nico Tanner (Frank Grillo) and Wendy Rhodes (Maggie Siff) are still involved, and Nico is still painting for Axe Capital.
And finally, Taylor (Asia Kate Dillon) asks Rian (Eva Victor) to quit her side job, while Axe's purchase of a payday lender — the bank charter Axe had been looking for — is the very same Chuck's investigating.
It's a lot to digest but a great setup for all the drama to come.
Billions airs Sunday nights at 9:00 p.m. on Showtime.