Billy Joel's Almost Disastrous Visit with Former Beatle Paul McCartney
Even famous people have their musical idols. John Lennon with Chuck Berry, Celine Dion with Barbra Streisand. And Billy Joel with The Beatles. Although the 70-year-old Joel is friendly with Paul McCartney and Ringo Starr, he knows he's in the presence of rock royalty when he's around them.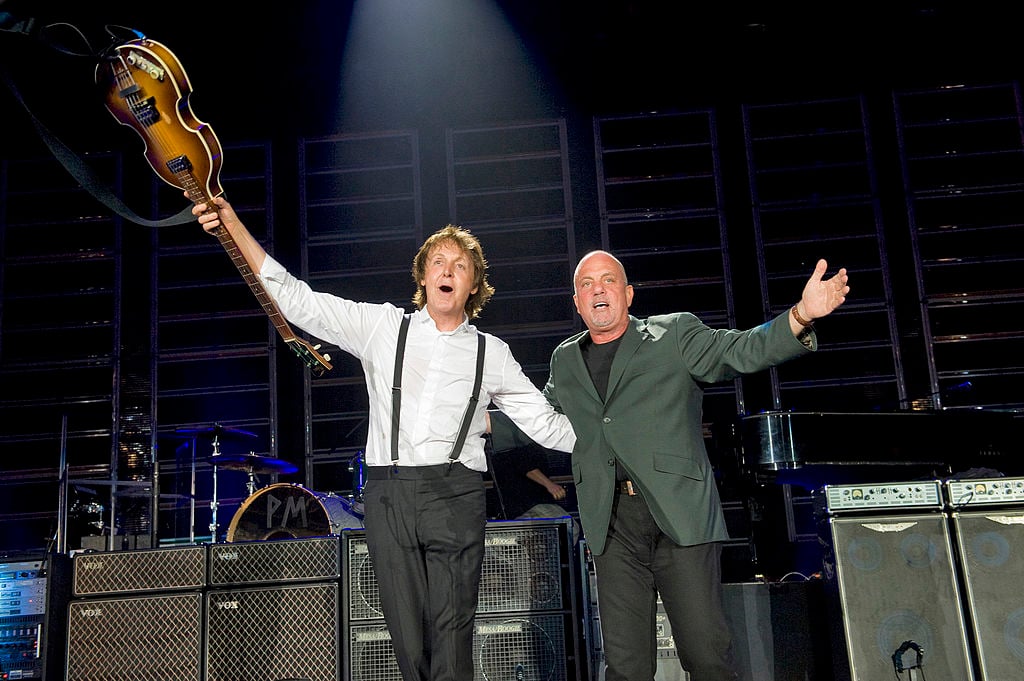 Here's the pretty funny, and completely relatable, story of the day these two music legends visited together.
Joel will be celebrating his 75th show at Madison Square Garden
Joel has had an ongoing residency at the historic venue in New York City; in fact, his is the first musical residency at the arena.
The Madison Square Garden Company announced recently that Joel will be continuing his incredible monthly residency in April of 2020 with a 75th consecutive show.
I'm having a lot of fun," Joel told Pollstar in 2018. "People show up, we throw 'em on the stage. We change up the setlist, dive into the obscurities. We do covers, we do silly stuff. We try to be as spontaneous as possible. If I start to get an idea for a song that I want to do at the moment, not even my song, we just go ahead and do it."
Sir Paul, vegetarianism, and Meat-Free Mondays (there's a thread here, promise)
The "cute Beatle" has been a vegetarian since 1975, his late wife, Linda, was a staunch vegetarian, and his children are vegetarian.
In fact, many people are not aware that the Maybe I'm Amazed singer, with his daughters Stella and Mary, created the Meat-Free Monday movement.
"I love being vegetarian," he told National Geographic in 2017. "I don't miss sausages. There's so much good vegetarian food these days anyway. . . If you say to people, just try it one day a week, they can do that, and they're kind of willing to do that."
He explained how he became vegetarian.
"Years ago, Linda and I, we had sheep and they had lambs, and it's the most beautiful time of the lamb's life, they're full of energy and full of spirit. And we happened to be eating leg of lamb for dinner that night, we weren't vegetarian yet."
"And so we made the connection. And we said, 'should we try and not do this?' So we did and never looked back. But it basically was out of compassion for these lambs who had just been born."
Joel hid his meat from Sir Paul
Billy Joel opened up to radio host Howard Stern in 2010 about a particularly embarrassing day he spent with the former Beatle. Stern had asked Joel if he had any interesting moments to share about having gotten together with another musician and having something great happen.
Joel didn't miss a beat.
"So Paul McCartney is going to come to my house in the Hamptons to hear these piano pieces." Joel began. "His attorney is my attorney so he kind of got it together for him to come to my house. 'Paul McCartney's coming to my house – wow!' Just me and him hanging out."
"So, I want to know I have drinks in case he wants a nice, cold drink. I'll have something in the fridge, I open the fridge and I look in the fridge and there are some cold cuts."
Stern interjected, "And that's not good enough?"
"Well, it's not that," Joel explained. "I mean, he's not a meat guy, he's anti-meat. I'm looking at my fridge and I'm seeing turkey breast and you know cold beef or something. It's starting to look like Jeffery Dahmer's refrigerator. I'm thinking if Paul opens the fridge he is going to freak out, run out of my house and never talk to me again."
Joel's ultimately stinky day with McCartney
"So I decide I'm gonna take all the meat out of the refrigerator and put it somewhere else. Literally I was gonna hide the salami. So I go through the fridge and I'm pulling out this and that and I'm hiding it in drawers."
"I didn't want to bother him with my meat. I had to put it somewhere because he was coming. I'm looking at my watch, he's gonna be here any minute. Where do I put the meat? Okay, I put it in the pantry and I put it in the drawer."
"We had a nice day hanging out. He's a regular guy, good family man."
"We just played each other music that we were working on. And that was it, then he left. He never asked for anything to drink, he never looked in my fridge."
"He leaves and I'm just calling everybody to tell them, 'hey, Paul McCartney was here.'"
"And a few days go by and I smell dead chicken sitting in a drawer for five days. It was all so well hidden, I couldn't find it."
Read more: What Is 'Piano Man' Billy Joel's Net Worth?