'Billy Madison': Norm Macdonald Was Actually Drunk While Filming Party Scenes With Adam Sandler
Comedy is mourning the loss of a great. Norm Macdonald died on Sept. 14 after a private nine-year cancer battle. But as Macdonald's own jokes would describe it, it wasn't a battle lost. It was a draw. Since the news of his death, Macdonald's friends have posted tributes to him in droves. Fellow Saturday Night Live alum Adam Sandler posted a touching tribute to the comedian on Twitter, sharing a photo of him and Macdonald in Billy Madison. The 1995 comedy was their first movie together, and their characters were drinking all the time. Macdonald and Sandler revealed in a hilarious 2016 Conan interview that Macdonald really was drunk in those scenes.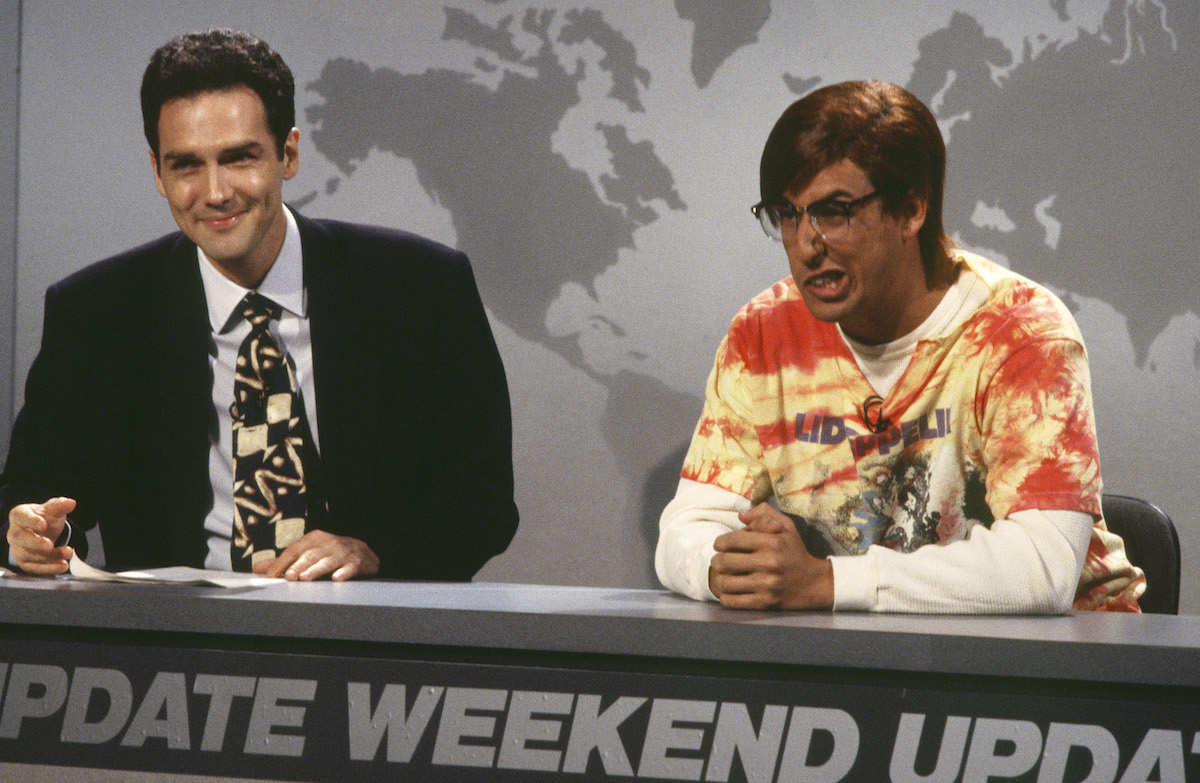 Norm Macdonald and Adam Sandler's friendship
Macdonald and Sandler were SNL castmates in the 1990s and remained friends long after. Billy Madison was Macdonald's first movie. It marked the first time he and Sandler acted together outside of SNL, but it wouldn't be the last.
Sandler and Macdonald worked together again on Dirty Work, The Ridiculous 6, Grown Ups, Deuce Bigalow, and Netflix's Here Comes The Funny tour. They maintained a close friendship outside of work as well. On Sept. 14, Sandler tweeted a tribute to his friend.
"Every one of us loved Norm," he said. "Some of the hardest laughs of my life with this man. Most fearless funny original guy we knew. An incredible dad. A great friend. A legend. Love u pal."
'Billy Madison' was Norm Macdonald's first movie
In a 2016 appearance on Conan with David Spade, Rob Schneider, and Nick Swardson, Sandler and Macdonald reminisced on filming Billy Madison. In the comedy, the actors played Billy and Frank — two buddies who spent all their time drinking at Billy's father's mansion. They set poop on fire on a neighbor's doorstep, laid by the pool, and didn't do much else. And Macdonald didn't need a lot of lines to be hilarious in the film.
On Conan, Sandler shared the hilarious story of trying to take a scene seriously with Macdonald, who he didn't realize was passed out drunk.
"We didn't know each other's acting styles," Sandler said. "Me and Norm are best friends in the movie, and we're out at the pool. We're doing a pool scene. I'm Billy Madison, of course." He continued:
"I'm doing a scene with Norm at the pool. I say my line and I think I did it very well. And I'm like let me see how Norm ping-pongs this line back. So there was a little bit of a delay and I was like, 'Old Norm likes to a take his time.' Then I'm waiting longer and going, 'Wow, he's really milking this one.' And a few more seconds later I noticed old Norm was sleeping."
As Macdonald added, "They wanted to me to play a drunk, so I said, 'You got some booze?'"
It was method acting! Because he was drunk, he also forgot Sandler would be calling him a different name.
"He called me Frank," Macdonald said. "And in my mind I was like, 'Who the f*** is Frank?'"
Norm Macdonald's 'Conan' appearances
This was far from Macdonald's first hilarious interview with Conan O'Brien. In fact, some of the comedian's most famous jokes were told during his interviews with talkshow hosts. If you want to do a deep dive into Macdonald's career, you can't miss out on Macdonald's moth joke and his wife in a coma joke. He also left O'Brien gobsmacked over the "most convoluted joke ever" in 2014.
Billy Madison is available for rent or purchase on Amazon Prime Video, YouTube, Apple TV+, Google Play, and Vudu. And Macdonald has two originals on Netflix: Norm Macdonald Has a Show, an interview series, and Norm Macdonald: Hitler's Dog, Gossip, & Trickery, an hour-long stand-up special. Both are available to stream on Netflix.