Billy Porter's Gown For the 2019 Oscars Was too Big For the Interview Platform
Billy Porter's iconic tuxedo gown he wore to the 2019 Oscars was a show-stopping look — 1 that couldn't fit on the interview platform Porter was asking questions from.
Billy Porter is an actor, author, and singer who has taken the entertainment world by storm in the past few years. Porter is best known for his role in Pose and his Broadway career, but Porter has been on stage and screen since 1992 when he appeared on Star Search and won. Since then he has released three solo albums and has won numerous awards for all of his creative endeavors.
When it comes to fashion, Porter likes to make bold moves. That is why he was the perfect person to wear a hybrid tuxedo gown on the 2019 Academy Awards red carpet.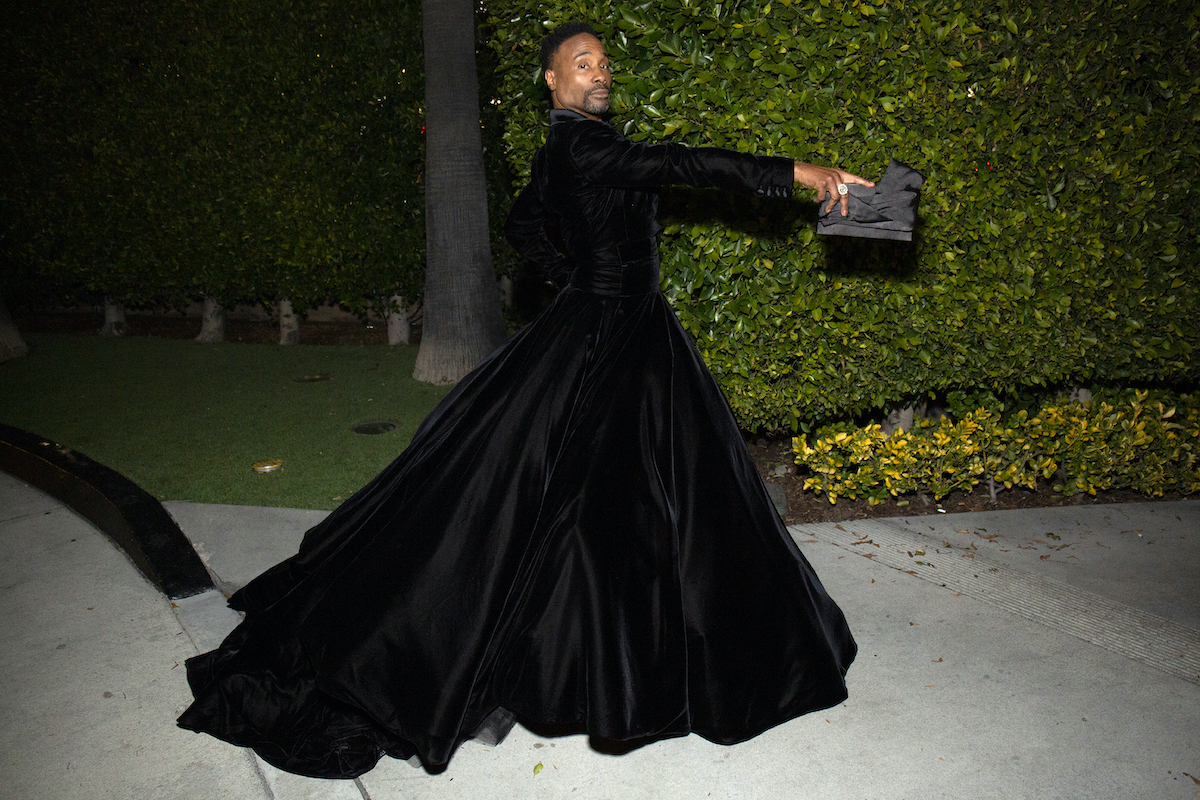 Porter's Christian Siriano gown for the 2019 Oscars stunned audiences
The 2019 Academy Awards included many A-list stars with stunning designer outfits, but none will be remembered as much as Porter's hybrid tuxedo-gown. It was a custom look that was put together for Porter by designer Christian Siriano in just over a week.
Porter's stylist Sam Ratelle was interviewed in Paper about the outfit and said about its inception, "We went to Christian's after-party and told him this was happening, and we asked him if he wanted to be a part of it," Ratelle said. "Christian was like, 'absofreakinglutely,' and immediately got on board to do something custom."
Ratelle continued: "We were certainly interested in playing with this aspect of masculine vs. feminine. What is gender? What does it mean? What is masculinity? What is femininity? And Christian thought it would be really chic to do this tuxedo look on the top and ballgown on the bottom." After a week of eighteen-hour days for the team, the look was perfected.
The dress couldn't fit on the Oscar's interview platform
The design and style team that put together Porter's look did have to contend with one crisis—the dress wouldn't be able to fit on the Oscar's interview platform where Porter would be conducting interviews for ABC's pre-show coverage. To avoid a disaster, a complete second outfit was crafted with the full skirt switched for a pair of palazzo pants. The outfit was adorned with accessories that were inspired by Karl Lagerfeld.
Even though the second outfit was just as stunning on Porter, the original ball gown was the show-stealer. "We really wanted to play up this aspect of having a Black man in a ball gown at the Oscars," Ratelle commented. "I don't really think that's ever been done before."
Other daring and iconic red carpet looks
Although Porter's look was the latest to have such an impact on the viewers and on fashion in general, he isn't the only one that has stunned viewing audiences with unconventional attire. In 1993, Reba McEntire attended the CMA Awards. While she didn't win that night, it didn't stop people from talking about her long red velvet dress. It had a plunging neckline and sparkles, something that fans had not seen her wear before. And she didn't let fans forget—in 2018 she wore the dress again to perform a duet with Kelly Clarkson.
One dress that no one can forget is Jennifer Lopez's 2000 Grammys green stunner with a neckline that plunged all the way to the waist. And even when a dress isn't made out of fabric, it can still capture an audience. Lady Gaga is famous for wearing a dress made of meat to the 2010 VMAs. The dress consisted of 35 pounds of meat and was eventually preserved by the Rock and Roll Hall of Fame with the help of a taxidermist.