'BIP': Blake Horstmann Said He and Kristina Schulman Are Going to Hang Out at Stagecoach Festival Again
Fans of The Bachelor are anxiously waiting to see who Peter Weber is going to pick to spend forever with. And now that we know who the next Bachelorette is, Bachelor nation followers are anxiously waiting to hear who will be arriving on the beaches of Mexico this year if Bachelor in Paradise comes back on the air.
During Season 6, we saw Blake Horstmann get roasted by multiple women on the beach — and Kristina Schulman was one of them. While the two hung out together at Stagecoach Festival prior to their arrival in Paradise, Horstmann's relations with Caelynn Miller-Keyes didn't sit well with Schulman. But now, it seems Schulman and Horstmann are both headed to Stagecoach again in 2020. Here's what Horstmann just said about his future plans.
Blake Horstmann and Kristina Schulman had romantic relations at Stagecoach Festival
Stagecoach Festival got more attention than ever during the 2019 season of Bachelor in Paradise. Horstmann famously had sexual relations with Schulman and Miller-Keyes at the festival, with one night with one woman following the next. And when both women found out what had occurred at Stagecoach, they were less than impressed with Horstmann's actions.
"When we were at Stagecoach together, he spent the night … I come to find out a month later he was with Caelynn, and I was really hurt by that," Schulman said during the BIP reunion.
As for Miller-Keyes, she also felt incredibly betrayed. She claimed she and Horstmann had a semi-serious relationship that started at Stagecoach, and they even thought about skipping Paradise completely just to be together. This led to a ton of tension in Mexico, as Miller-Keyes had to confront Horstmann while on the show. And this led to more conflict outside of the show when Horstmann released Miller-Keyes' private texts to him.
Schulman and Horstmann couldn't reignite their passion during 'Bachelor in Paradise'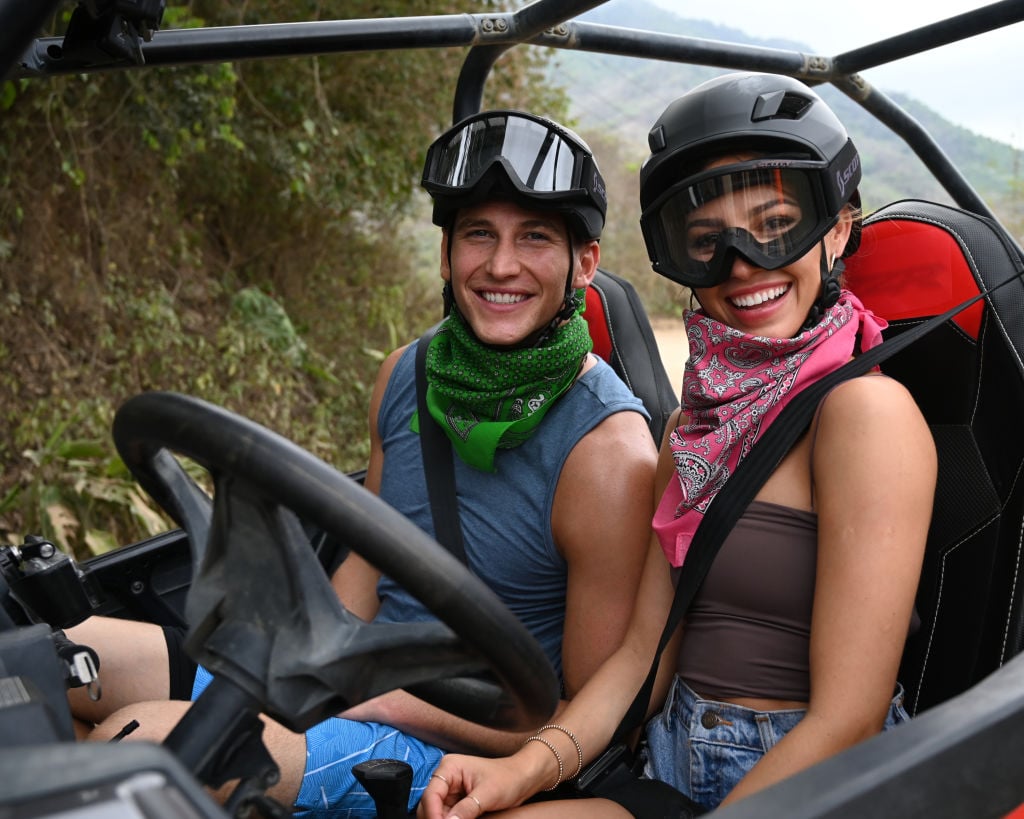 While Schulman and Horstmann may have established a connection at Stagecoach, Schulman wasn't happy with him when she first arrived in Mexico. She asked him to go on her first date while on the beach — and she used that time to chastise him for his actions. After they cleared the air, they maintained a friendship on the show and promised each other "friendship roses" so they could stay for as long as possible.
Their story doesn't end there, though. Horstmann later starts to garner romantic feelings for Schulman. "I thought I really did just want to be friends with you," he told her on the show. "Yet here I am saying that I can't stop thinking about you."
While Schulman was willing to give it a shot, she realized the passion just wasn't there. Horstmann voluntarily left Mexico, and Schulman followed shortly after.
Horstmann said they're going to go to Stagecoach this year
So, where do Horstmann and Schulman stand now? It seems the two are friends, and Schulman told Us Weekly after Season 6 of BIP that she thinks Horstmann ultimately had good intentions.
"I came down day two, and I'd already heard and seen everything that was going on and I saw him so broken already that I thought he didn't deserve what he was getting to that magnitude," she said.
Now, in 2020, it looks like both Schulman and Horstmann are headed back to the festival where all the drama began.
"Yes I am definitely still going," Horstmann told DailyMail.com regarding the festival. "I'm not going to let people shame me into not going to a music festival." He then added that he expects to hang out with Schulman, too. "I was talking to Kristina and she's going to be there and we're going to hang out. It's totally fine. We're all friends."
It doesn't look like Horstmann has any hopes of returning to Paradise. But if any drama occurs at Stagecoach, we're certain we'll hear about it one way or another.
Check out Showbiz Cheat Sheet on Facebook!