'BIP': Dean Unglert Doesn't Seem to Be Staying in His Van While Social Distancing
While Clare Crawley should be gearing up for her season of The Bachelorette, we know the season's postponed due to the threat of the coronavirus (COVID-19). And now, fans may be wondering if Bachelor in Paradise will stay on schedule, too. We're all curious as to which romantic hopefuls from Peter Weber's season will try and find love on the beaches of Mexico. While there was plenty of heartbreak last season, we also know that there are quite a few couples who are still going strong, like Dean Unglert and Caelynn Miller-Keyes.
Unglert and Miller-Keyes had a rocky road on BIP. But now, they're better than ever, though their typical travel plans have been halted. And it seems Unglert isn't living out of his iconic van during this time of social distancing. Here's what we noticed.
Dean Unglert notoriously lives out of a van
When Unglert joined the cast of BIP for Season 6, he made it known he was just there for fun, as he intended on living his life in a van and traveling to as many places as possible. This, of course, threw a wrench into the relationship he established with Miller-Keyes. After they connected, Unglert chose to leave BIP, as he didn't think their future would pan out since he lives in a van. But he later returned, as he realized he really did care for her and wanted to give it a go.
While Miller-Keyes has a background in pageantry, she's been giving van life a go, too. And the two created a video early on in their relationship that goes through all the aspects of the van.
"Got a good weighted blanket for you and your anxiety for dating a guy that lives in a van," Unglert explains to the camera in regards to the bedroom setup. He then shows off the entertainment area, which includes an iPad attached to a swivel. And the roof of the van contains a secondary bedframe for when he and Miller-Keyes can't stand each other anymore. "That's it! Welcome to your new home, I hope you love it," Unglert mentions to his girlfriend.
Unglert and Miller-Keyes appear to be making strides to move in together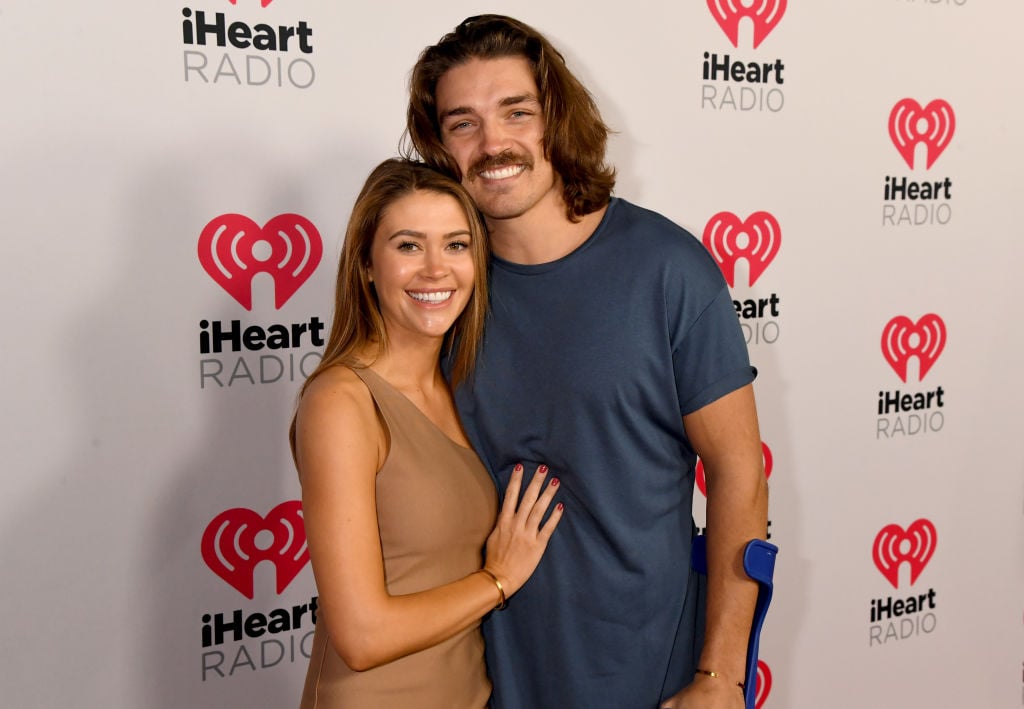 Unglert and Miller-Keyes seem to have a loving and respectful relationship. And it looks like they may be further along than any of us know. Marriage rumors are already circling, and the topic of their living situation has also been called into question. We know Miller-Keyes has her own apartment — but we're not sure if Unglert is ready to ditch the van completely and move in.
"I think Dean is just — I think he's falling more and more in love with her every day," former BIP star Jared Haibon told People in regards to Unglert's feelings.
And Ashley Iaconetti had her own thoughts about Unglert's possible move. "They are kind of moving in together," she said. "It's Caelynn's place, and Dean travels all the time, but whenever he's going to be here in a home base, he'll be there."
"Once his leg heals, I think he's going to go back into living in the van, and I think he'll still have this nomadic lifestyle," Haibon added. "But I truly think he just wants to be with Caelynn at the end of the day."
Miller-Keyes and Unglert left clues he's not in his van while social distancing
While social distancing is in place, it seems Miller-Keyes and Unglert aren't hanging in the van. On March 19, Miller-Keyes posted a photo to Instagram that was clearly from her apartment. And she mentioned that she was with her "two favorite guys," which included her dog and Unglert. Then, on March 23, she added that she was "qurandeaned," which likely means she's stuck in quarantine with her boyfriend.
As for Unglert, he hasn't posted many photos of Miller-Keyes to his Instagram. But his Instagram Story on March 23 shows Miller-Keyes exercising in her apartment, and he's clearly taking the video.
We know Unglert had a serious accident while skiing, at the end of 2019, so he may also still be recovering from that. And we're not sure how long he'll stay with Miller-Keyes in her apartment before he takes to life back in the van. But it seems they're riding out the coronavirus scare together so far!
Check out Showbiz Cheat Sheet on Facebook!