'BIP': Dean Unglert Thinks Colton Underwood Never Should've Mentioned Caelynn Miller-Keyes in His Book
Colton Underwood mentions Caelynn Miller-Keyes from his 'Bachelor' season in his new memoir, and Dean Unglert thinks he shouldn't have.
It's hard to keep track of everything happening in the world of Bachelor Nation. While we know former Bachelor Colton Underwood just dealt with coronavirus (COVID-19), he now has exciting news to share — and that's that his long-awaited book is out. We know Underwood best for jumping the fence for Cassie Randolph at the end of his season and ultimately winning her heart. And now, we get an in-depth look into his upbringing, his relationships, and his true thoughts and feelings.
Not everyone's impressed with the content in the book, though. While Caelynn Miller-Keyes got her start on Underwood's season, her current boyfriend, Dean Unglert, doesn't think Underwood should've mentioned her in The First Time. Here's what he said.
Caelynn Miller-Keyes dated Colton Underwood before Dean Unglert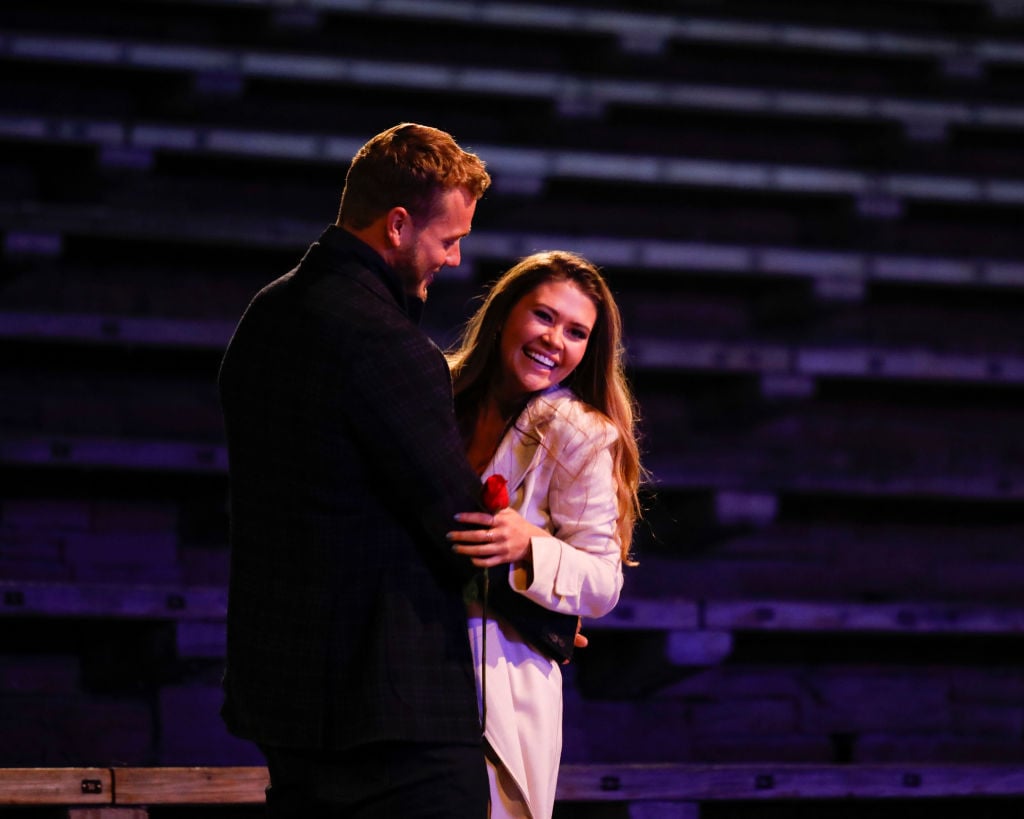 Those who watched Underwood's season likely remember Miller-Keyes. She and Hannah Brown had an ongoing feud that was made into a major plot point on the show. And while Miller-Keyes thought her connection with Underwood was strong, true, and everlasting, he ended up sending her home after the hometown dates.
Miller-Keyes was surprised Underwood sent her home instead of Randolph as well. "And so, she didn't really talk that much about her relationship, but she did say that, you know, we both kind of felt that my relationship was a little more further advanced than hers," she told Entertainment Tonight. "So I was surprised that I was sent home and not her."
Despite the drama, Miller-Keyes managed to maintain a friendship with Underwood and Randolph after the show. And she even said she thinks of Underwood as a big brother-figure now.
Underwood mentioned Miller-Keyes in his new book
Underwood's new memoir, The First Time, is all about his life before The Bachelor, the impact the show had, and where he's at now. And it seems he had no qualms about mentioning some of the women who were on the show with him.
Cosmopolitan notes Underwood delved more into Miller-Keyes and Brown's feud that occurred on his season. Brown explained to Underwood during his season that she and Miller-Keyes had a "fallout" of some sort, as they knew each other from their pageantry past. And Miller-Keyes explained that Brown might've been jealous and upset that she was more successful.
Underwood spilled new tea in the book, though. "From what they told me off camera, their problem had to do with a tasteless joke about a serious matter related to one of their family members," he wrote. "I won't say anything more. The tension of being on the show together opened this old wound and cast a dark cloud over the entire week."
Unglert doesn't think Underwood should've mentioned her
It doesn't seem like mentioning Miller-Keyes in the book was necessary to Underwood's story. And Unglert talked about this on his Help! I Suck at Dating … podcast.
"I think it's kind of silly and a little unfair to the people he's mentioning in the book," Unglert said. And co-host Jared Haibon asked Unglert if he was annoyed that Miller-Keyes' name was thrown out there.
"He's probably writing about things that maybe he shouldn't be writing because it involves more people than just him," Unglert notes. "And, from my experience with this is, if Caelynn's in the book, people have been DMing her about the book, and she's like, I didn't ask for this. … At least give them a heads-up … get their permission to write about certain things."
Unglert went on to say that he has "specific feelings about this" that go beyond Miller-Keyes. But Haibon notes that Underwood's book only briefly mentions Miller-Keyes and doesn't go on to bash anyone's character, so perhaps talking about her is fair game.
We're not sure how Miller-Keyes feels about being mentioned in the book. But it's clear Unglert thinks it would've been best if her name was never thrown out there.
Check out Showbiz Cheat Sheet on Facebook!