'BIP': Did Kristian Haggerty Just Drag Demi Burnett by Bragging About Her New Girlfriend?
Demi Burnett and Kristian Haggerty got engaged on 'Bachelor in Paradise.' Haggerty may have just jabbed at Burnett while talking about her new girlfriend.
The season of Bachelor in Paradise featuring Demi Burnett and Kristian Haggerty is long over. But fans are still curious as to how both of these fan favorites are doing today.
Those who keep up with The Bachelor know Burnett is the first openly bisexual person on the show to come forward with a same-sex relationship. And she was embraced fully by producers and fans when she announced she had fallen for Haggerty, whom she met off the show. Unfortunately, while the two got engaged on the show, they couldn't make their relationship last. And we're not exactly sure where they stand now.
Haggerty is dating someone new. And she may have just dragged Burnett during an interview when talking about her new woman. Here's what Haggerty said.
Evidence suggests Kristian Haggerty and Demi Burnett didn't have a nice breakup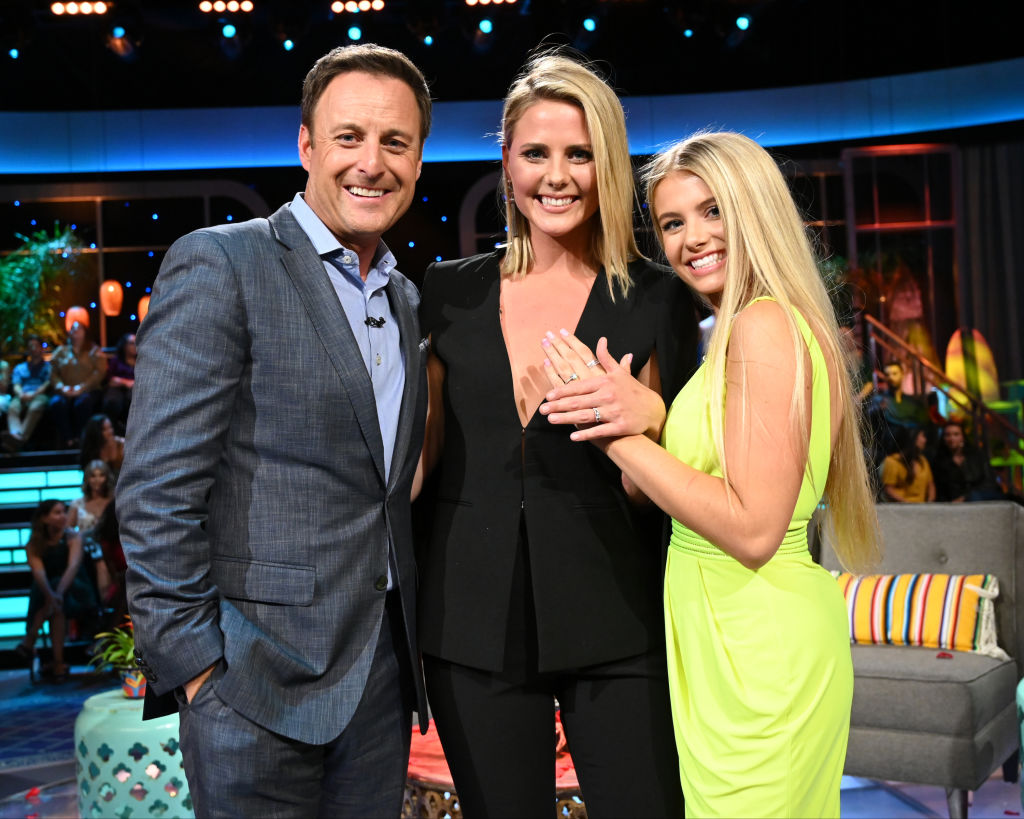 While Burnett thrived on Colton Underwood's Bachelor season and in Paradise, Haggerty seemed less enthused to be on reality TV. While it's clear the two women really loved and cared for one another, their compatibility might've been off from the start. And while they seemed happy to be engaged, it wasn't long before everything was called off on Oct. 31, 2019.
Both ladies took to their Instagrams to announce the split. "With a heavy heart full of love for one another we have decided it is best for us to take a step back from our relationship," Burnett wrote. "We ultimately want what is best for us in the long run and for us right now, that means being apart and growing individually."
The drama didn't stop there, though. It seems the breakup might not have been as amicable as it seemed, as Haggerty's sister insinuated that Burnett was "desperate" in one of Burnett's bikini Instagram photos.
Haggerty has now totally moved on to someone new
It looks like Burnett's still single following her split from Haggerty. And we may see her on a future season of Paradise or even The Bachelorette if we're lucky. But Haggerty has totally moved on — and she seems more in love than ever with her new girlfriend.
Haggerty's current love interest is Taylor Blake, a reality star known for her work on The Reality House. And Haggerty has been writing sweet messages about Blake on her Instagram since the beginning of 2020.
"To say I'm thankful for you would be understatement. There are no words to express how deeply you have touched my soul throughout the years I've known you, especially these past few months," Haggerty wrote on Instagram in celebration of Blakes' 27th birthday. And Blake wrote her own sweet tribute to Haggerty that shows they go way back.
"When I was 13 I wanted you to be my Valentine, but I was closeted and too scared to ask you- So, I asked your cousin Luke to be my Valentine instead," Blake captioned her post of her kissing Haggerty. "Here we are at 27, and I finally made you mine."
She may have just dragged Burnett during an interview
Haggerty seems more ready than ever to talk about how much she adores Blake. She told Us Weekly on Feb. 18, "[Taylor is] truly the kindest and most centered person I know. She's been a huge comfort and a pillar of support, especially when it comes to navigating a more public life." Haggerty then noted that she's known Blake for years, as they grew up in the same town and went to the same high school.
Haggerty was never in the public eye prior to dating Burnett. And calling her new girlfriend a "comfort" since living a more "public life" could be a mild clap back at all the negative attention her relationship with Burnett brought her. Considering some even thought Haggerty was dating Burnett for fame, her mention of Blake's support could be a jab at her ex.
Burnett doesn't seem to pay any attention to Haggerty, though. She has her own projects in mind and a whole life ahead of her. And considering how many Bachelor in Paradise and Bachelorette stars comment on her photos, she shouldn't have any trouble finding dates in the future.
Check out Showbiz Cheat Sheet on Facebook!