'BIP': Everyone's Freaking Out After Derek Peth Called Demi Burnett Flawless on Instagram
Derek Peth fell for Demi Burnett on 'Bachelor in Paradise.' Now, he's telling her sees none of her flaws on Instagram.
All eyes are on Peter Weber as he approaches the end of his Bachelor season. But before Weber, we can't forget all the drama that occurred on Bachelor in Paradise. Demi Burnett from Colton Underwood's Bachelor season hit it off with Derek Peth from JoJo Fletcher's season of The Bachelorette while on the beaches of Mexico. Unfortunately, Burnett cut her time with Peth short, as she pursued her relationship with girlfriend Kristian Haggerty instead.
Peth tried to make new connections in Paradise, but he was left heartbroken when it came time to say goodbye to Burnett. And despite Burnett and Haggerty getting engaged on the show, they've since parted ways. Now, Burnett appears to be single. And Peth is back to publicly posting on her Instagram. Here's what he wrote about her lack of flaws.
Demi Burnett dumped Derek Peth on 'Bachelor in Paradise'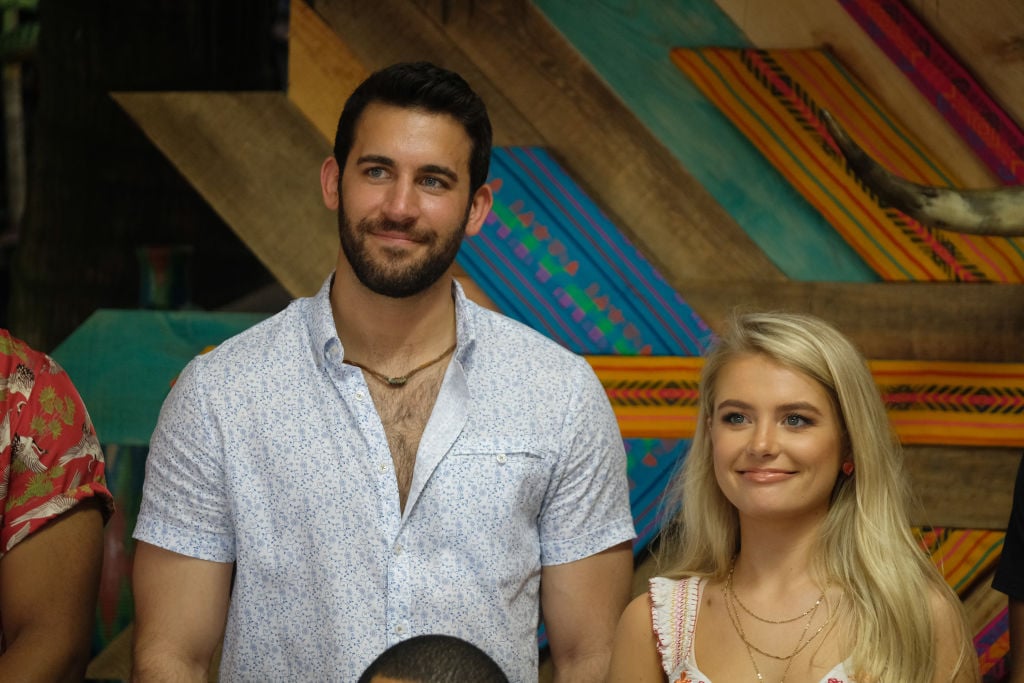 Burnett and Peth instantly connected in Paradise, and many loved their drama-less, easy-going relationship. Unfortunately, Burnett found herself drawn to Haggerty, the woman back home, despite developing a serious connection to Peth.
"I have this girl that I can't stop thinking about and then I have you, an amazing guy, in front of me that has blown my mind with how great of a person you are," Burnett told Peth in Paradise. "And I'm trying to figure it out, but right now I'm just really torn."
Those who watched the show know Burnett ultimately picks Haggerty. And Peth takes the breakup gracefully, as he truly wants the best for the woman he was falling for. He later sent a tweet out to fellow BIP star Mike Johnson for helping him get through "one of the most difficult moments" in his life, which was when Burnett told him the honest truth.
Peth called Burnett flawless on her Instagram post
It seems Peth might still have some lingering feelings for Burnett. While Burnett and Haggerty seemed like a great match, they broke up back in October 2019.
"With a heavy heart full of love for one another we have decided it is best for us to take a step back from our relationship," Burnett announced on Instagram. "We ultimately want what is best for us in the long run and for us right now, that means being apart and growing individually."
Since then, Burnett has been focusing on her Sex Positive campaign, and she's also made many statements about being the first openly LGBTQ person on any of the Bachelor shows. And given what Peth commented on Burnett's selfie she posted on Feb. 18, we can tell he still thinks of her.
"I just really like dis pic," Burnett captioned the post.
To that, Peth commented, "i see no flaws."
This isn't the first time Peth has reached out publicly to Burnett
Fans freaked out when they saw Peth basically calling Burnett flawless, of course.
As one fan commented on what Peth wrote, "can y'all please date again?! #teamremick(Demi/ Derek) but also your both killing it solo so like do what feels right."
Another wrote, "I still ship."
We can't forget that this is far from the first time Peth has commented on Burnett's Instagram since their split, too. Back on Nov. 10, 2019, Peth commented on another photo Burnett added of herself. And it got their followers talking back then as well, as one wrote, "petition to get Demi and Derek back together."
Will Burnett and Peth ever give their relationship another shot? We've seen plenty of exes meet again in Paradise, so perhaps they'll both be traveling to the beaches of Mexico again in the future to rekindle their flame. There's also the chance they have a fantastic and easy friendship that they don't want to ruin with romance, too. But given how heartbroken Peth was, we're betting he'd love another chance with Burnett.
Check out Showbiz Cheat Sheet on Facebook!