'BIP': Riley Stands up for Maurissa After Night in the Boom-Boom Room Airs: 'I Did Notice the Blatant Double Standard'
Riley Christian joined the cast of Bachelor in Paradise on Tuesday's episode and immediately formed a connection with Maurissa Gunn. The two partook in an adventurous date hosted by Lance Bass that ended with a trip to the boom-boom room. After the episode aired, Maurissa (but not Riley) was criticized by some of Bachelor Nation about how the date ended. On Aug. 26, Riley took to Instagram to talk about the "double standard" for men and women who have sex on a first date.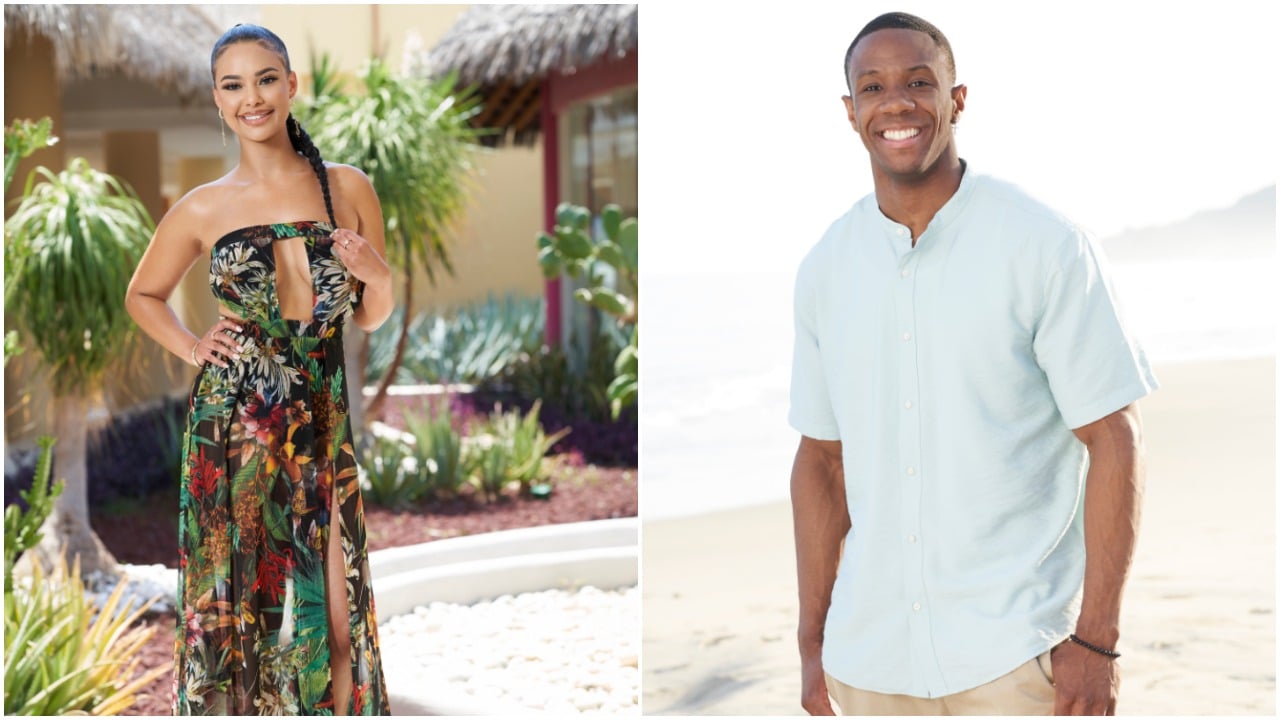 Riley and Maurissa connect on 'Bachelor in Paradise'
For their date, Riley and Maurissa were seated at a table in a restaurant in front of two mystery plates of food. When the food was revealed, Maurissa saw "the most disgusting things I've ever seen in my life — everything from a big a– tongue to bugs." Lance explained the rules: Answer his personal questions or take a bite of the food. Maurissa and Riley answered most questions — they both said they'd never slid into a celebrity's DMs or said "I love you" to someone without meaning it. But they both took a bite of tongue when asked how many people they'd slept with. By the end of the game, the two were making out in front of Lance.
RELATED: 'Bachelor in Paradise' Season 7, Episode 3 Recap: The Men vs. Thomas
As the night went on, their connection only deepened. Both Maurissa and Riley said they wanted "a basketball team" of kids. And Maurissa shared that she needs a lot of "reassurance" from her partners. Riley told her he could give that to her.
By the end of the date, Riley felt "the sexual tension is there." When they returned to the beach, the budding couple made their way to the boom-boom room.
Riley stands up for Maurissa on Instagram
After the episode aired, some fans took to social media to criticize Maurissa for having sex with Riley after their date. Riley addressed those people in a series of videos on his Instagram stories.
"Okay, so I've finally been able to read some of the comments that have been left on social media pages over the last few days," he began. "And of course everybody's entitled to their opinion. That is what makes this great. That is why I keep my comment section open on my various social media pages. I love engaging with you. But just know that I read some of them and I did notice the blatant double standard there is between men and women and how we behave in society. And just know when you put that type of stuff out there — yes you are entitled to your opinion, you're entitled to judge people — just know that I see it and I'm judging you back and so is everybody else. So with that, you all have a fabulous day. Continue to tune in. I'll see ya'll."
'Bachelor In Paradise' fans are hopeful for Riley and Maurissa
In addition to calling out the double standard he and Maurissa experienced after their date aired, Riley has also been posting about his date with Maurissa in his stories and on his page.
"That was something special," he captioned a post that included two photos of him and Maurissa on their date.
RELATED: Blake Horstmann Was Talking to Becca Kufrin Before She Went on 'Bachelor in Paradise,' Says 'The Show Doesn't Want to See Us Together'
Maurissa posted similar photos on her page with the caption: "Best first date ever…… minus the food."
So fans are excited that the new couple just may go the distance in Paradise.
"You're the sweetest I hope it works out between you guys," commented one fan on Riley's post.
"Favorite bachelor nation couple ever 😭♥️💞 The way you said you appreciated reassurance, and he basically said, I got you, was everything," wrote a fan on Maurissa's post.
Bachelor in Paradise airs on ABC Mondays and Tuesdays at 8 p.m.