'Black Panther' Actors Chadwick Boseman and Michael B. Jordan Started Out Playing the Same Soap Opera Character
The stars of Black Panther met long before they joined Marvel.
The Marvel Cinematic Universe has become quite an expansive place. In fact, with 23 movies released and many more on the way, it feels like only a matter of time before just about every major Hollywood star appears in the MCU. Even heroes who were not mainstream before getting the big-screen treatment have exploded into cultural phenomenons.
Take Black Panther, for instance. Prior to director Ryan Coogler's 2018 blockbuster, casual moviegoers were probably only aware of T'Challa from his supporting role in Captain America: Civil War. Yet, Black Panther's combination of social commentary and super-heroics led the film to a worldwide box office gross of $1.3 billion.
Yet, even before Black Panther, the film's two main stars — Chadwick Boseman and Michael B. Jordan — had an incredibly specific connection.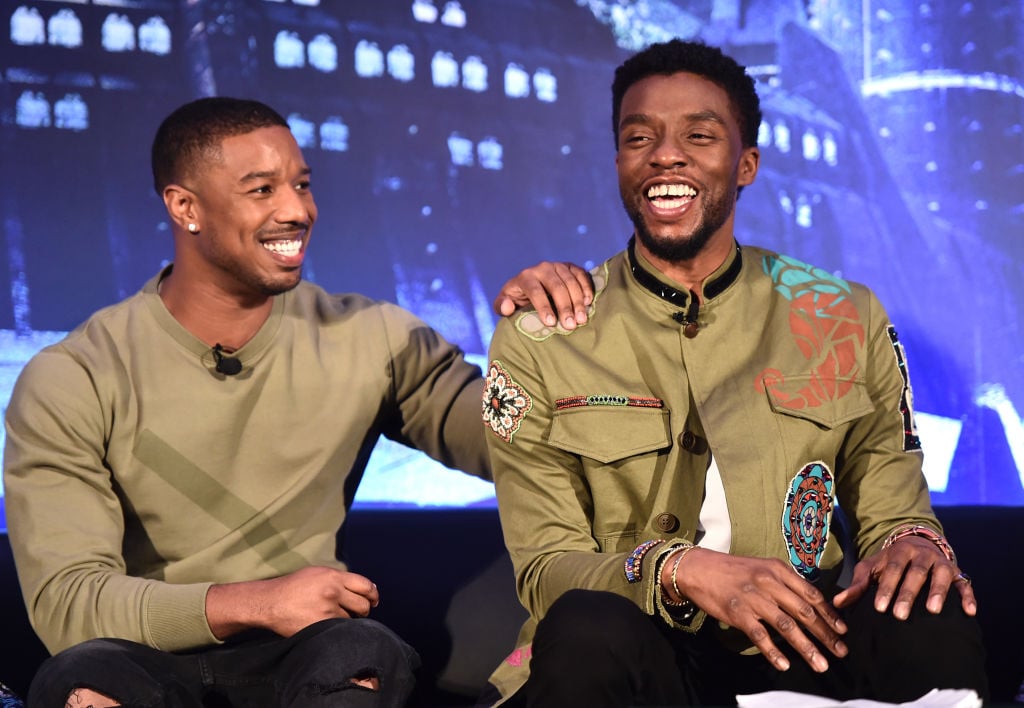 Chadwick Boseman and Michael B. Jordan starred in 'Black Panther'
In Black Panther, Boseman, of course, plays T'Challa, the newly crowned king of Wakanda. The story starts off just before his coronation following the death of his father (John Kani) in Captain America: Civil War. But very soon, his long-lost cousin, Erik Killmonger (Michael B. Jordan), launches his own plan to take over the throne.
Through the prism of a superhero blockbuster, Black Panther winds up tackling a tone of issues. But at its heart, the film is a family tragedy of Shakespearean proportions. As Wakandan royals separated more by circumstance than by blood, T'Challa and Killmonger represent two sides of the same legacy, with the latter providing a poignant look at the black experience.
Both Boseman and Jordan accordingly deliver powerful, resonant performances. And their chemistry on screen leaves audiences empathizing with both in vastly different ways. The roles give Black Panther's two leads not only the opportunity to sell a far richer film than many others of its kind. It also underscores how much the actors have grown since early in their career.
They also both started off playing the same role on 'All My Children'
In recent years, Jordan and Boseman have both led a number of films. While Jordan headlines the Creed franchise, Boseman has played real-life figures such as James Brown, Jackie Robinson, and Thurgood Marshall. Yet, both actors began their careers on television. In fact, they both played Reggie Porter Montgomery on ABC daytime soap All My Children.
In his first acting role, Boseman originated the role of Erica Kane's (Susan Lucci) adopted son in 2003. However, the actor was fired after refusing to play into what he perceived to be racial stereotypes for his character. Soon thereafter, Jordan was brought onboard and went on to play Reggie from 2003 to 2006.
From there, the two actors took very different paths, though both stayed primarily on TV for the next few years. Throughout the 2000s, Boseman appeared on shows like ER, Law & Order, and Cold Case before his breakout movie role in 2013's 42. Jordan, meanwhile, had key roles on Friday Night Lights and Parenthood before teaming with Coogler for 2013's Fruitvale Station.
Could the two stars reunite on 'Black Panther 2'?
The way Black Panther ended, the chances of Boseman and Jordan sharing the screen again — at least in that franchise — might seem slim. However, the film also establishes the concept of the Ancestral Plane, a place where T'Challa interacts with his late father in a key scene. The film establishes that the Ancestral Plane is populated by former Wakandan kings.
And since Killmonger — albeit briefly — bears that title, it's very possible Jordan could reprise the role for a cameo. Perhaps T'Challa confers with his late cousin in the Ancestral Plane regarding the threat he faces in Black Panther II. Such a scene would allow Jordan to play a version of Killmonger that's finally at peace.
After all, Coogler — who's back behind the camera for the sequel — has never directed a film without Jordan. Considering how audiences and critics responded to the actor's performance in Black Panther, we don't expect the prolific director-actor pair to break their streak anytime soon.