'Black Widow': Behind-the-Scenes Photo of Florence Pugh and Scarlett Johansson Has Fans Beyond 'Excited'
Black Widow was initially meant to start Marvel's Phase 4. However, with the delays in production due to the coronavirus pandemic, the Scarlett Johansson film took a backseat to WandaVision and Falcon and the Winter Soldier.
Although the movie was delayed, it's still a significant moment for Johansson's character Natasha Romanoff as she gets her solo film. Marvel Studios announced the flick's release date, and with the behind-the-scenes photos of the two lead actors, Florence Pugh and Johansson, fans are more than excited.
'Black Widow': When does the film come out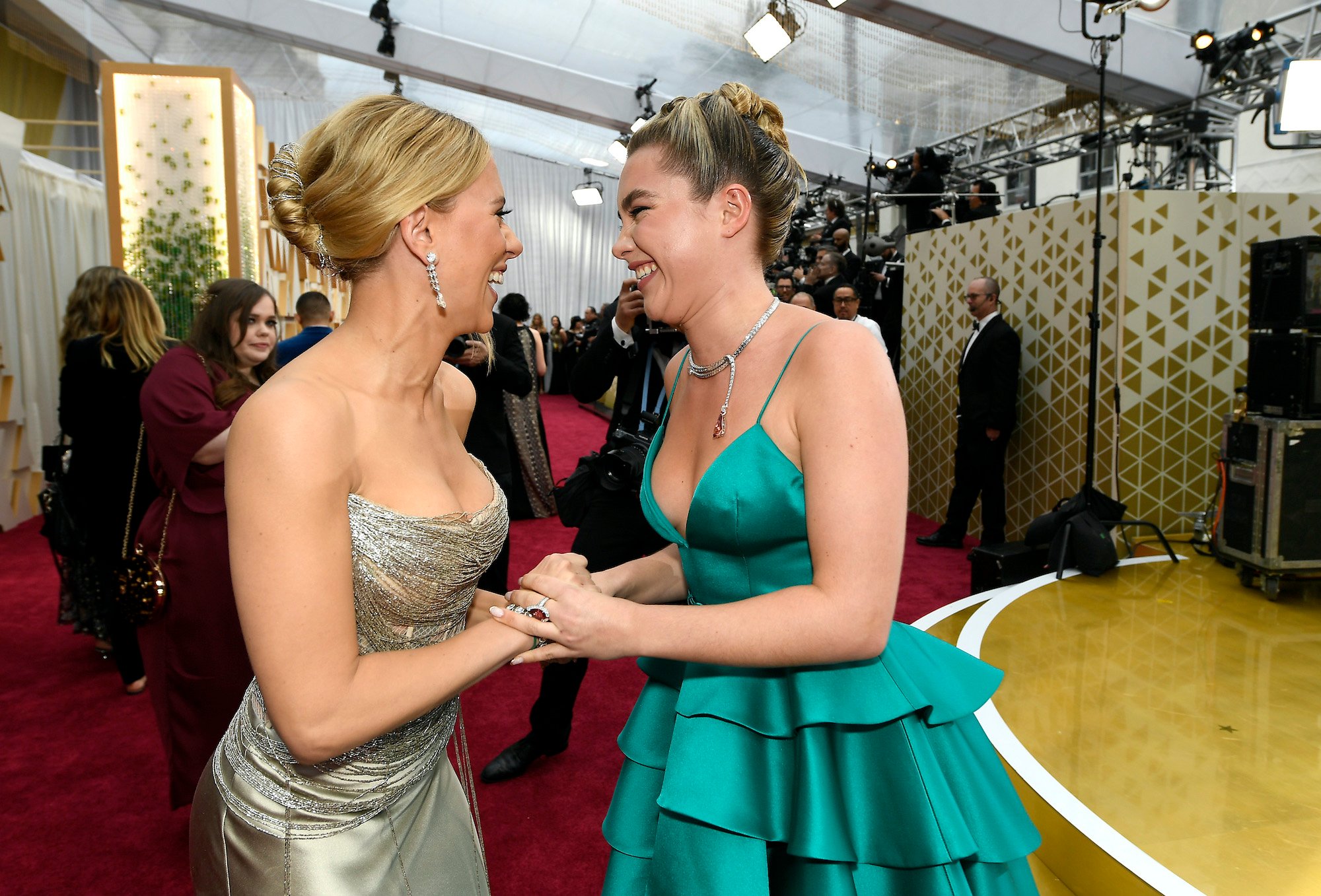 Natasha has been a central character in the Marvel Cinematic Universe. She was introduced to fans in Iron Man 2 and became even more famous when she appeared in Avengers films and Captain America. MCU has given all of the Avengers their own films which detail their backgrounds, with most of them even getting sequels.
Understandably so, fans have begged Marvel Studios for years to give Natasha her solo film since they felt her character was not developed. Fans didn't understand Natasha's background well except that she was trained as a killing machine. It seems the franchise listened to its fans and announced Black Widow as part of its Phase 4 release.
However, fans can recall that Natasha gave up her life in Avengers: Endgame when retrieving the Soul Stone. This detail left some fans confused about the Black Widow movie announcement, with many wondering how Natasha would fit into the storyline considering her character died in 2019.
The MCU has been known to manipulate time before, with time travel making up a significant portion of the franchise's storylines. The film is set to take part much earlier in the timeline, even before Natasha joined the Avengers. Marvel has pushed the movie's release date back twice, but as Heavy reports, the flick is set to hit theaters on July 9, 2021.
Is Florence Pugh the next Black Widow?
Seeing as Natasha met her death in Endgame, the spot for Black Widow ultimately lands on another character's shoulder, which is where Pugh comes in. The film's director confirmed that the British actress would be taking on the role from Johansson.
Cate Shortland said, "and we didn't know how great Florence Pugh would be. We knew she would be great, but we didn't know how great." Pugh had a successful 2019, having appeared in Little Women and Midsommar. She also got her first Oscar nomination that same year and seemed like the perfect actor to take over MCU'S resident Russian assassin.
Shortland commented on Natasha's lack of funeral, claiming that Johansson insisted on it, saying that Natasha was a very private person and wouldn't have wanted a funeral. Shortland explained that they decided to give Natasha a fitting sendoff by allowing the ending to be a way of grieving the character.
Pugh takes on the role of Natasha's younger sister Yelena Bulova who comes from the same program that trained Natasha to fight and kill. In the comics, Natasha and Yelena's story wasn't always rosy, and things seemed strained. However, we can only hope that the two have since mended fences seeing as Yelena is taking over from Natasha as Black Widow.
A behind-the-scenes post has fans excited for the movie
Recently, a Reddit user posted behind-the-scenes photos of the Black Widow cast, saying "looks like they are having the time of their lives while making this movie." Other users quickly commented on the post showcasing their excitement for the film.
One fan eagerly asked, "Ok neat, but can they release it a year ago?" with another replying, "can't wait to see this movie." Another fan expressed their excitement to see Pugh appear in the flick posting, "I'm so excited to see Florence Pugh in action."
RELATED: Is Marvel's Wanda Maximoff Actually Related to Black Widow?