'Black Widow': David Harbor Could 'Steal the Show'
Marvel fans should have seen Black Widow by now. Let's go all the way back to the beginning of the year. Marvel, having bowled the world over with Avengers: Endgame, stood to enter Phase 4. By now, we would have also had Eternals and the first Disney+ shows, including The Falcon and the Winter Soldier.
As we all know, the pandemic had other ideas. Now, 2020 stands to be the first year since 2009 without any new Marvel product at all. That leaves fans with only speculation about what the movies might be like. Some people think David Harbour might turn out to be Black Widow's secret weapon.
Who does David Harbour Play in 'Black Widow?'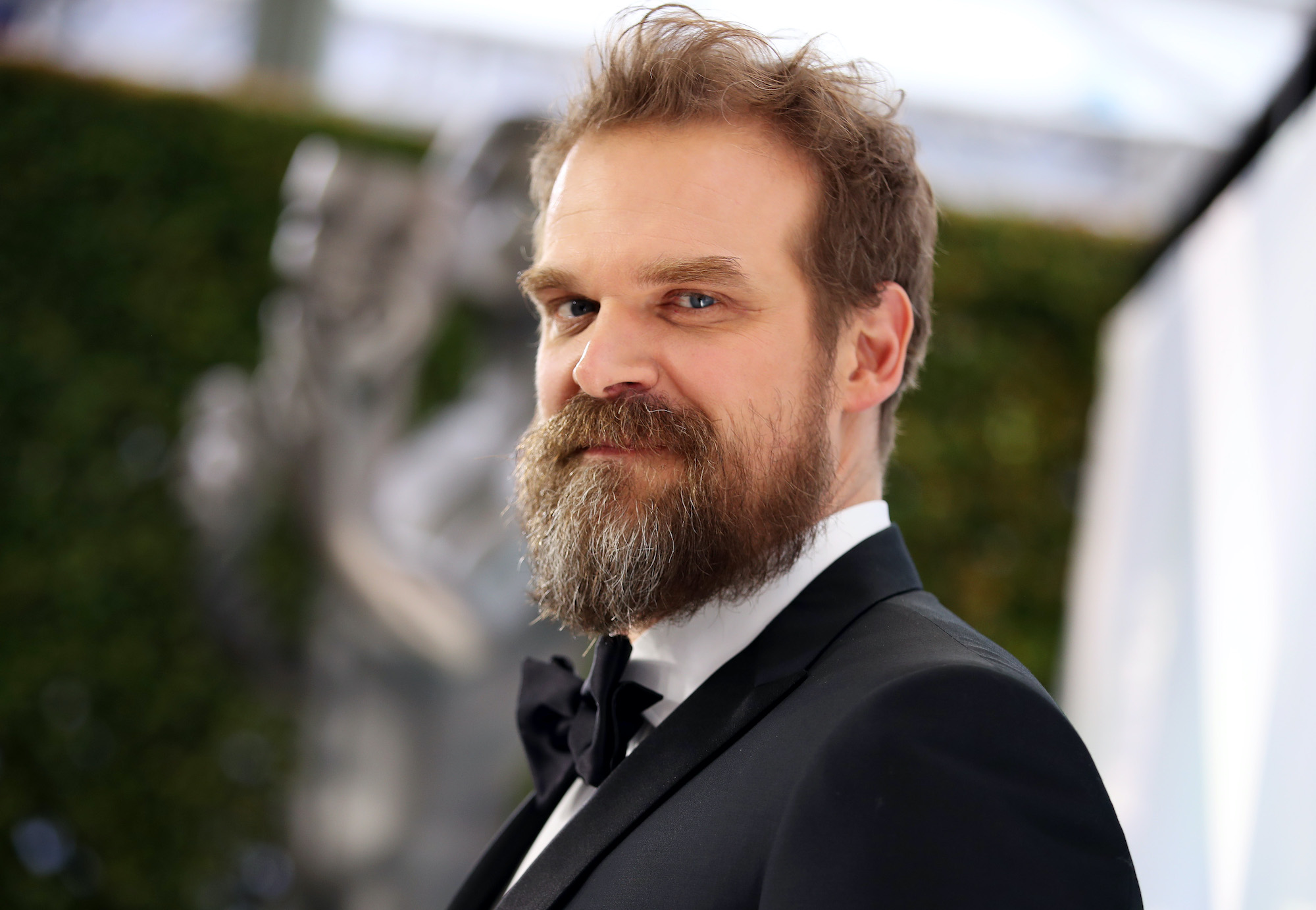 According to EW, Harbour plays Red Guardian, who at first appeared to be a surly Russian version of Captain America, complete with a shield he tosses around. Later trailers have revealed him to be a more comical figure – someone who is past his prime and doesn't seem to realize it.
His antics reminded some of Pixar's Mr. Incredible trying to get back in shape after years of retirement. 
"I think I'm biased, but I think it's the best character in all of the Marvel Cinematic Universe," Harbour says. "I mean, he is a narcissist, so it's very appropriate that I'm playing him and that I think that. But he's just got so many layers. On one level, he's your classic superhero badass character, but then when you meet him, he has this need to be liked, and he wants to be thought of as funny and a big shot — which he isn't."
More than a few fans noted strange similarities between Red Guardian and Hopper, the police chief from Stranger Things, which has been Harbour's primary claim to fame.
Hopper had apparently met his end at the end of the third season of Stranger Things, although clues indicated that he was still alive somewhere in Russia. Since Black Widow is a prequel, some fans have joked that Hopper went into the Upside Down and became Red Guardian. 
What do fans say about Red Guardian?
RELATED: 'Black Widow': More Delays Will Cause the MCU and Real-World Timelines to Merge Again
Related post url: 
Having already endured Black Widow's move from May to November, then from November to May of 2021, fans on Reddit are still picking apart a film they haven't seen yet, with a fan asking, "What would it take for Black Widow to become your favorite Marvel movie? With 23 films and counting, that is indeed a tall order. 
However, one fan said it would be great to see "All the new supporting characters knocking it out of the park. I have such high expectations of David Harbor already I think he could steal the show."
Indeed, when it comes to the supporting characters, most of the discussion has been about Yelena, played by Florence Pugh. That's fitting, considering the oft-repeated theory that Yelena will succeed Natasha as Black Widow, but Harbour's character has been rather overshadowed in the process. 
Whatever the case, Harbour thinks fans won't be disappointed, telling EW, "Had they offered me a crappy part in a mediocre movie, I probably would've taken that too. But the fact of the matter is the script was really damn good, and the part is extraordinary."
The Marvel floodgates will open soon enough
For a while, it looked like WandaVision would be the unlikely last Marvel show standing for 2020, so fans were disappointed to find out it wasn't coming until January.
The silver lining to that is that all the movies and shows that had been slated for this year will flood the market next year, and Marvel fans may have more product than they know what to do with: We'll get Black Widow, Eternals, WandaVision, Loki, the animated series What If, The Falcon and the Winter Soldier and Tom Holland's third Spider-man movie. 
As one fan said of Black Widow, "I doubt it will ever top Infinity War, Endgame, Winter Soldier or Civil War, but I will admit I enjoy Black Widow as a character the more and more I watch. And I'm honestly kind of jonesing for more MCU content, so I'm sure I'll love it if it's even halfway decent."