'Black Widow': Florence Pugh Couldn't Stop Staring at Scarlett Johansson While They Were Filming Scenes Together
Black Widow stars Scarlett Johansson and Florence Pugh didn't know each other prior to working together on Marvel's latest movie. The film, which releases on July 9, features Johansson reprising her role as the title character and Pugh taking on the role of Yelena Belova, her first in the Marvel Cinematic Universe. 
Even though Pugh didn't know Johansson before filming Black Widow, her admiration for her ran deep. When she finally got to work with the BAFTA Award-winning actor, Pugh could hardly contain her excitement.
In fact, she was so enamored with Johansson that she stared at her the entire time they filmed their scenes together. 
Florence Pugh kept staring at Scarlett Johansson while filming 'Black Widow' scenes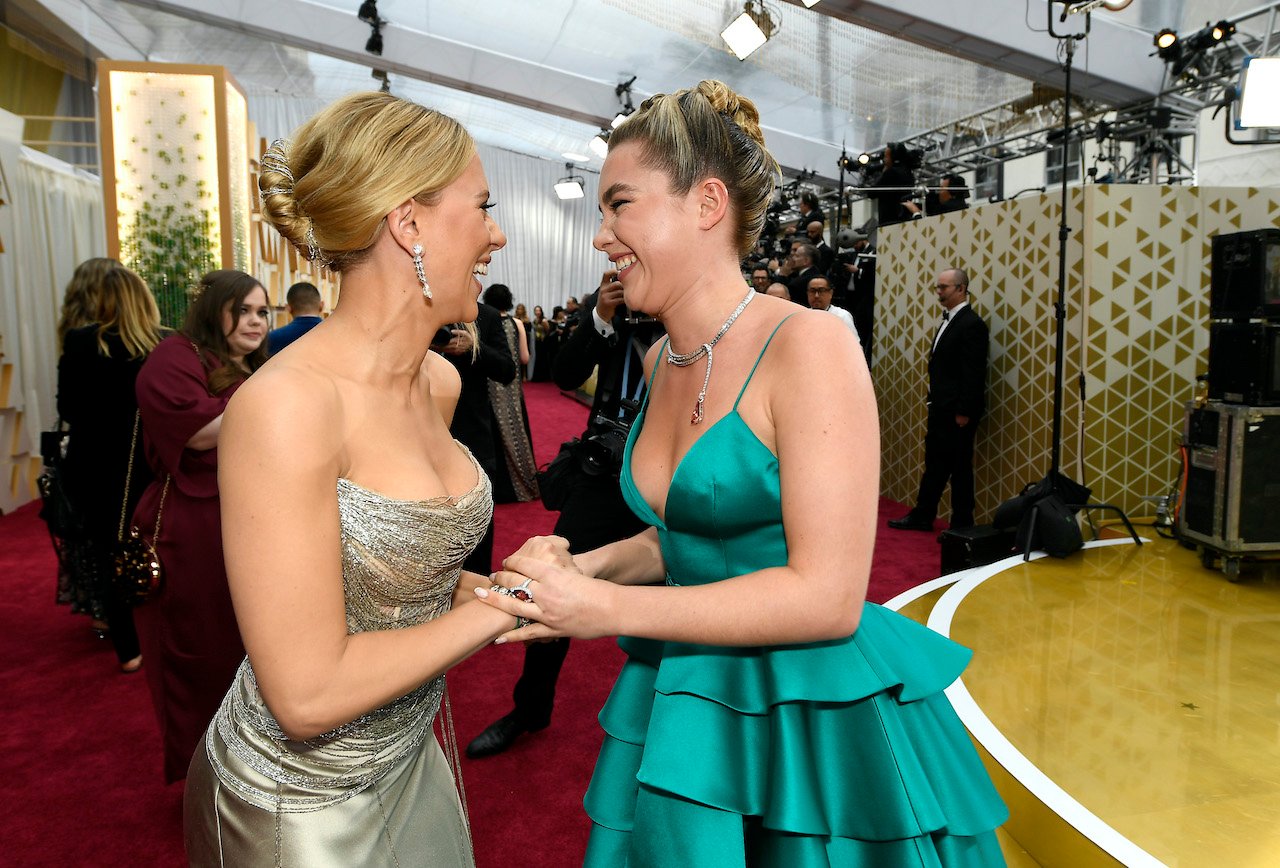 Pugh discussed her friendly obsession with Johansson during a recent interview with Access. 
"Look at any of the behind-the-scenes pictures and video footage. I'm always just gazing at her, like this [stares off screen]," Pugh said. 
Johansson confirmed the admission, seemingly alluding to the notion that it got a bit awkward at times. 
"She's gazing at me, and then it's me literally going like this [covers face with hand]," Johansson said. "Sheepish, like looking over." 
Scarlett Johansson wasn't sure if she and Florence Pugh would connect
Even though Pugh was excited to work with Johansson, the Lucy star wasn't sure what to expect prior to filming. She's worked with many actors over the years and knows that not all actors are compatible.  
"You never know, when you work with another actor that you've never met before, how it's going to be," Johansson said. "I mean, of course, I knew Florence would bring her brightness, her freshness to the performance based on the work that she's done. So I knew there would be something exciting between us dramatically. But then you just don't know whether it's gonna also be an off-screen thing, and we just got really lucky. I think we work in a similar style, environment. We both like to chat a lot, goof around, keep things loose. And then we both are very professional at the same time. … It's like luck of the draw."
Both actors are glad Pugh got to join the MCU
Despite Johansson's initial uncertainty, the two actors formed a deep connection on a personal level. By the time they were deep into filming, Johansson couldn't wait to introduce Pugh to the rest of the Marvel crew. 
"I was so excited to introduce Florence to my whole Marvel family because I just think it's an exciting thing to be a part of. And I knew she would appreciate it and fit right in." Johansson added." 
Later in the interview, Pugh noted how grateful she is that Johansson was the one to introduce her to the Marvel family. 
"Oh my goodness, I'm so lucky that it was Scarlett that introduced me into this world," Pugh said. "I mean, it could've gone so many different ways, and I could've come into this family with so many different stories behind me. And just the fact that the person that I was in this film with was a person I'd been looking up to for a long part of my life. And then they're awesome and funny and we spend so much time on set chatting as much as we do acting and doing crazy fight scenes together was just a blessing. I couldn't have asked for a better moment and set of people to welcome me into this film. I'm glad it was this one and not anything else." 
Black Widow hits theaters on July 9.