'Black Widow': Florence Pugh Says She 'Smelled Like a Suitcase' When She First Met Scarlett Johansson
Marvel's latest film, Black Widow, has been doing some insane numbers at the box office since its release. The women-led action thriller has already grossed over $80 million from domestic theaters and another $60 million in premium access rentals, which is no small feat.
Black Widow is anchored by its strong female leads, Scarlett Johansson and Florence Pugh, the latter of which is a Marvel newcomer. Prior to working on Black Widow, the two actors didn't know each other, but they formed a close relationship while working together on set. 
Today, the two are close friends, but their first interaction was quite awkward. In fact, Pugh jokingly recalls "smelling like a suitcase" when she first met Johansson, which surely didn't help things. 
Scarlett Johansson thought Florence Pugh was shy when she first met her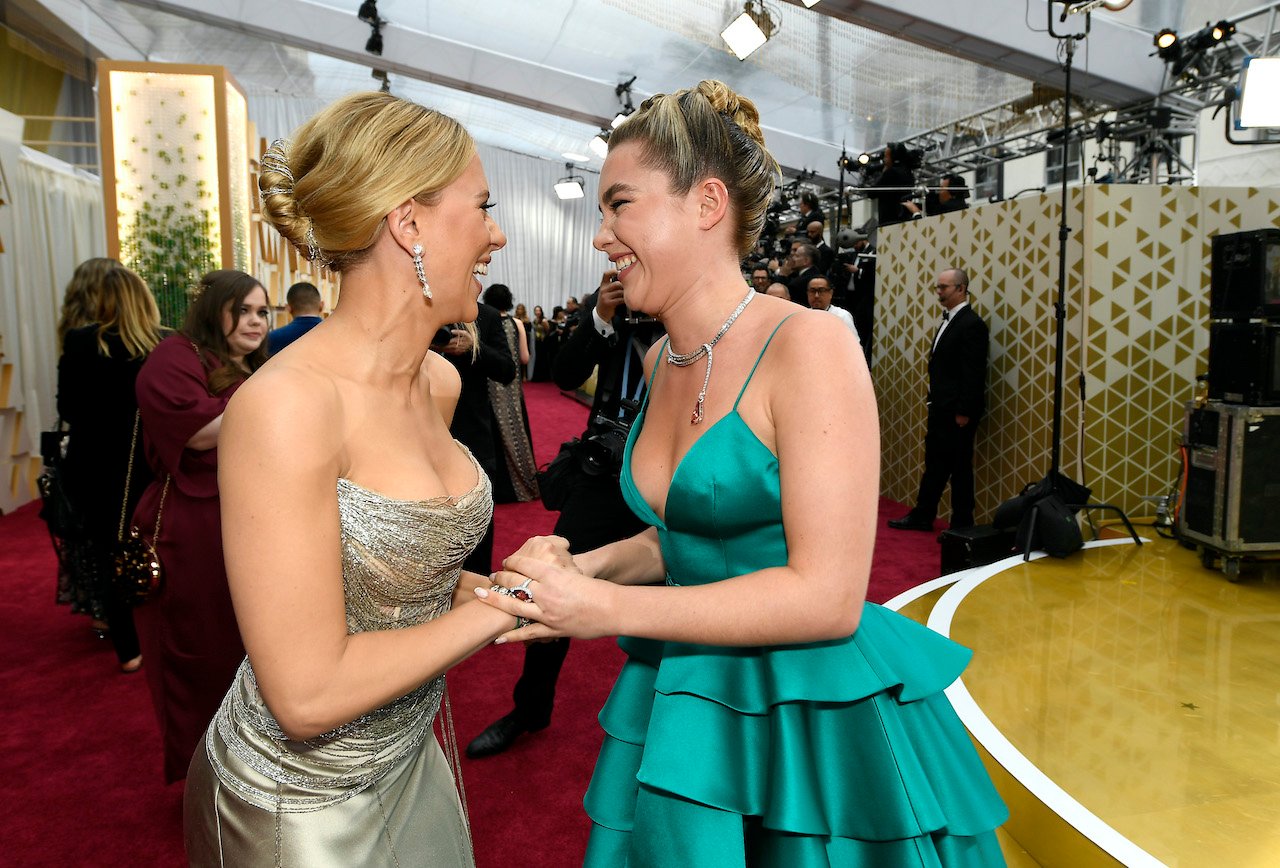 Johansson shared her first impression of Pugh during a recent interview with IMDb, saying the 25-year-old actor was a bit bashful. 
"My first impression of her was she was a little reserved at first," Johansson admitted. 
Johansson had a strong rapport with everyone else involved with Black Widow, so it was natural for Pugh to feel a bit out of place. However, Pugh quickly found her comfort zone with the cast and crew. 
"A lot of people that were there on set, I had been working with for a decade of time. And so she was kind of entering into this thing, but it seemed pretty seamless," she added. 
Florence Pugh says she smelled like a suitcase when she met Scarlett Johansson
Pugh, on the other hand, had a completely different perspective on her first interaction with Johansson. She had just gotten off of a flight and had no time to prepare for their meeting, so she was feeling a bit unkempt when they connected. 
"I had just got off a plane and had two hours sleep," Pugh recalled. "And I hadn't been able to go home and shower. And I had like, airport — you know how you've just got airport grime? And I remember sitting in the room, waiting for Scarlett to come in and being like, 'Oh my God, I cannot believe I'm going to meet Scarlett Johansson smelling like a suitcase. This is so not cool."
Despite feeling a bit intimidated about the situation, Pugh quickly realized that Johansson is a very relatable person. 
"I was just so appreciative that she was cool and normal, and fun," she added. 
Scarlett Johansson wasn't sure she'd connect with Florence Pugh at first 
Prior to meeting her, Johansson wasn't sure if she'd mesh well with Pugh. In a separate interview with Access, Johansson admitted that it's hard to know whether or not two actors will have chemistry on and off the screen. 
"You never know, when you work with another actor that you've never met before, how it's going to be," Johansson said. "I mean, of course, I knew Florence would bring her brightness, her freshness to the performance based on the work that she's done. So I knew there would be something exciting between us dramatically. But then you just don't know whether it's gonna also be an off-screen thing, and we just got really lucky. I think we work in a similar style, environment. We both like to chat a lot, goof around, keep things loose. And then we both are very professional at the same time. … It's like luck of the draw."
The 'Black Widow' stars became close friends while filming the Marvel movie 
After getting past the awkwardness of their first meeting, Johansson and Pugh were able to build a strong bond while working on Black Widow. Their intense action scenes together were the perfect forum for them to grow closer. 
"Day one, we were slamming each other into door frames and getting each other into headlocks and choking each other out," Johansson said. "And it was an interesting way to sort of just hit the ground running with another actor. Yeah, we're in each other's physical intimacy very early on. It actually ended up being kind of the perfect ice breaker."
Black Widow is now playing in theaters.