'Black Widow': Scarlett Johansson and Florence Pugh Became Close Friends While Choking Each Other Out — 'It Ended Up Being the Perfect Ice Breaker'
Scarlett Johansson has been a mainstay in the Marvel Cinematic Universe for over 10 years now. After making her first appearance in Iron Man 2, she went on to star in several Avengers films before getting her own spinoff film, Black Widow. Set to release on July 9, the movie also stars Florence Pugh, who is a newcomer to the MCU.
Even though the two had never met each other prior to working together, they found an instant connection while working on some intense action sequences within the film.
Specifically, Johansson notes that they became close friends while engaging in acts of violence against each other, and Pugh agrees.
Scarlett Johansson and Florence Pugh became friends while filming action scenes for 'Black Widow'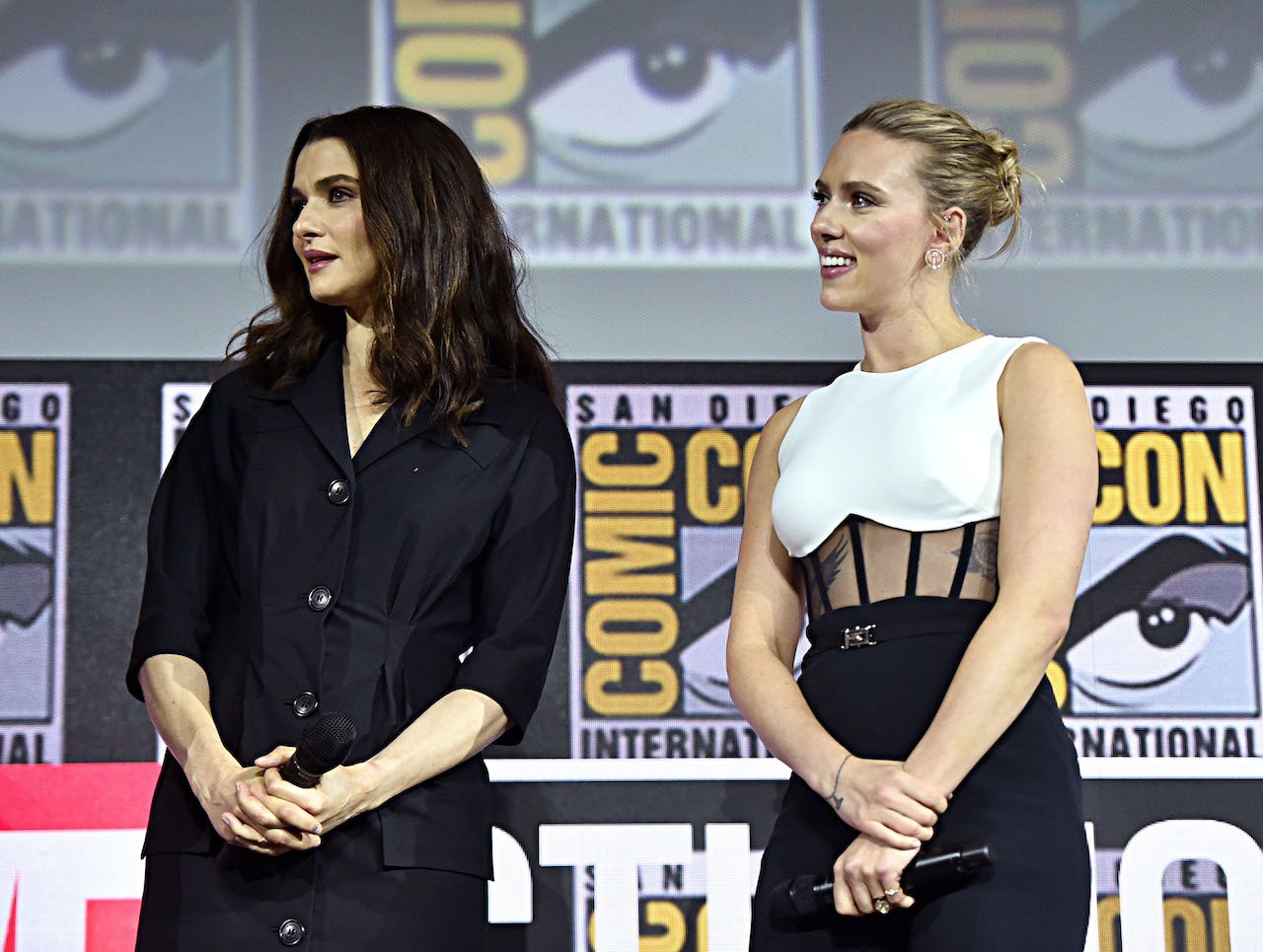 RELATED: Florence Pugh Says 'Black Widow' Is About Women That Have Been 'Abused and Trained' to Be 'Killing Machines'
Johansson recalled her first interactions with Pugh during a recent interview with Access. 
"We had met in our rehearsals, so we knew each other a little bit, not really. Just a few days of work, or whatever time we spent together doing some character work and flushing that out," Johansson said.
Johansson revealed that the two actors really developed a bond after the started working on action sequences for Black Widow, specifically when they had to get into violent altercations with each other.
"And then yeah, day one, we were slamming each other into door frames and getting each other into headlocks and choking each other out," Johansson said. "And it was an interesting way to sort of just hit the ground running with another actor. Yeah, we're in each other's physical intimacy very early on. It actually ended up being kind of the perfect ice breaker."
Florence Pugh couldn't stop staring at Scarlett Johansson during shoots
According to Pugh, she has such a deep admiration for Johansson that she was unable to stop looking at her while they were filming.
"Look at any of the behind-the-scenes pictures and video footage. I'm always just gazing at her, like this [stares off screen]," Pugh said.
Scarlett Johansson wasn't sure she'd connect with Florence Pugh at first
Later in the interview, Johansson noted that she wasn't sure what to expect when she first met Pugh. In her opinion, working with new actors can be a bit of a crap shoot.
"You never know, when you work with another actor that you've never met before, how it's going to be," Johansson said. "I mean, of course, I knew Florence would bring her brightness, her freshness to the performance based on the work that she's done. So I knew there would be something exciting between us dramatically. But then you just don't know whether it's gonna also be an off-screen thing, and we just got really lucky. I think we work in a similar style, environment. We both like to chat a lot, goof around, keep things loose. And then we both are very professional at the same time. … It's like luck of the draw."
Thankfully, Pugh fit right into the MCU family, and the crew welcomed her with open arms.
"I was so excited to introduce Florence to my whole Marvel family because I just think it's an exciting thing to be a part of. And I knew she would appreciate it and fit right in." Johansson added."
Black Widow hits theaters on July 9.