'Black Widow': Scarlett Johansson's Daughter Had to Keep Delivering Ice Cream to Florence Pugh While Filming in Sweltering Budapest Heat
Scarlett Johansson and Florence Pugh were complete strangers prior to filming Marvel's newest film, Black Widow — but now the two are great friends. The talented actors had to spend a ton of time together while filming scenes for the movie, so it makes sense that they've developed a strong bond over the course of time.
While promoting Black Widow, Johansson and Pugh have been unveiling a bunch of little-known stories about their time together on set in Budapest, Hungary. 
One of the more interesting tidbits is that Johansson's daughter had to keep bringing ice cream to Pugh because of the intense Budapest heat during their summer production schedule. 
Scarlett Johansson and Florence Pugh had to film 'Black Widow' in the middle of summer in Hungary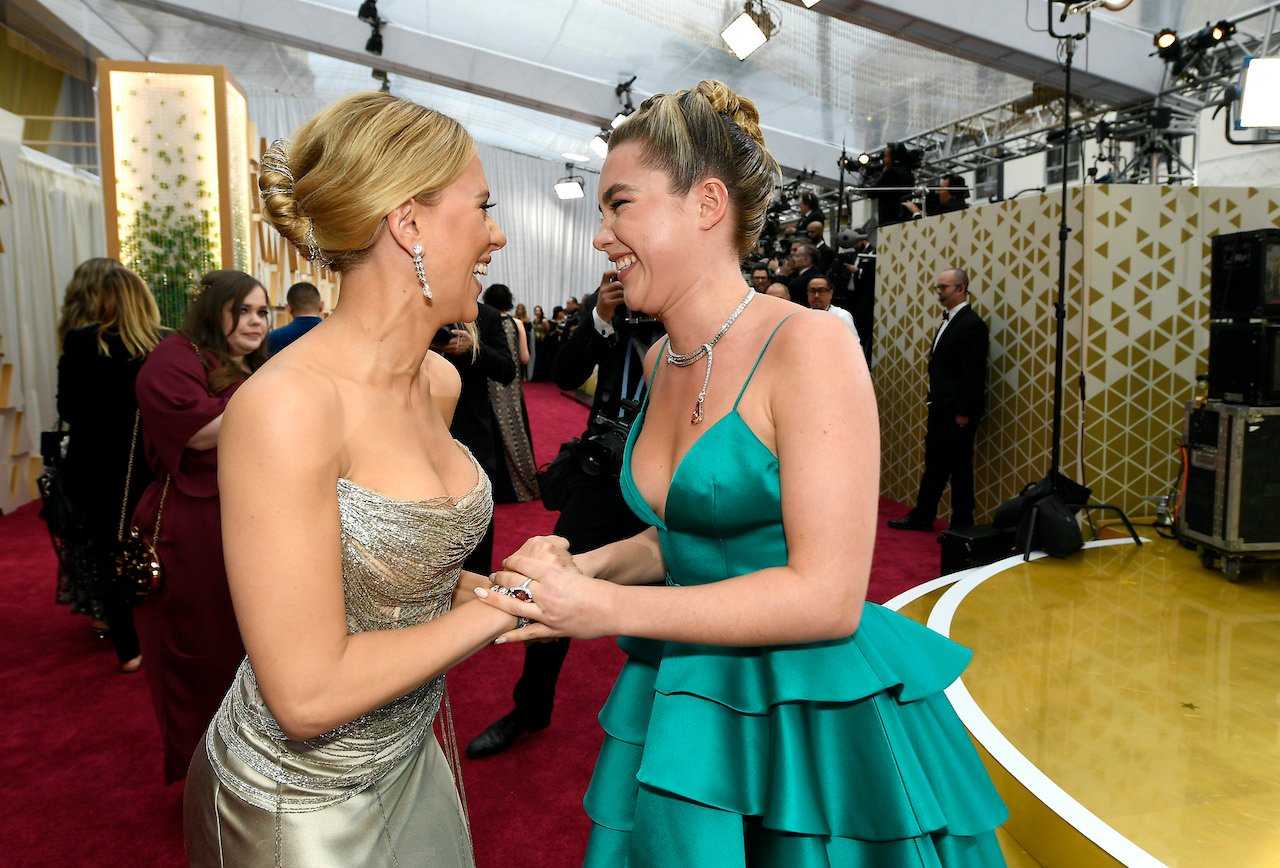 Pugh discussed the exhausting filming process for Black Widow during a recent interview with IMDb.
"We were strapped to a motorbike in the summer heat of Budapest for about five hours," Pugh recalled. 
Johansson added that the two of them were required to uncomfortably sit in one spot for many hours while the crew tried to get the right shots. 
"When we say strapped, we mean like, physically attached by harness things, and we were just like, stuck together," Johansson said.
"And we couldn't go to the toilet, remember?" Pugh chimed in.
Florence Pugh kept messing with Scarlett Johansson while they shot their scenes together
Because they were forced to stay in one location for so long, Pugh had to find ways to keep the mood light. This resulted in Pugh constantly harassing Johansson in little ways, which Johansson found funny. 
"Florence was behind me as well, so it was just like … So, you ever spend summers at camp? … We were just stuck together for so many hours. And she would just do really annoying little things behind me," Johansson said. "Pull little pieces of hair."
"I would. Well, it would be a good way to keep up morale," Pugh said. "You know, we'd have to keep on giggling. 
Scarlett Johansson's daughter kept bringing Florence Pugh ice cream to fight the heat
Johansson's daughter was also on the Black Widow set, and she kept busy by bringing Pugh ice cream in between takes to keep her cool — even though her mom couldn't have any. 
"And Scarlett's daughter would keep on delivering us ice cream because it was so hot," Pugh added. "But Scarlett wouldn't be allowed it because she's not allowed dairy. So she'd be really annoyed that I was eating delicious ice cream right behind her."
The 'Black Widow' stars became close friends while working together
Johansson and Pugh might be close friends now, but when they first connected to work on Black Widow, Johansson wasn't sure what to make of the young actor. However, once they started having to shoot action scenes together, they quickly developed a bond that they maintain to this day. 
"Day one, we were slamming each other into door frames and getting each other into headlocks and choking each other out," Johansson told Access. "And it was an interesting way to sort of just hit the ground running with another actor. Yeah, we're in each other's physical intimacy very early on. It actually ended up being kind of the perfect ice breaker."
Black Widow is now playing in theaters.