Scarlett Johansson Learned an Important Life Lesson From 'Black Widow' Co-Star Florence Pugh
As accomplished as superstar actor Scarlett Johansson is, it's easy for fans to assume that she's got life all figured out. The Black Widow star is one of the highest-paid actors in Hollywood and recently married Saturday Night Live writer Colin Jost, so it's an understandable sentiment.
Yet, despite all of her success, even Johansson still has a few things she can work on. In fact, she recently revealed that her Black Widow co-star Florence Pugh revealed a major life lesson to her, particularly in regard to her relationship with herself.
'Black Widow' star Scarlett Johansson was intimidated by Florence Pugh when they first met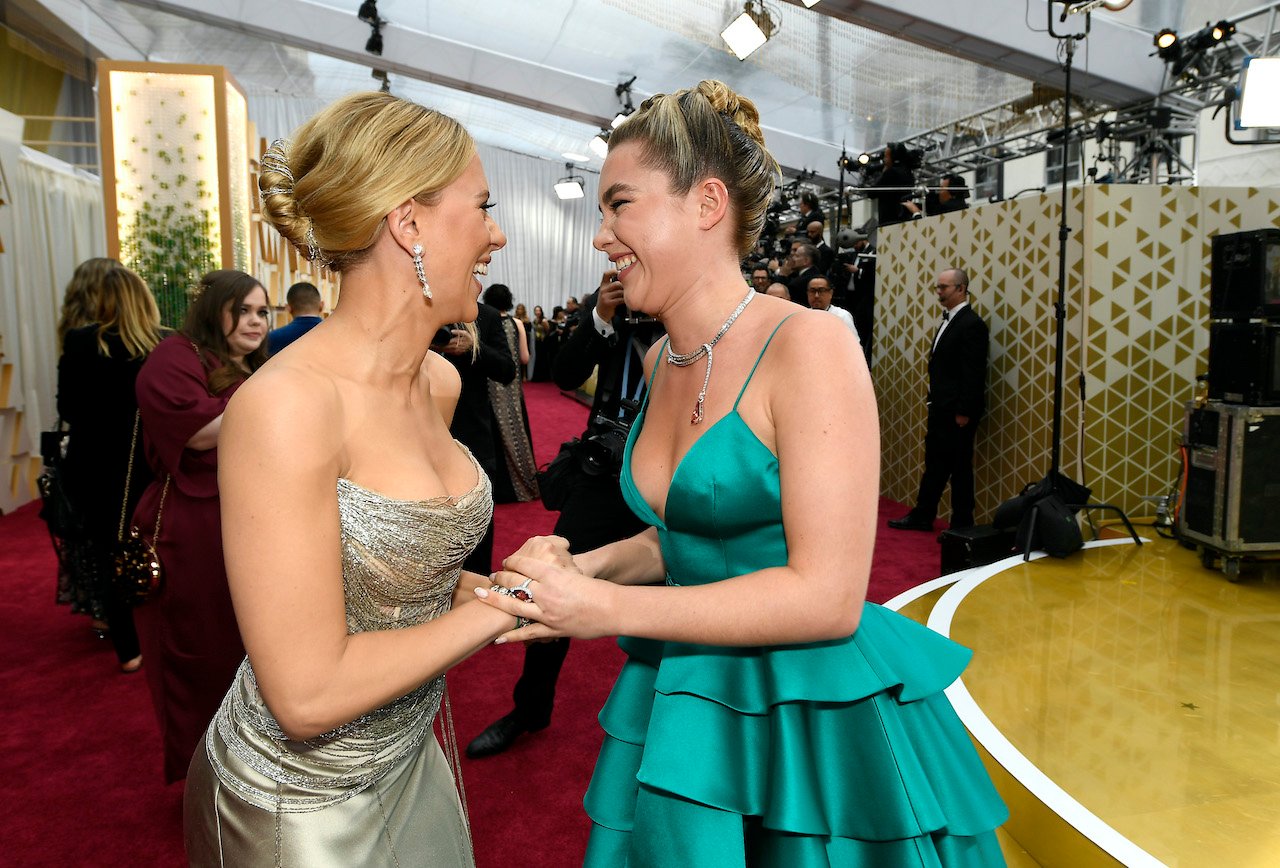 Johansson and Florence developed a close relationship while filming Black Widow, bonding while they shot many scenes together. However, when the two stars first met, Johansson was a bit intimidated by the 25-year-old actor.
"I was a little nervous because I was kind of geeked out … I was a little intimidated really, because you were very grounded and in yourself and there to do the work and everything. And I'm just like, 'Ooh,'" Johansson told Glamour. 
Florence Pugh made a big impression on Scarlett Johansson
After they got past the tension of their initial meeting, Johansson and Pugh began to connect more deeply while filming. By the time principal photography for Black Widow wrapped, Johansson was blown away by Pugh's dynamic personality.
"I'm really impressed by how curious Florence is about herself and others," she said. "How confident she is, but very humble, and ok with her vulnerability. And ok to show her soft underbelly and all that stuff."
Scarlett Johansson says Florence Pugh taught her to be less self-critical
Despite Pugh's being 11 years Johansson's junior, Johansson learned a thing or two from her while they were working together on set. Specifically, she learned an important life lesson about self-talk and judgment.
"I was so much more guarded when I was starting when I was in my 20s. I was very, sort of, protective in different ways. I think because of — it was 10 years ago, it was another time. And then that's also just part of her personality too, she's just like an open book. And I think I learned to be probably a little easier on myself. I feel like Florence, every time I see her, she's like, 'Don't say that, that's not true!' She's like, 'Don't say that about yourself…'"
They became close friends while working on 'Black Widow'
Johansson and Pugh's connection grew exponentially once they began shooting some of their insane Black Widow action sequences together. As strange as it might sound, having to beat each other to oblivion was the perfect catalyst for their friendship.
"Day one, we were slamming each other into door frames and getting each other into headlocks and choking each other out," Johansson told Access. "And it was an interesting way to sort of just hit the ground running with another actor. Yeah, we're in each other's physical intimacy very early on. It actually ended up being kind of the perfect ice breaker."
Black Widow is now playing in theaters. 
RELATED: 'Black Widow': Florence Pugh Couldn't Stop Staring at Scarlett Johansson While They Were Filming Scenes Together