'Black Widow': Scarlett Johansson and Florence Pugh Tickled Each Other To Build Trust Prior To Filming
Scarlett Johansson and Florence Pugh spent a lot of time together while working on Marvel's latest big-budget flick, Black Widow. In order to successfully film the $200 million blockbuster, there was a ton of trust required between the actors and everyone involved on set.
Many organizations rely on trust-building exercises to break through tension prior to starting team projects, and Marvel did the same. 
As funny as it might sound, Johansson and Pugh tickled each other to break through the awkwardness between them when they first met. 
'Black Widow' star Scarlett Johansson was slightly intimidated by Florence Pugh when they first met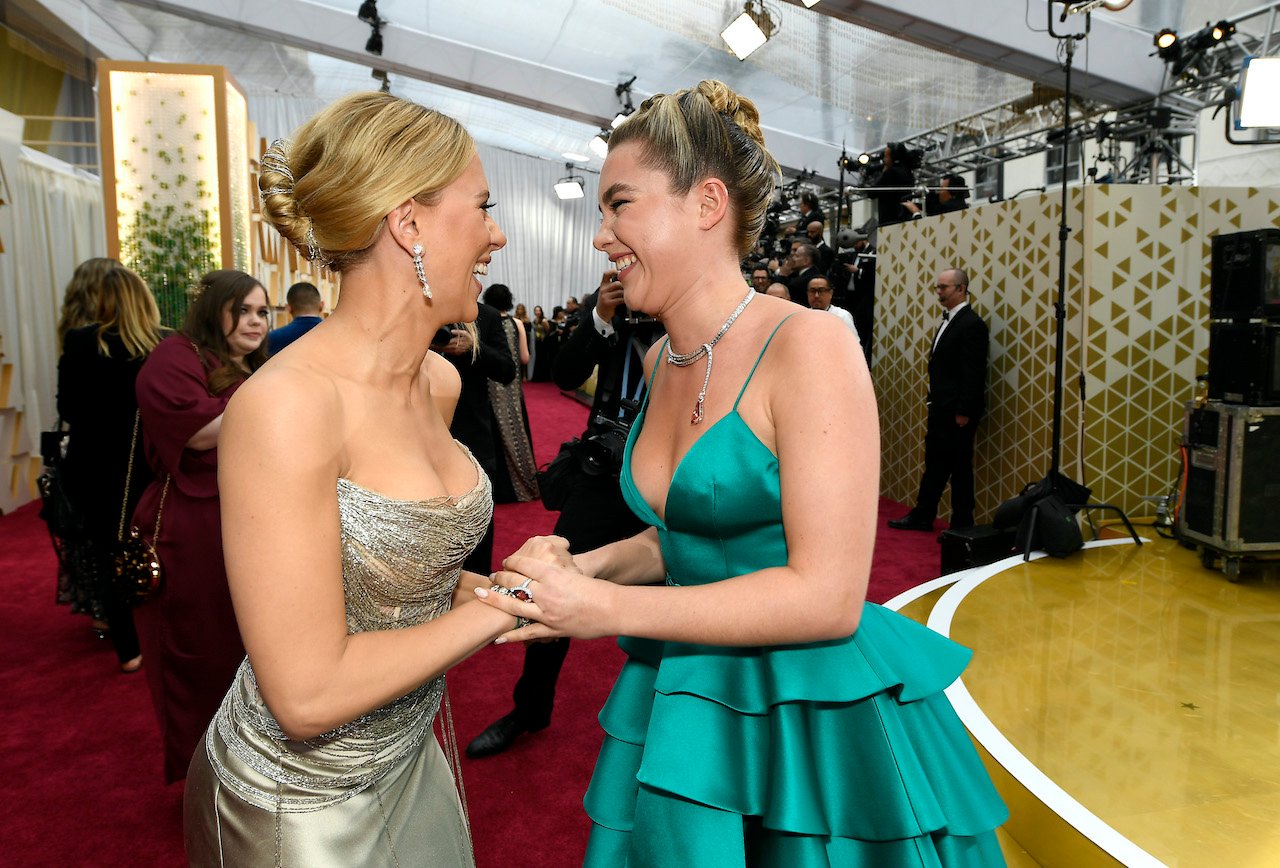 When the two actors first met, there was a bit of apprehension on both ends. Johansson recently admitted to Glamour that she actually felt intimidated by Pugh when the two first connected for Black Widow. 
"I was a little nervous because I was kind of geeked out … I was a little intimidated really, because you were very grounded and in yourself and there to do the work and everything. And I'm just like, 'Ooh,'" she recalled. 
Florence Pugh and Scarlett Johansson tickled each other as a trust-building exercise 
Even though Johansson was a bit nervous about meeting Pugh in her own right, Pugh was also in her head about connecting with the Oscar-nominated superstar. 
"Everybody was like, 'Ok, you ready to go over and meet Scarlett?' and I was like, 'Yes. Oh no, there is so much pressure. And what am I gonna say?'" Pugh said. 
Thankfully, things took a turn for the best after the two did a unique trust-building exercise. 
"And then we ended up tickling each other in a trust exercise, and yeah, it was all good," Pugh said. 
Their relationship grew while filming 'Black Widow' action scenes together 
Once they got the initial awkwardness out of the way, Johansson and Pugh were able to focus on Black Widow. Their bond grew stronger while they worked on the film's intense action sequences, which often required them to beat each other up. 
"Day one, we were slamming each other into door frames and getting each other into headlocks and choking each other out," Johansson told Access. "And it was an interesting way to sort of just hit the ground running with another actor. Yeah, we're in each other's physical intimacy very early on. It actually ended up being kind of the perfect ice breaker."
Scarlett Johansson and Florence Pugh have a deep admiration for each other now
Now that they've finished the film, the two talented actors are able to reflect on everything they've learned about each other during their time together. 
"I'm really impressed by how curious Florence is about herself and others," Johansson told Glamour. "How confident she is, but very humble, and ok with her vulnerability. And ok to show her soft underbelly and all that stuff."
"She's always come in so happy and doing a little jig. … Just all these wonderful, silly things that would just keep days going," Pugh said in response. "I also think one thing that I remember looking at and feeling really impressed and excited that I was in the room for was her ability to stop and rethink things."
Black Widow is now playing in theaters.