'Black Widow': Believe It Or Not, Scarlett Johansson Was 'A Little Intimidated' By Marvel Co-star Florence Pugh When She First Met Her
It's not often that you hear an A-list celebrity such as Black Widow star Scarlett Johansson admit that anyone made them feel intimidated, let alone their younger co-star. Oftentimes, it's the other way around. 
However, Johansson did feel a bit unnerved by her co-star Florence Pugh when the two first met. Both actors didn't know what to expect prior to meeting each other, and Johansson wasn't sure if she'd click with the promising young star.
Scarlett Johansson initially wasn't sure if she'd mesh with Florence Pugh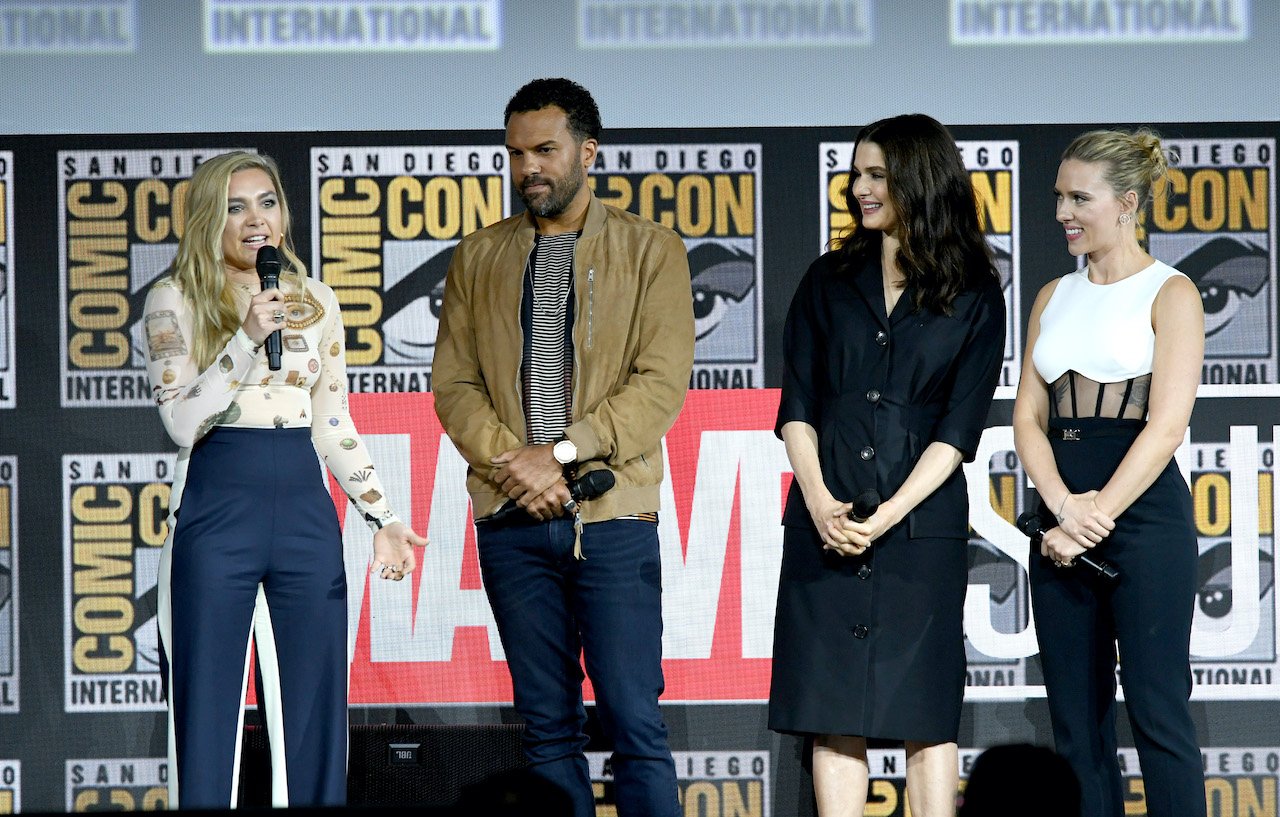 Johansson admitted that she went into her first meeting with Pugh feeling a lot of uncertainty during a recent interview with Access.
"You never know, when you work with another actor that you've never met before, how it's going to be," Johansson said. "I mean, of course, I knew Florence would bring her brightness, her freshness to the performance based on the work that she's done. So I knew there would be something exciting between us dramatically. But then you just don't know whether it's gonna also be an off-screen thing, and we just got really lucky. I think we work in a similar style, environment. We both like to chat a lot, goof around, keep things loose. And then we both are very professional at the same time. … It's like luck of the draw."
Scarlett Johansson was intimidated by Florence Pugh when they first met for 'Black Widow'
Johansson's feelings were likely amplified when she finally got into the same room as Pugh. In a separate interview with Glamour, she revealed that her Black Widow co-star's natural confidence and self-assured attitude initially intimidated her.
"I was a little nervous because I was kind of geeked out … I was a little intimidated really, because you were very grounded and in yourself and there to do the work and everything. And I'm just like, 'Ooh.'"
Florence Pugh had her own insecurities about meeting Scarlett Johansson too
Even though Pugh projected a ton of confidence when Johansson first met her, she also admitted in the Glamour interview that she was full of nerves herself.
"Everybody was like, 'Ok, you ready to go over and meet Scarlett?' and I was like, 'Yes. Oh no, there is so much pressure. And what am I gonna say?'" Pugh said. "And then we ended up tickling each other in a trust exercise, and yeah, it was all good," Pugh said.
Scarlett Johansson is impressed by Florence Pugh's confidence and vulnerability
Later in the Glamour interview, Johansson shared a few of Pugh's qualities that she admires most. She noted that she loves how confident Pugh is, but also how she's not afraid to be vulnerable with the people around her.
"I'm really impressed by how curious Florence is about herself and others," she said. "How confident she is, but very humble, and ok with her vulnerability. And ok to show her soft underbelly and all that stuff."
Johansson explained that her personality was far different from Pugh's at her age. Pugh's positivity helped Johansson become less harsh and judgmental toward herself.
"I was so much more guarded when I was starting when I was in my 20s. I was very, sort of, protective in different ways. I think because of — it was 10 years ago, it was another time. And then that's also just part of her personality too, she's just like an open book. And I think I learned to be probably a little easier on myself. I feel like Florence, every time I see her, she's like, 'Don't say that, that's not true!' She's like, 'Don't say that about yourself…'" 
Black Widow is now playing in theaters.
RELATED: 'Black Widow': Scarlett Johansson and Florence Pugh Became Close Friends While Choking Each Other Out — 'It Ended Up Being the Perfect Ice Breaker'