'Black Widow': Scarlett Johansson Explains Why Natasha Romanoff Is a Great Role Model For Young Girls
Scarlett Johansson's Black Widow character Natasha Romanoff doesn't fit the traditional standard of a superhero or a role model, but that doesn't mean she isn't one. Natasha, who's been a recurring character in several of Marvel's biggest films to date, has gone through a ton of changes, and fans get a closer look at her evolution in the studio's newest film.
Even though Natasha's past as an assassin is likely not something most parents would find admirable, Johansson still believes that she has a bevy of qualities that make her a great role model for kids.
Scarlett Johansson says her 'Black Widow' character is a role model for young girls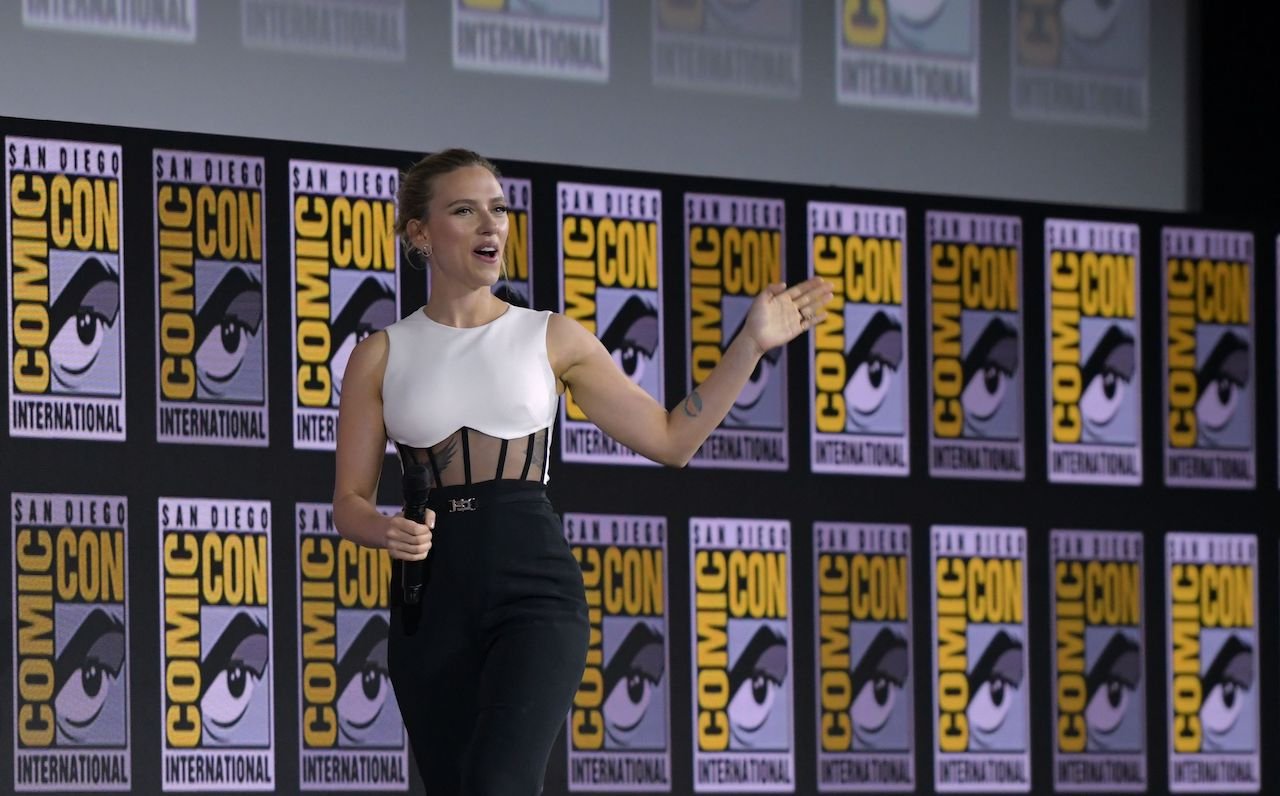 She recently shared her thoughts on several of Natasha's most admirable qualities while promoting Black Widow which came out on July 9.
"One of her most admirable attributes is that she's not afraid to admit when she's wrong, Johansson told Fatherly. "She takes responsibility for things, particularly in this film."
Getting more specific, Johansson noted that Natasha's willingness to be forthcoming and mindful of others is a quality that all young women can learn from.
"She's really coming to terms with her past in a way that is very, very mindful, very thoughtful, and considerate, and mindful. And I think she's someone who has a lot of respect for other people. She has a lot of integrity as a person, and I think that makes her a great role model for children and certainly for young girls."
She tries to teach her daughter the same lessons 'Black Widow' is teaching kids
Natasha's compassion for others is a quality that Johansson consistently works to instill in her own daughter, who is around seven years old.
"She acknowledges the pain that she's caused or just that someone else has actually experienced pain. That's really powerful to say: I see that you're hurting. That's such a huge step for a person to make. It's something I try to teach my daughter. It's complicated, of course, when kids are little, but she's a compassionate person."
Natasha Romanoff has evolved a lot since 'Iron Man 2' and 'The Avengers'
Even though Natasha is portrayed as a very compassionate person in Black Widow, this hasn't always been true to her character. In a separate interview with Collider, Johansson acknowledged that Natasha has changed a lot since earlier Marvel films.  
"I think Natasha has a lot of compassion and that's not necessarily what I would have anticipated when we were filming Iron Man 2 or Avengers or whatever," she said. "You've seen glimpses of it and it's developed over time, as we've been able to bring the character to the forefront in different installments, but she's a very compassionate person and that passion is actually what drives a lot of her decision making. I mean, she's also practical and pragmatic and I don't think those two things have to necessarily work against each other. That part of her is what really touches me."
Black Widow is now playing in theaters. 
RELATED: Scarlett Johansson Says 'Black Widow' Would've Been a 'Missed Opportunity' if It Didn't Discuss Female Empowerment