'Black Widow' Could Come to Disney+ Amid Coronavirus Outbreak: Is a Film Delay Problematic?
With coronavirus concerns running rampant – and medical professionals advising individuals to avoid gathering in masses — Disney has pushed back some major releases. From Mulan and The New Mutants to Antlers, multiple upcoming productions will no longer premiere as scheduled. However, what about the Marvel Cinematic Universe's Scarlett Johansson-led Black Widow?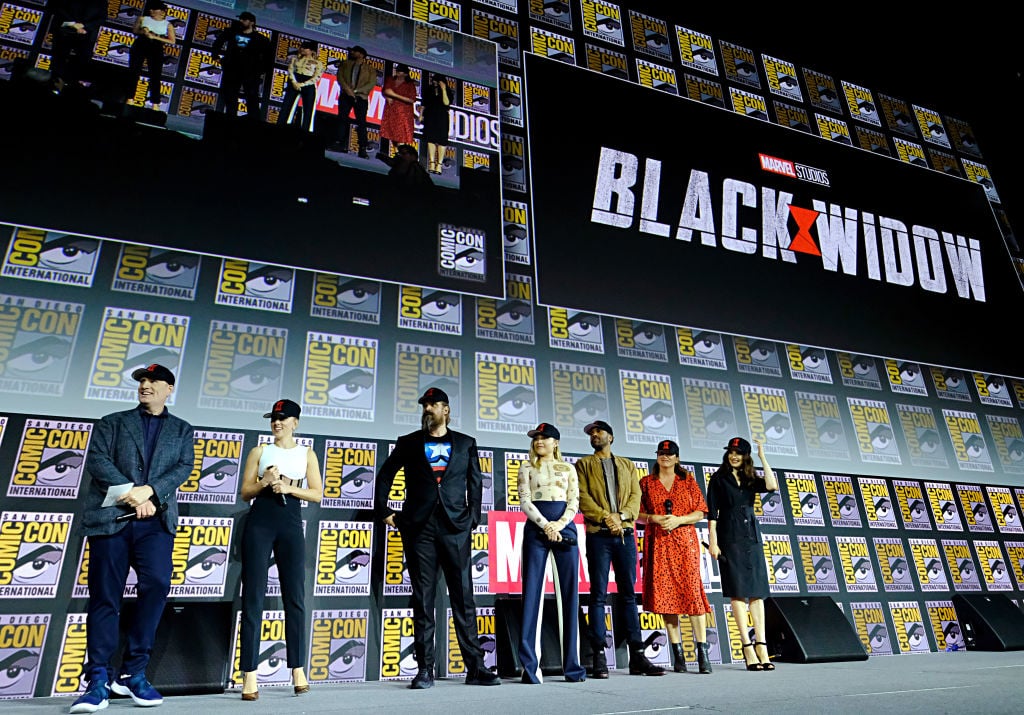 Black Widow is still scheduled for an April 24 release date, which is only a little over a month away. Will the coronavirus pandemic begin to slow, allowing for such a movie to open to the presumed box-office sales, or will the movie — if still premiering on this date — open to empty seats? There's one solution that seems more likely than a delay when it comes to Black Widow.
Disney could avoid disrupting the MCU timeline and complex multiverse about to unfold if the movie premieres on Disney+, as opposed to in theaters. 
Why the MCU's 'Black Widow' should premiere on Disney+ (narratively speaking) 
As fans of the MCU already know, each phase is always an intertwined narrative saga, in which the order of movies heavily impacts the unfolding story. Black Widow was scheduled first for a reason. It's likely, as rumors suggest, that the movie will set up General Ross's Thunderbolts team and/or prepare Yelena Belova to take over the mantle moving forward, progressing through the MCU as the next Black Widow. 
If Black Widow's release date is pushed back, subsequent MCU movies will fall victim to the same fate, as the order is pivotal to the story's development. Succession is essential in a complex universe. Thus, delaying the movie would leave Disney execs at a standstill as the entire Phase 4 slate would now be up in the air. However, if Black Widow comes to Disney+ on April 24, further adjustments (at that point in time) can be avoided, and the landscape's narrative integrity can be preserved. Not to mention, there could be a financial benefit in store for Disney. 
And, considering a cross-conversation is already in motion for the small-screen and the silver one (via WandaVision and Doctor Strange), initiating the dialogue a bit earlier shouldn't come as an unexpected or undesirable surprise to fans. 
'Black Widow' releasing on Disney+ would lead to more subscribers on the streaming platform 
If Black Widow comes to Disney+, it's likely that the platform will see a surge in subscribers, as some MCU viewers — those not as committed as others — plan to see the movies, and read about the TV shows, as opposed to paying for the Disney+ subscription. 
If the movie releases during the coronavirus outbreak, the production could lose a ton of money, especially when considering the costs to premiere in theaters. Thus, Disney could wind up making more money on subscriptions than they would on ticket sales in the near future, if Black Widow premieres as the first-ever MCU film to debut on Disney+.