'Black Widow': Why a Cameo By Chris Evans' Captain America Makes Perfect Sense
'Black Widow' takes place prior to her death and Captain America's departure in 'Avengers: Endgame.'
Black Widow is currently scheduled for a November 2020 release after the pandemic pushed back its scheduled May premiere. The long-overdue solo film starring Scarlett Johansson as Natasha Romanoff will jump back in time. The story takes place between the events of Captain America: Civil War and Avengers: Infinity War. Does this mean that Chris Evans will have a cameo as Captain America Steve Rogers?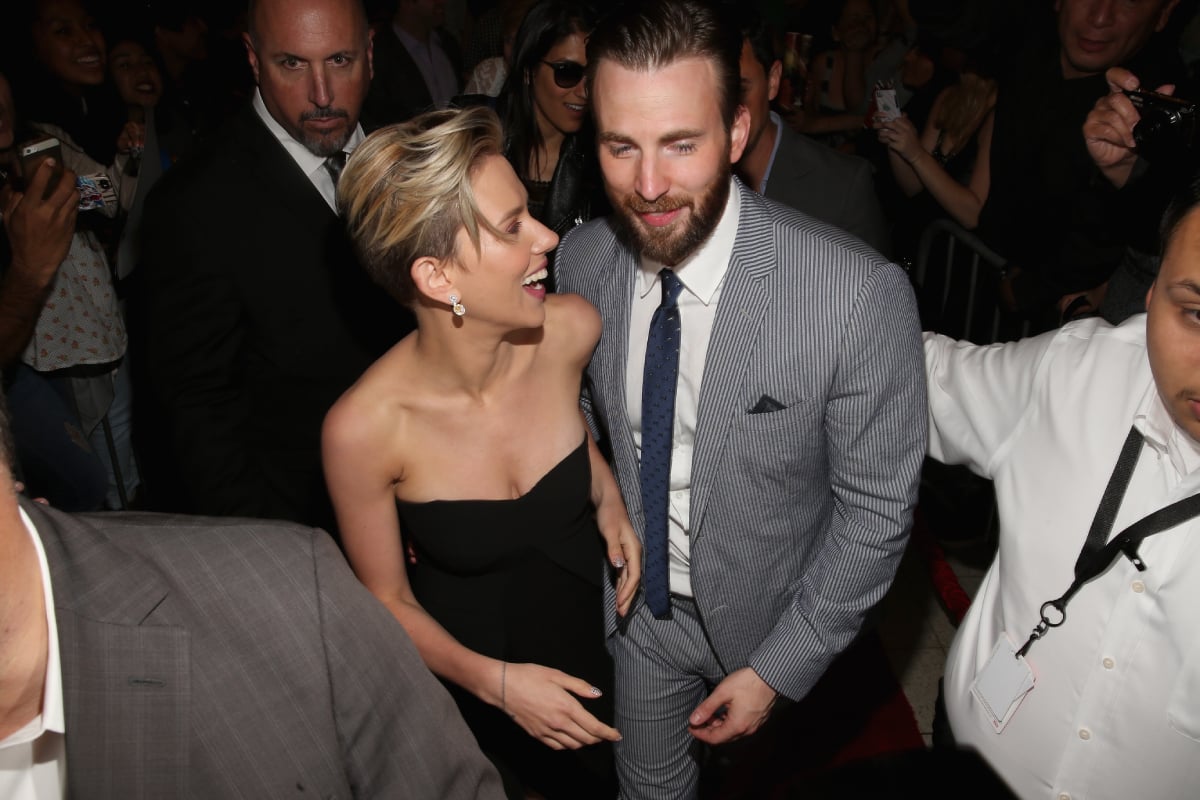 Natasha and Steve have an iconic friendship
Black Widow and Captain America have had numerous moments in the MCU that have shown the strength of their friendship. After Steve and Natasha met in The Avengers, their friendship developed throughout the Captain America films – Winter Soldier and Civil War.
The duo spent years in hiding together after the events of Civil War – while estranged from the rest of The Avengers. They have supported each other during their darkest times. Steve and Natasha teamed up with Falcon to fight the Winter Soldier. This confrontation led to Steve saving Natasha's life while unknowingly fighting his life-long best friend.
Natasha was there to comfort Steve after Peggy's funeral, and he returned the favor by comforting her after The Snap.
Sans superpowers, the duo combined their skills to take on the Black Order and save Wanda and Vision during Avengers: Endgame.
Will 'Black Widow' premiere on Disney+ instead of in theaters?
The pandemic has already pushed back Black Widow's theatrical premiere six months. Could the continued uncertainty about the near future of public gatherings mean a switch from theaters to Disney+?
According to CinemaBlend, Disney has already announced the premiere of the live-action Mulan remake that will be available September 4 on Disney+. The "premiere access" fee for the film is $29.99.
Fans have waited more than a year since the last major MCU film release: Spider-Man: Far From Home. They are more than ready for the next installment. It would make sense for Disney to make sure as many fans as possible have access to Black Widow.
A theater/streaming hybrid release could also be a possibility. Fans who can't make it to the theater could have the option of seeing Black Widow at home right away instead of trying to avoid internet spoilers for months.
A Captain America cameo in 'Black Widow' could absolutely happen
The Black Widow trailers have indicated that the storyline will be separate from the larger MCU narrative that dominated the first three phases. Instead, it will focus on the time when The Avengers were fractured. It could also shed some light on when Natasha officially joined Team Cap.
Fans do know that the new film features Natasha's old family – Alexei Shostakov aka Red Guardian (David Harbour), Yelena Belova (Florence Pugh), Melina Vostokoff (Rachel Weisz).
As Screen Rant noted, Captain America will be linked to the film because of Alexei. This is because Red Guardian is considered the Russian equivalent of the original Avenger.
Will Steve Rogers only get a mention in Black Widow? Or, will fans get to see a surprise cameo from Chris Evans as Captain America one last time? Maybe there will be a dramatic call from Natasha to Steve, asking him to join his team?
Marvel fans will find out the answers when Black Widow is released on November 6, 2020.