'Black Widow': Why a Tony Stark Cameo Was Cut From the Script
Black Widow gave the Marvel Cinematic Universe's first superheroine a solo film at long last, delving into her character outside of the Avengers team. Instead, the movie focuses on her first family — the one she associates with her time in the Red Room. The film puts Natasha Romanoff (Scarlett Johansson) in the spotlight, removing her from the franchise's other heroes. As it turns out, the original Black Widow script did have a cameo from one of the other Avengers in it: Tony Stark.
An early 'Black Widow' script had a Tony Stark cameo in it
When it comes to Marvel projects, fans love to speculate about what's coming next. That's likely how rumors of an Avengers cameos in Black Widow started, but writer Eric Pearson remembers there was a Tony Stark (Robert Downey Jr.) moment in an earlier version of the script.
Speaking on Comicbook.com's Phase Zero podcast, Pearson recalled having Tony appear to cement the timeline of the film. Since Black Widow takes place after Captain America: Civil War, the two would have been at odds with one another.
"I do remember now that one version of the scripts prior to me literally had written into it the end moment of Civil War with Tony and Natasha," Pearson explained.
The scene in question sees Tony telling Natasha, "I'm not the one who needs to watch my back." According to Pearson, had the moment made the cut, it wouldn't have been new footage. It's likely the team would have simply recycled the footage from Civil War, using it to establish time and place.
Instead, Black Widow manages this by showing Natasha fleeing from Secretary Ross (William Hurt) and his men. She does mention her falling out with Tony to Yelena, but the character never shows his face.
Why the 'Black Widow' creators decided against including the other Avengers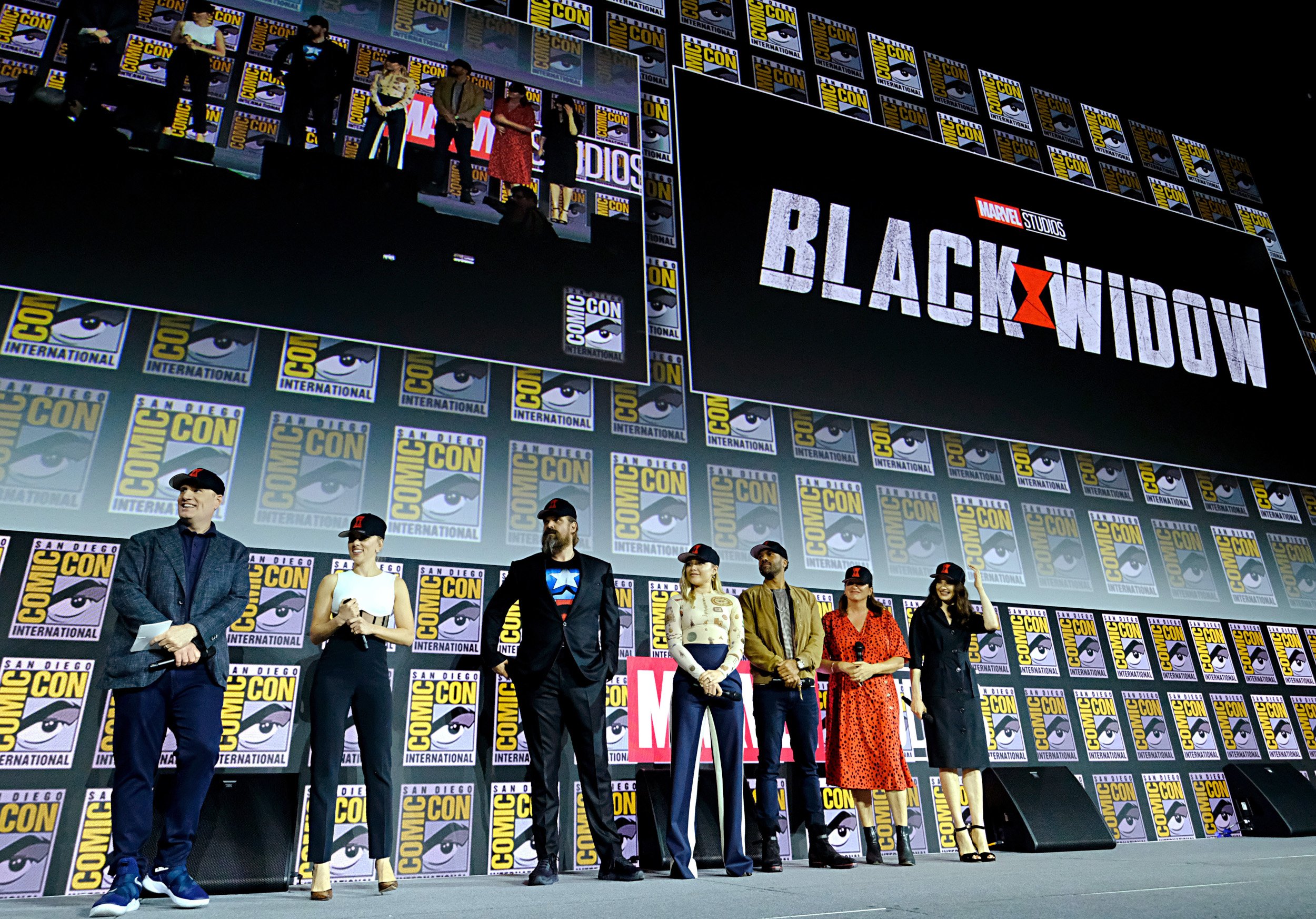 Although having one of the Avengers show up in Black Widow makes sense, there's a good reason the film is devoid of such cameos. When the team discussed having the other Marvel characters show up, they decided it was better to keep the focus on Natasha. After all, viewers waited a long time for her character to receive her own story. Taking the attention away from her would have diminished that.
During an interview with Total Film, director Cate Shortland revealed Marvel Studios President, Kevin Feige, was very vocal about Natasha handling things on her own.
"Initially, there were discussions about everything, about all of the different characters," Shortland explained. "What we decided was, and I think Kevin was really great, he said, 'She doesn't need the boys.' We didn't want it to feel like she needs the support. We want her to stand alone. And she does."
Are there any cameos in 'Black Widow'?
Although none of Natasha's colleagues show up during her solo film, there is one non-Avengers cameo during the end-credits scene. Those who watched The Falcon and the Winter Soldier will recognize Valentina Allegra de Fontaine (Julia Louis-Dreyfus), the woman who recruits John Walker (Wyatt Russell) after he's dishonorably discharged.
It seems as though Yelena Belova (Florence Pugh) will also work for Valentina, and her first assignment teases what's to come. Let's just say Valentina has some beef of her own with the Avengers — and it looks like she's counting on Yelena to do her bidding.
So, while Tony Stark didn't make an appearance in Black Widow, the film still managed to draw connections to the greater MCU. The end-credits scene is likely to have far-reaching consequences, especially with Hawkeye coming to Disney+ this fall.