'The Blacklist' Fans Have a Few Theories About the Series Endgame
The Blacklist Season 8 has kept fans guessing about what will become of Raymond "Red" Reddington (James Spader) and Elizabeth Keen (Megan Boone). Their contentious relationship is the basis of a lof the show's storylines but at some point, things will come to an end — answers or not. Though the series has been renewed for season 9, some are already speculating how writers will wrap up Red and Liz's story.
Season 9 of 'The Blacklist' has been confirmed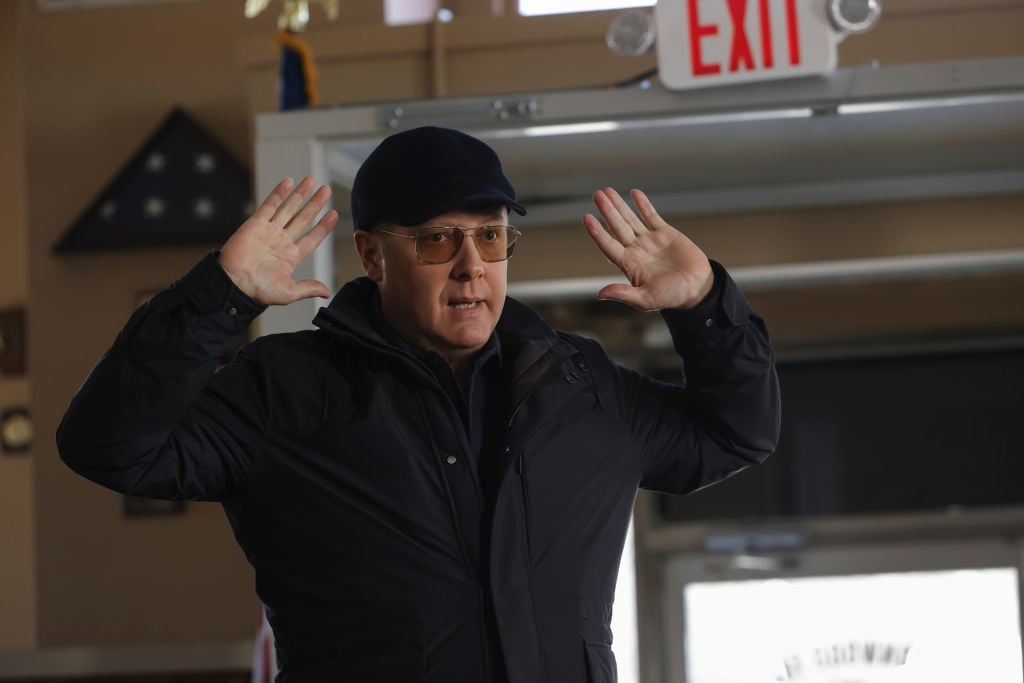 The Blacklist season 8 finale is about to conclude and fans have only just gotten the first taste of Red's possible confession to Liz about his identity. Her hatred of him has been sporadic throughout the series but came to a head during the season 7 finale. The half-live-action-half-animated episode revealed an angsty Liz who vowed to seek revenge on Reddington on behalf of Katarina Rostova (Laila Robins) and all the secrets in Red's back pocket.
Season 8 followed Liz as she teamed up with multiple "blacklist" criminals to try to take Red down. Though unsuccessful, some wonder if it's time big reveals begin. That said, season 9 has been confirmed for a fall 2021 start date in its current Friday at 8:00 p.m. ET spot.
Details about what's to come aren't yet known and we expect the full cast to return — unless writers choose to kill off a character for the sake of Red and Liz's journey. If season 9 tackles whatever secrets Red's been keeping, we're not sure how many stories will be left to tell. Some, however, have a few theories about what will happen when the show comes to a close.
Here's how fans think the series will end
We don't know how many more seasons The Blacklist will run, but some fans think they know exactly what will go down.
"I think that Liz will end up leaving the FBI and becoming a criminal in her own right," one fan said on Reddit. "I also think she will get a huge target on her own back and will end up much like her mom (Red/Katarina)."
Another thinks writers will spare Liz saying, "They won't kill Liz. Not with Agnes not having Tom.. And they've already foreshadowed Red's death several times (like when he sees Fakerina being "shot" and talks about how he longs for the day he dies, and how it will be so peaceful… It's coming."
"See the finale of Alias. Same thing," this fan added.
Others think The Blacklist will fake viewers out in the end.
"I think Katarina is not dead," a fan said. "The bones found in that suitcase are not Reddington (proof of DNA given to Liz by her sister didn't match the envelope that TOM has in his hands, so fake DNA test) and not Katarina. It was a ruse from Red, Dom, and Ilya to make Townsend believed that she was dead. The day Red was tortured by Constantine and managed to save his life it s because he told him that Katarina was still alive. For me Red is Red."
And finally, more than a few think the end of the series is the end of Raymond Reddington altogether.
"I only know Red dies in the end," a fan wrote.
We don't know how things will end but these theories make convincing arguments.
Some fear cast changes for season 9
Again, with few details about season 9, it's hard to say what direction the show will go. Dedicated viewers have expressed concern on various Reddit threads that the show might sacrifice someone from the main cast to drive the story in a new direction. Some noticed Boone's reduced appearances in season 8 as one possible absence moving forward. Others believe FBI Agent Donald Ressler (Diego Klattenhoff) will go, leaving Liz with no one to trust.
Until we know more, we can't say. We do know that The Blacklist is pretty good at eliminating beloved characters like Mr. Kaplan (Susan Blommaert) and Samar (Mozhan Marnò). When it comes to the endgame, our only hope is that we know once and for all who Red is. After all, isn't that the premise of the entire series?