Blake Shelton and Gwen Stefani's Holiday Traditions Are All About Her Boys and Food
Blake Shelton and Gwen Stefani are getting ready to celebrate their fifth Christmas as a couple. Over the years, the two have developed some unusual traditions, and some of them involve her three boys, Kingston, Zuma, and Apollo. From the pair's wrapping paper wall to their odd dinner choices, here's a look at all of Shelton and Stefani's Christmas traditions.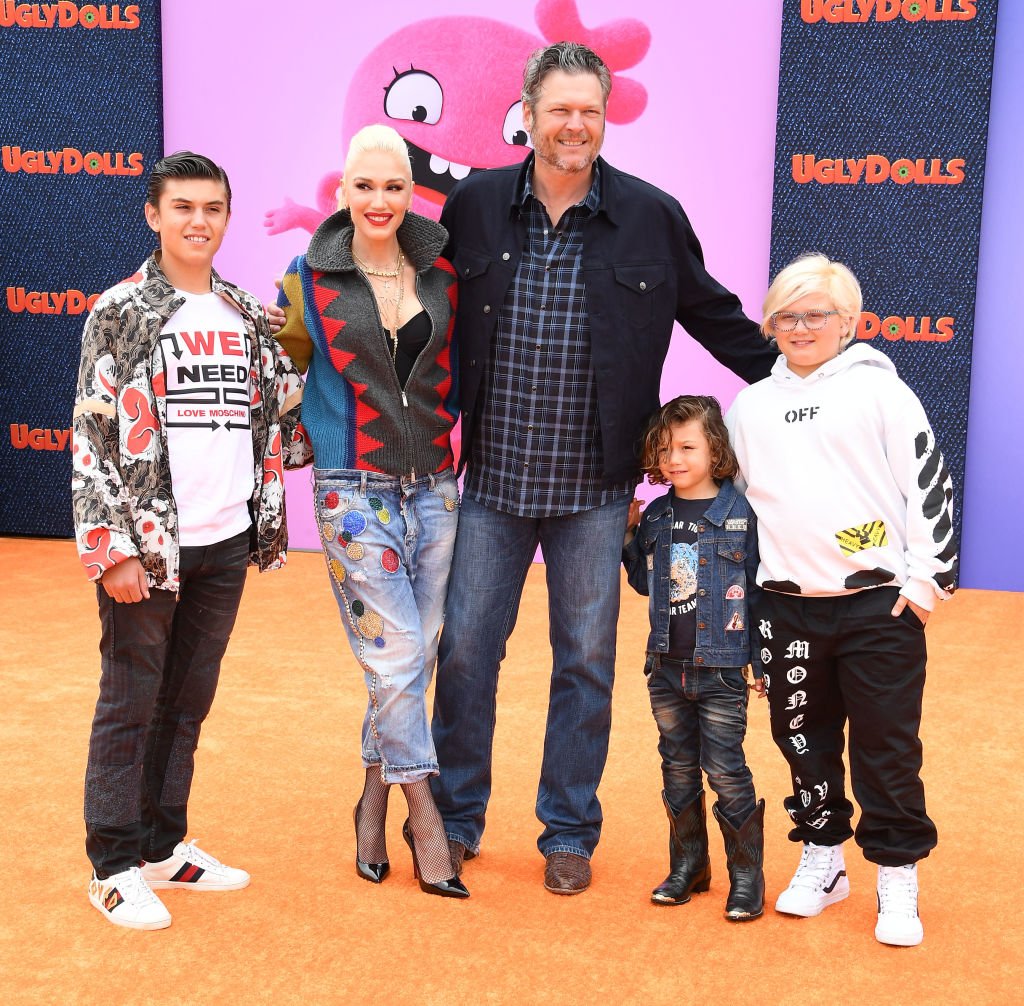 Gwen Stefani's famous wrapping paper wall
One of Stefani and Shelton's most talked about Christmas tradition is the wrapping paper wall they set up for her three sons. Stefani has shared videos of the paper wall in previous years on social media, and it is one tradition her boys look forward to every year.
According to House Beautiful, Shelton opened up about this unusual tradition in a recent interview and admitted that it is about the only tradition they follow on a consistent basis.
"At our house, it's literally chaos," Blake Shelton explained. "They have that moment when they run through the wrapping paper wall that she sets up every year. That's about the only thing that I think consistently happens."
That's right, a wrapping paper wall, which is about as fun as it gets. And based on Stefani's videos, it looks like her boys love running through it every year.
Speaking of her sons, Blake Shelton added that every year is a mixed bag with the boys. Sometimes they all get along and are happy with their gifts, while other years they fight over the toys. Here's to hoping this year is a little more peaceful for the two.
A tradition that is not a tradition
When it comes to their other Christmas traditions, Gwen Stefani revealed that they always pick a new recipe to try every year. The No Doubt alum and Blake Shelton skim the internet for the whackiest recipe they can find and they try it out for Christmas dinner.
"Me and Blake will have, like, a tradition of always trying something new," Stefani shared. "[We] just look on the internet and find, like, a recipe, 'That looks delicious. Let's try that!' You know?"
This past year, for instance, they made an Italian pasta called Timpano Dome. Stefani liked it so much that she was tempted to cook it again this year.
But Blake Shelton pumped the breaks on that idea because their tradition is to pick something new every year. Stefani did not say what they are planning to eat for the holidays this year, but we are confident that they will share the recipe on social media after the fact.
Blake Shelton and Gwen Stefani get invited to Legend's house for dinner
Following the season 17 finale of The Voice, Shelton and Stefani enjoyed a holiday dinner at Legend's house with his wife, Chrissy Teigen. Kelly Clarkson and her husband were also there for the highly-anticipated dinner.
A few days before, Gwen Stefani expressed her excitement about dinner date and revealed that she cannot wait to break bread with her co-star.
Legend later confirmed the dinner date, though he admitted that they had not settled on a menu just yet. The singer joked about making mac and cheese, something he and Stefani have talked about doing in the past.
Teigen posted a shot of everyone prior to dinner but has not revealed exactly what was on the menu. Except for cake. On her Instagram stories, the supermodel turned cookbook author revealed that she and Legend each ordered a cake, although Legend had his personalized, which Teigen lovingly smashed.
Blake Shelton and Stefani celebrate new love song
While Shelton and Stefani prepare for their favorite Christmas traditions, the two also recently released a new song together called "Nobody but You." The track is basically a ballad about their love for each other and is about as cute as it gets.
Stefani discussed the song in a recent interview and revealed that they did not write the lyrics to the track. But after hearing the song in the gym, Blake Shelton told Stefani that they should sing it together, and she was completely on board with that idea.
"Neither one of us wrote this song. It came to us, and when Blake heard it we were working out in the gym," she explained. "I am thinking in my brain, and I was like, 'God, I wish I was on this song…' and he turns and says, 'God, I wish you were on this song,' and I was like, 'I was just thinking that!' And he's like, 'I was just thinking that!'"
This, of course, is hardly the first time Shelton and Stefani have collaborated on a song — and it probably will not be the last. With the track being released around Christmas, perhaps this will become another one of their holiday traditions.
As a side note, Blake Shelton and Gwen Stefani usually celebrate Christmas in Los Angeles, close to her family. They do, however, have Thanksgiving dinner at his ranch in Oklahoma to balance things out.