Blake Shelton Dishes on Gwen Stefani's New Love for Country Music
Gwen Stefani wasn't always a fan of country music but Blake Shelton just may have turned her.
Blake Shelton and Gwen Stefani have one of the hottest relationships in the music industry. The two are both superstars in their respective genres and in the four years that they have been together, they have slowly been redefining what it means to be a power couple in entertainment today.
Shelton and Stefani are endlessly supportive of each other's careers, always make time for each other, and even enjoy collaborating on musical projects together. Keep reading to learn how they first started dating, Stefani's favorite music, and how she's started to become a country music aficionado.
Blake Shelton and Gwen Stefani's surprising relationship
In 2014, Stefani joined the cast of The Voice, the ever-popular singing competition show. Stefani met fellow judge Shelton on the set and sparks started flying.
The two bonded over their mutual divorces: Stefani was divorcing longtime partner Gavin Rossdale and Shelton was in the process of a divorce from Miranda Lambert. By late 2015, rumors started about a possible romance between Stefani and Shelton.
The couple made their first official red-carpet appearance in early 2016 and have been together ever since. Defying all the naysayers, Stefani and Shelton have continued to grow as a couple over the years, all while working together on The Voice.
Shelton has reportedly even become very close to Stefani's three sons as well, and although the two have not yet gotten engaged, it could just be a matter of time. Shelton has even managed to influence Stefani's musical tastes as well, as revealed in a recent interview with the country music superstar.
Gwen Stefani is known as the queen of 'ska' music
Stefani is no newcomer to the music scene. She rose to fame in the mid-nineties, as the frontwoman for the popular rock band No Doubt.
While Stefani has taken a lot of inspiration from ska and reggae music, her music also has references to eighties pop music. Stefani is often compared to Madonna, due to her platinum blonde hair and bright red lipstick.
Reportedly, a few of Stefani's favorite artists include alt-rock groups like The Cure, Depeche Mode, Radiohead, The Smiths, Madness, and Fishbone. In recent years, she has branched out to release Christmas music and some softer love songs, possibly influenced by her relationship with Shelton.
Still, there is a whole new genre that has captured her attention, as revealed in a recent interview with Shelton. And, it could come as a shock to many of Stefani's longtime fans.
Blake Shelton reveals Gwen Stefani's new favorite thing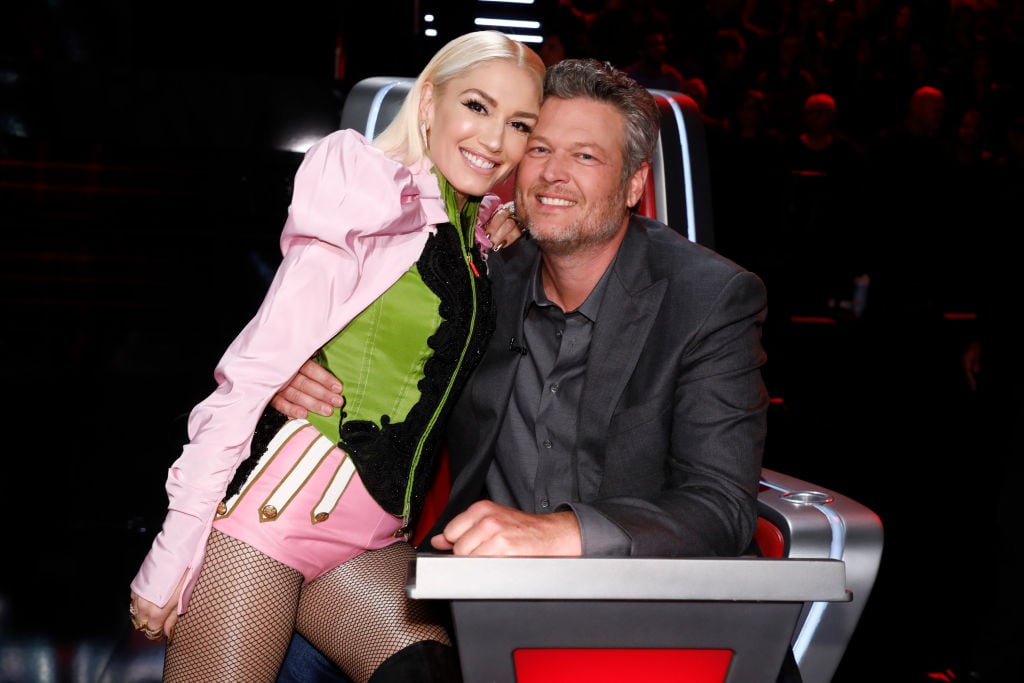 In mid-December 2019, Shelton sat down with Fox News and chatted about his relationship with Stefani and how they have changed each other for the better. He joked that Stefani suffered "music abuse" when she was growing up in California and never really listened to country music.
Shelton said that since they have been together, Stefani has "fallen in love" with country music and that it is basically all she listens to. Still, Shelton doesn't take all the credit for her new — and according to him, improved — taste in music. He revealed that her newfound love of country music has to do with simply being exposed to it.
Shelton also admitted that she has had a positive influence on him as well and that since being with her, he has found a new place for religion in his life. While he didn't talk about the wedding rumors, it seems as though that could be just around the corner.