'Bling Empire': Anna Shay Is Confused by Her Netflix Checks
Netflix's Bling Empire is the latest reality show to grab our attention. The series follows the millionaires and billionaires of LA's affluent Asian community. The series follows Christine Chiu and Dr. Gabriel Chiu, billionaire Kane Lim, entrepreneur Kelly Mi Li, narrator Kevin Taejin Kreider, former pop singer Cherie Chan, and her trust fund beau, Jessey Lee, DJ Kim Lee, fashion influencer Jamie Xie, and hairstylist Guy Tang.
However, the queen bee of them all is the group's matriarch, Anna Shay. Shay is so wealthy that she was confused by the checks she received from Netflix for participating in the series.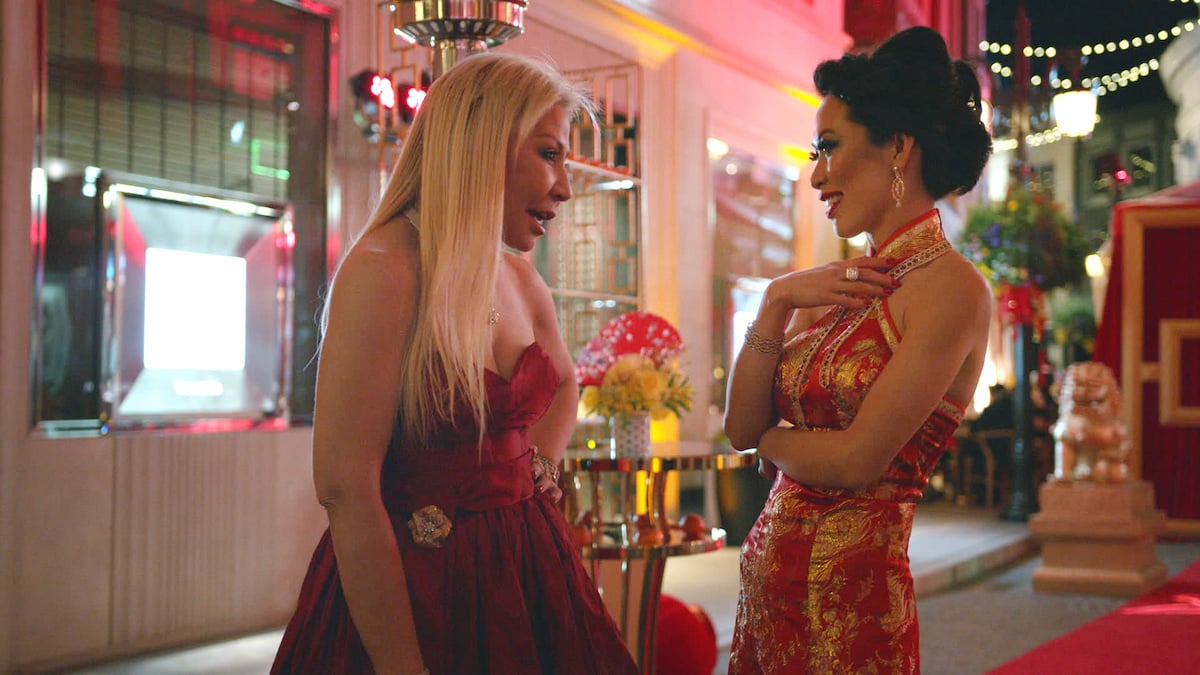 Anna Shay's net worth is $600 million
Shay inherited her money from her father, the late Edward Shay, who started his company Pacific Architects and Engineers in 1955. Her friend and co-star Kane Lim says in Bling Empire, "Her money comes from weapons. Her father sells bombs, guns, defense technology."
However, Shay is a bit more pragmatic about it. "He did a lot of mostly government contracts, embassies, and a lot of things that I don't know about," she told Town & Country. "Basically, he was a businessman."
In 2006, Shay and her brother sold the company for $1.2 billion in an all-cash deal, and they each took half. According to Celebrity Net Worth, Shay is worth at least $600 million.
RELATED: 'Bridgerton' and 'The Queen's Gambit' Among AFI's Top TV Shows of 2020
Anna Shay loves to spend lavishly
Shay has only ever known a lavish life. When her family moved from Japan to the United States when she was seven, her pet monkey sat next to her on the Pan Am flight. She was terrified that the monkey would be booted off the plane, so Shay dressed the monkey up in clothing and referred to the monkey as her sister. "I said, 'She's my sister. She'll have some milk, please. And perhaps if you have a banana'" Shay recalled telling the flight attendant via Oprah Magazine.
On Bling Empire, Shay flies her friend Kelly Mi Li and her boyfriend to Paris simply to eat at her favorite restaurant. Shay also owns high jewelry pieces and a stretch Rolls Royce with custom Chanel interiors. 
Anna Shay is confused by her 'Bling Empire' checks from Netflix
With puddles of money at her disposal and the ability to drop thousands of dollars at the grocery store or go on lavish shopping trips, Shay obviously doesn't need any of the checks she received from Netflix for starring on Bling Empire.
According to ZipRecruiter, the average annual pay for a Reality TV Show in the United States is $73,475/year. This is roughly about $35/hour or pennies in Shay's world. In fact, she hasn't spent any of her Netflix money because she's honestly confused by it.
"It was so confusing when I got the checks. I didn't know what to do with them," she told Oprah Magazine. "I didn't cash them, then I got in trouble for not cashing them. I have them in a savings account. I'd like to have a party some time. I don't think the money belongs to me. I think it belongs to the crew that had to put up with me."