'Blue's Clues': Original Host Steve Burns Returns With Heartfelt Message About Growing Up
In the many childhoods shows that made an impact, Blue's Clues had a special place in many young children's hearts, who are now adults. Created by Nickelodeon in 1996, the animated series was hosted by Steve Burns until April 2002. Many young viewers lost a friend who would take them on fun adventures and teach them new things with the help of a dog named Blue. Nineteen years later, Burns returned in his iconic green striped shirt to explain why he left. His heartfelt message resonated with his fans that are now well into adulthood. Do not worry as Burns reaffirms he is still everyone's friend.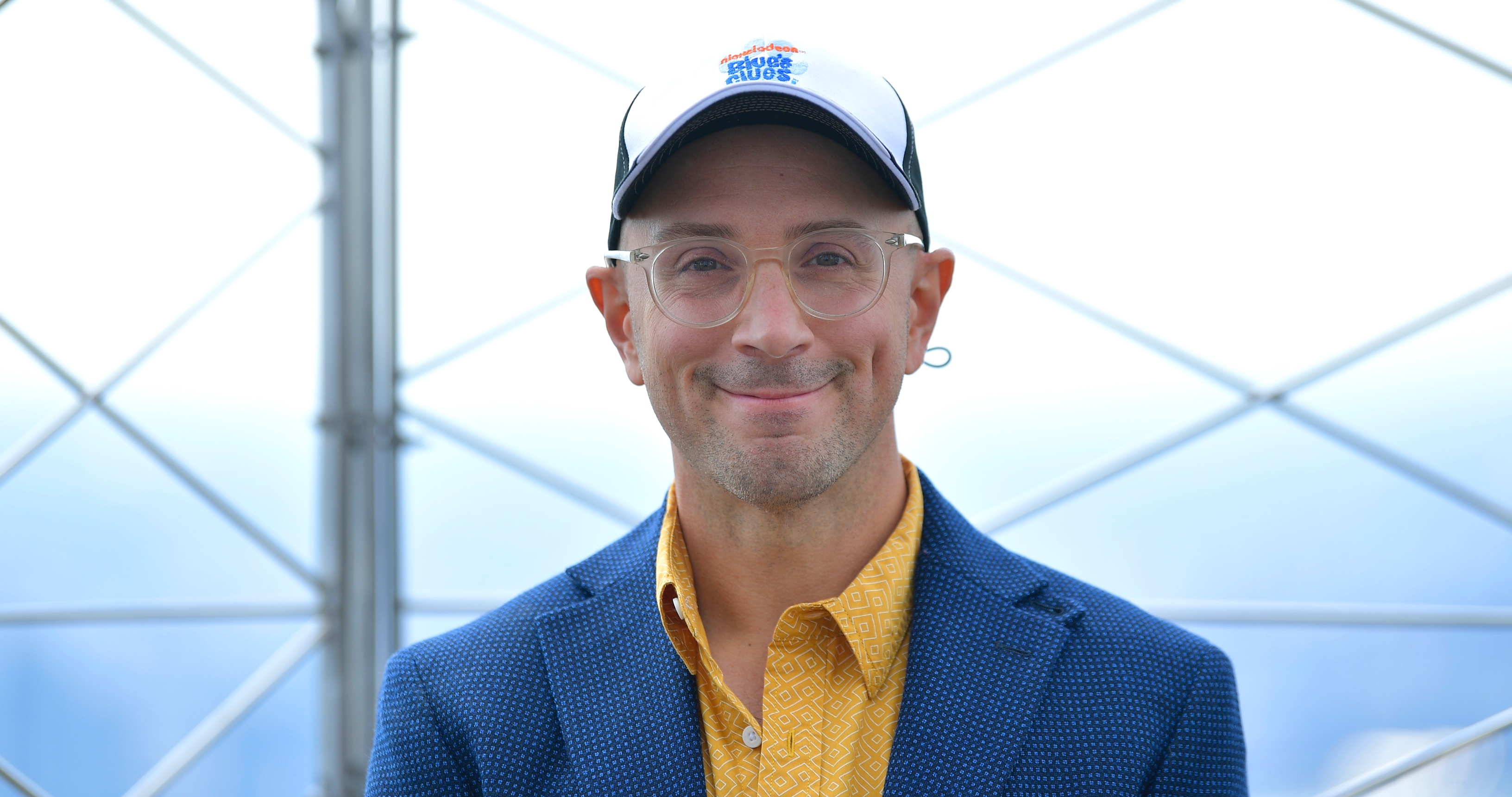 'Blue's Clues' host was originally meant to be female
Nickelodeon was looking to create a show for preschoolers that was more engaging and colorful than Sesame Street. The show followed an animated blue-spotted dog who leaves clues for the viewers to figure out with the help of the show's host. The network wanted the host to be the only human character in the animated show and initially wanted the host to be female. After the strong and memorable audition by Burns, the network saw him as the perfect candidate.
Burns would become well known as the children's show skyrocket in ratings. He became a household name with his easy-going demeanor, green striped shirt, and memorable notebook and crayon. In his time on the show, new characters and new plot elements were introduced. In 2002, Burns suddenly left, leaving his young fans without their trusty friend. Nineteen years later, Burns returns in a special anniversary video on Nick Jr.'s official Twitter.
Steve Burns is all grown up and so are his fans
According to CNN, in honor of Blue's Clues 25th anniversary, Burns made a special video addressing his loyal fans who are not little children anymore. Burns briefly explains why he left the show, and it was a valid reason. He was growing older, and it came time to move on and do what many of his fans would one day do as well, go to college. The video hit a chord with viewers who grew up with the show and Burns, who are now experiencing adulthood.
"I mean, we started out with clues, and now, it's what? Student loans and jobs and families? And some of it has been kind of hard, you know? I know you know," said Burns. He left the show and ended up doing many of the things he always dreamed of achieving. While wearing his striped shirt, Burns emotionally admits that he could not have done it without the young children who helped him solve clues. Many of the lessons they learned together are still helping him today.
By the end of the video, Burns's reaffirmation that he is still everyone's friend triggered the waterworks. "I guess I just wanted to say that after all these years, I never forgot you. Ever. And I'm super glad we're still friends," said Burns. Blue's Clues became one of the most-watched shows for preschoolers, thanks to Burns.
After Steve Burns, there have been different hosts and spinoff series
After Burns's departure in 2002, Nickelodeon needed to introduce a new host to become their audience's new friend and teacher. On Burns's final episode on Blue's Clues, he introduced his brother Joe, played by Donovan Patton. As a part of the 25th anniversary, Burns, Patton, and Joshua De La Cruz rewatched the show and Burns's final episode, as reported by People.
In the episode, Burns talks to Blue about his departure and addresses his audience. Burns tells Blue that his brother will take over and turns to the audience, "Will you take good care of my brother Joe while I'm away at college? Great, because sometimes he needs a little help." said Burns. After Burns, Patton took over as the show's host.
A spinoff called Blue's Room premiered in 2004 but without a central host and ran until 2007. Nickelodeon once again tried to create a new spinoff following the old formula. Blue's Clues & You! debuted in 2019 and would once again have a host and similar visual style. For this series, the host was named Josh, played by De La Cruz, and was Steve and Joe's cousin.