'BMF': Big Meech Gave Eric Kofi-Abrefa Inside Information About His Character Lamar
Curtis "50 Cent" Jackson's crime series is BMF is based on the real-life Flenory brothers. Demetrius "Big Meech" Flenory (Demetrius "Lil Meech" Flenory Jr.) and Terry "Southwest T" Flenory (Da'Vinchi) began building their drug empire when they were just teens in Detroit. From there they would go on to become two of the biggest drug traffickers in the country.
However, Big Meech and Southwest T also had their rivals. One of those rivals, Lamar is depicted by actor Eric Kofi-Abrefa on BMF. The British actor said that Big Meech gave him inside information into his character.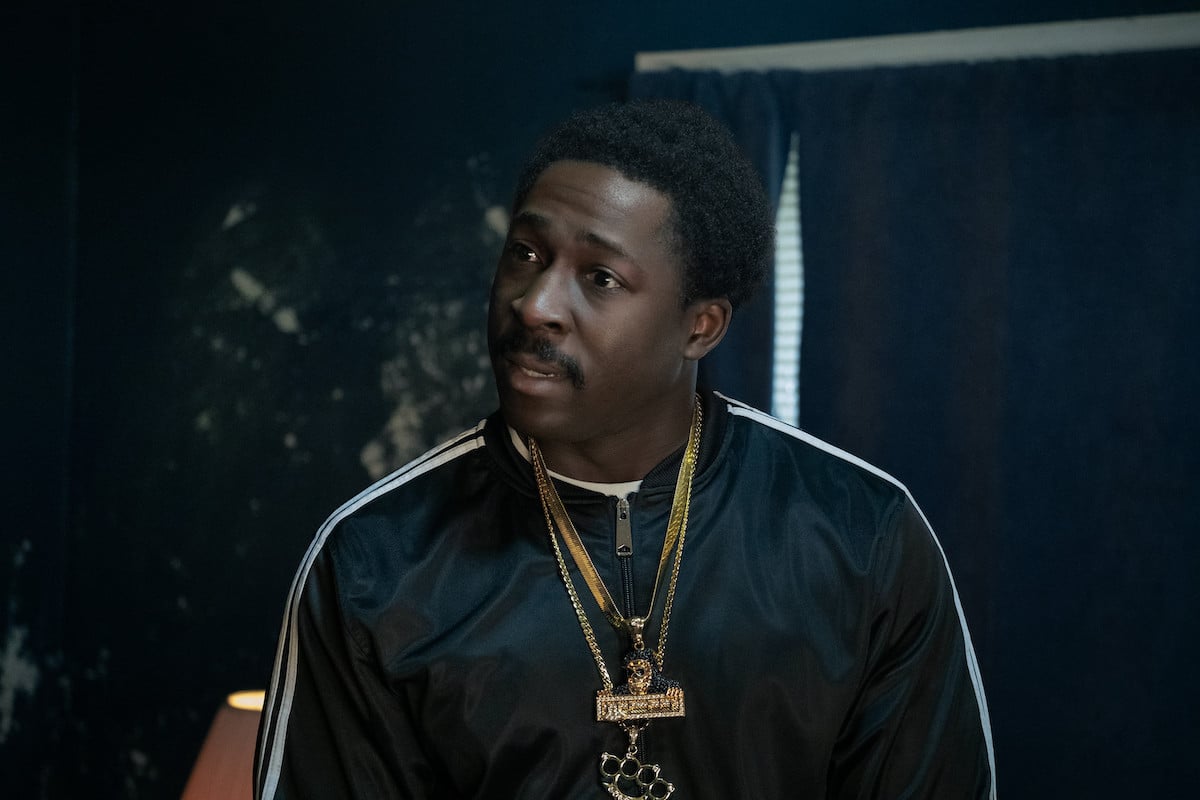 What does Big Meech really think about 'BMF'?
With his son portraying him on the series, though Big Meech is currently incarcerated he's still very much involved with the show. He spoke with both 50 Cent and BMF creator Randy Huggins at length about his life, and his brother, Terry is also involved. 50 Cent even shared a message that Big Meech left for Lil Meech about the series. 
"Keep in touch so we can talk about the 3rd and 4th episode and whatever you out there doing all positive vibes," Big Meech wrote via Complex. "I really love 50 for helping us make all this happen for us it's like he the only one to sincerely come thru and put us on the 100 percent legitimate successful path and he never owed us shit but gave us 'everything' when almost all the sports and entertainers I've known most of my life never spoke up or helped us get on the path legitimacy!" 
Big Meech gave Eric Kofi-Abrefa inside information bout his character Lamar 
Kofi Abrefa's Lamar is a composite character of several rivals that BMF did have. However, he is based on one person in particular., a Detroit gangster named Layton Simon. Big Meech was able to give the British actor some real-life information and insight about his character. 
"50 is a generous director who wanted to make sure everybody felt good about what they were doing," Kofi-Abrefa told TV Line. "I never felt like I was in harm's way or didn't understand where the character was going. Just hanging with Lil Meech, who 50 Cent recruited for the show, was enlightening. His dad would call in sometimes and talk to me about the history and context of his life and family. He told me about the man my character is based on and gave me all kinds of details that I was able to throw in a pot, mix up, and add to my performance."
Will Lamar die in the 'BMF' Season 1 finale?
In episode 107, "All in the Family" Lamar was gravely injured by one of the 12 Street Boyz, though his gunshot wound doesn't appear to be life threatening, Big Meech and B-Mickie (Myles Truiett) are still after him. In fact, fans are convinced that Lamar might die in season 1. 
Arkeisha "Kash Doll" Knight who portrays Lamar's ex-girlfriend Monique, has already hinted that she won't be appearing in the season 1 finale, which may have also revealed Lamar's fate. The rapper/actor shared an interview she did with The Detroit Free Press on Instagram. In the caption, she revealed that episode 107 was her last one on BMF. She captioned the photo, "That was my last episode u guys!!! Thanks for all the love."
Kofi-Abrefa is also being coy about appearing in 'BMF' Season 2. "You have to wait and see," he told Digital Spy about his character possibly appearing in BMF Season 2. "Again like (laughs) all of these things are not in my control."