'BMF': What to Expect From the Season 1 Finale
The highly-rated Curtis "50 Cent" Jackson-produced crime series, BMF is finishing up its first season. The TV series is based on the true-life story of Demetrius "Big Meech" Flenory (Demetrius "Lil Meech" Flenory Jr.) and Terry "Southwest T" Flenory (Da'Vinchi). The brothers began their drug enterprise on the streets of Detroit when they were just young teens. They would go on to form the Black Mafia Family, becoming two of the biggest drug traffickers in the country.
Still, the brothers' quest for money and rise to the top came at a massive price. Not only are they dealing with the anguish of their family, but they also have a murderous rival, Lamar (Eric Kofi-Abrefa) who wants to see them dead. Here's what to expect from the finale.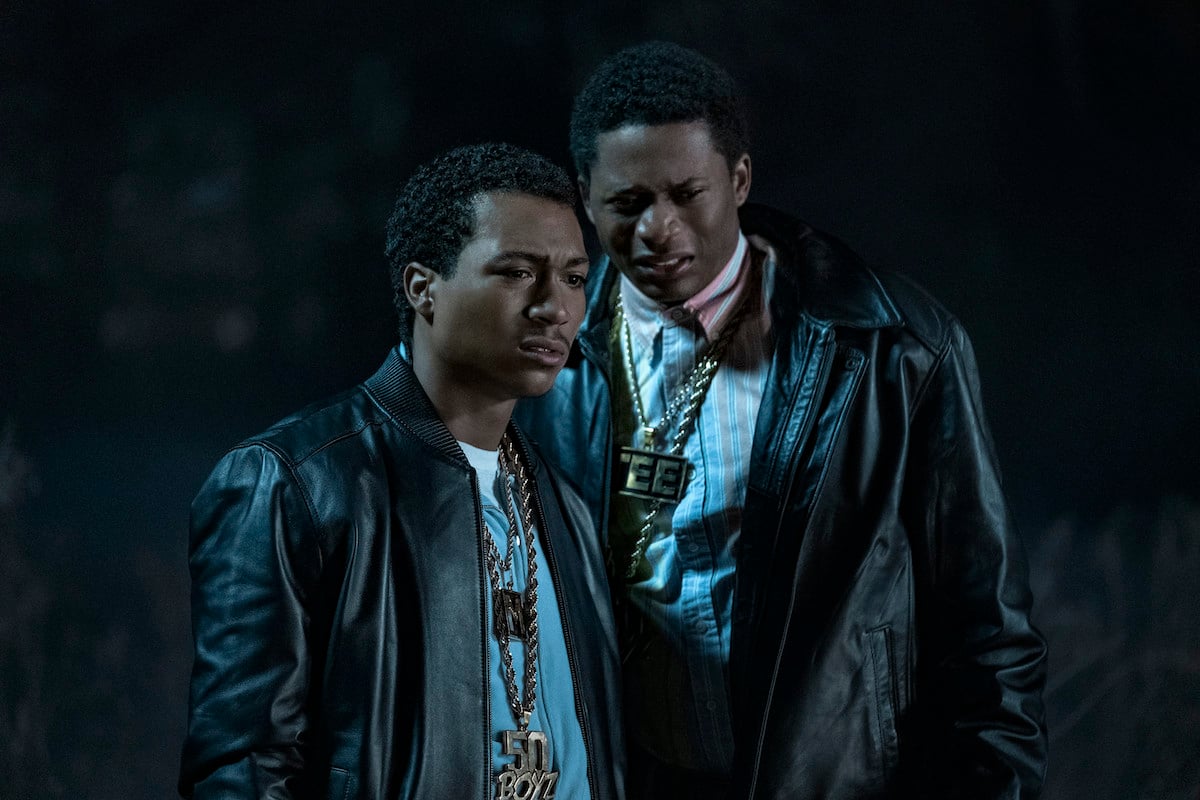 What is the 'BMF' Season 1 finale about?
The final episode of season 1 of BMF will air on Nov. 21 on Starz. The episode, which is titled, "The King of Detroit" will undoubtedly be a turning point for the Flenory brothers. 
The official synopsis reads, "In an effort to expand into new territory, Meech discovers a disturbing alliance then hatches a plan to eliminate the threat; Terry is forced to make a life-altering decision."
Russell Hornsby hints at a major cliffhanger 
Since BMF has already been greenlit for season 2, we know that things are going to be explosive in the season finale. Russell Hornsby who depicts Big Meech and Terry's father, Charles, has even hinted at a massive cliffhanger. 
"When you're dealing with success, opportunity, and money in a life of crime, you lose people," he told TV Line.  "And you lose people that you love. I think that's part of the pain and cost of being in the street game. It is going to be a great finale. I don't think everything is going to tie up in a nice bow. It definitely leaves it open for Season 2."
Will Lamar die in the 'BMF' Season1 finale?
Though Meech was not pro-violence at the beginning of the season, the attacks against his family have pushed him to the edge. The promo for the season finale shows the young gangster shooting someone in cold blood and most fans believe that the person on the other side of his gun is Lamar. 
Arkeisha "Kash Doll" Knight who portrays Lamar's ex-girlfriend Monique on BMF, may have hinted at Lamar's demise.
The Detriot-born rapper posted a photo from a recent interview and she captioned it announcing that episode 107 was her final appearance. She captioned the photo, "That was my last episode u guys!!! Thanks for all the love."
Since Monique won't be seen in this episode, it's likely that Lamar will meet a sticky end.  Kofi-Abrefa has also been cryptic about his character returning for season 2. "You have to wait and see," he told Digital Spy about his character possibly appearing in BMF Season 2. "Again like (laughs) all of these things are not in my control."