'BMF': Why Is Lamar so Obsessed With Power?
Created by Randy Huggins and executive produced by Curtis "50 Cent" Jackson, Starz' BMF is barreling toward an explosive end. The series is based on the real-life Flenory brothers. Demetrius "Big Meech" Flenory (Demetrius "Lil Meech" Flenory Jr.) and Terry "Southwest T" Flenory (Da'Vinchi) started as small-time drug dealers in Detroit. They would eventually go on to become two of the biggest drug traffickers in the country.
Though the Flenorys would eventually get everything they worked for, before it all collapsed, they certainly faced obstacles. One of those obstacles was in rival Lamar (Eric Kofi-Abrefa) who did everything in his power to break the Flenorys. Now, Kofi-Abrefa is explaining his character's motivations on BMF.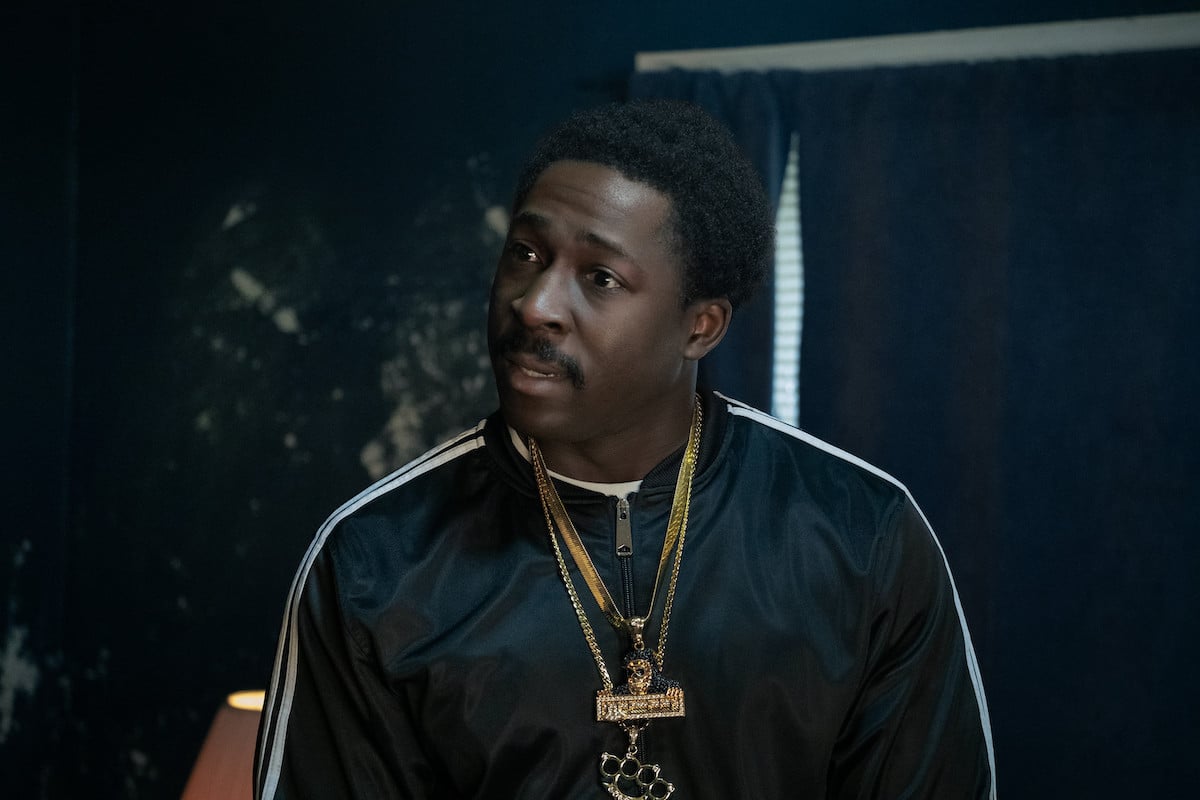 Is Lamar on 'BMF' based on a real-life person?
Menacing and diabolical, Kofi-Abrefa's portrayal of Lamar seems almost too implausible to be factual. However, the gangster is in fact, based on a real-life person. "It's not just a drug show," Huggins told TVLine. "We delve into mental illness with Lamar. Back in the 1980s, when [President] Reagan closed all those state-run mental health facilities, people like Lamar were released with nowhere else to go. He may have gone in the asylum thinking it was easier than prison, but he was probably already mentally ill and got worse."
As we've seen over the course of the first season of BMF, Lamar's mental health has continued to deteriorate. This makes him more dangerous for everyone around him including Big Meech and Monique (Arkeisha "Kash Doll" Knight).
Why is Lamar so obsessed with power?
As fans of the series know, Lamar used to run the hood in Detroit. Unlike the other gangs, he was only loyal to himself, stealing from all of the drug dealers and their sets and being a complete menace. As we saw in episode 6, there isn't much Lamar will do to get what he wants.
"I think that's what it starts off as, and then I think there's a bit more hunger for power, or little things," Kofi-Abrefa told Digital Spy about his character. "Essentially, Meech and Terry are in the way, they're young little dudes who've come in, And he kind of just, he wants to take them out. But even within that you've got Meech, messing with Monique, and then that kind of has his brain somewhere else because of the daughter and family. So, I think he's willing to, depending on what it is, I think he's willing to take it there, anywhere. I don't think there's no, there's no kind of limit, or like, he feels any compassion or empathy for somebody if he has to get rid of them."
Is 'BMF' completely accurate?
Though BMF is based on the Flenorys' real-life, Huggins did take a couple of liberties when it came to making the story fit for TV. However, the Detroit-born creator stuck with the facts. "I took some liberties, but everything there is based on a story," Huggins told Urban Hollywood 411. "Obviously, you can't have people's names in there. Obviously, some of the places may have changed."
However, Huggins wanted to make sure that every character that was seen on-screen was some version of an actual living person. "I don't think there's a character in there, that I hadn't heard of," he said. "I may have to take a creative liberty to make an art pop a little bit more. I may have to take a creative license to make a scene funnier than it may have been, but that's just part of telling a story. This is not a documentary."