Bo-Katan's Rumored Part in 'The Mandalorian' Season 2 Could Ensure an Important Darksaber Flashback Moment
The Mandalorian was a breakthrough for Star Wars. In a franchise that was already so popular, it was a series that really pleased a lot of fans and one of the first to tell a story outside of the characters already established in the franchise. It also gave fans the surprise of Baby Yoda, who is a celebrity all by himself. Now, more casting rumors are coming out about who's joining Season 2. The newest rumor is about a strong The Clone Wars character.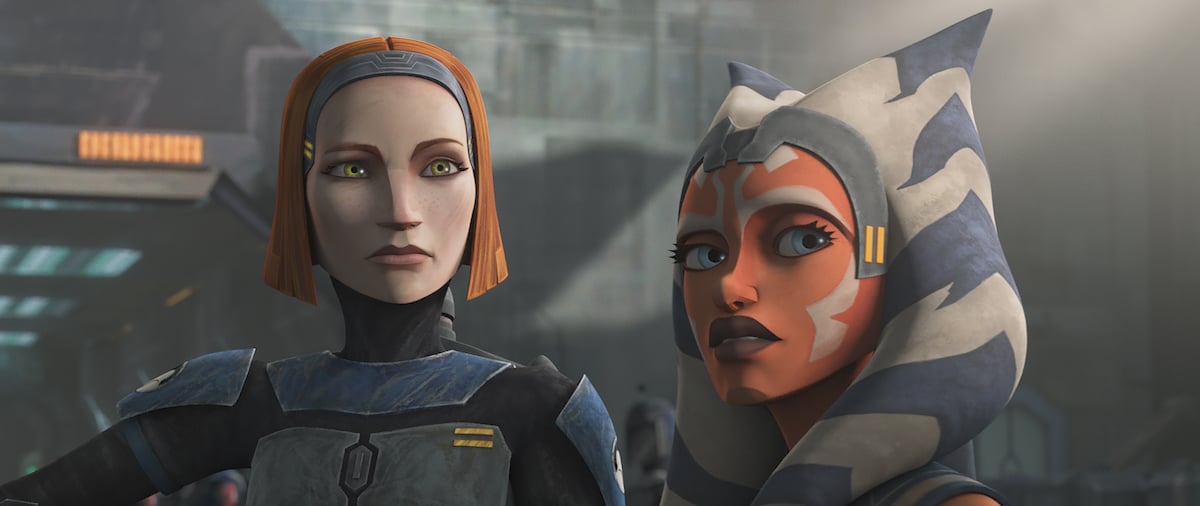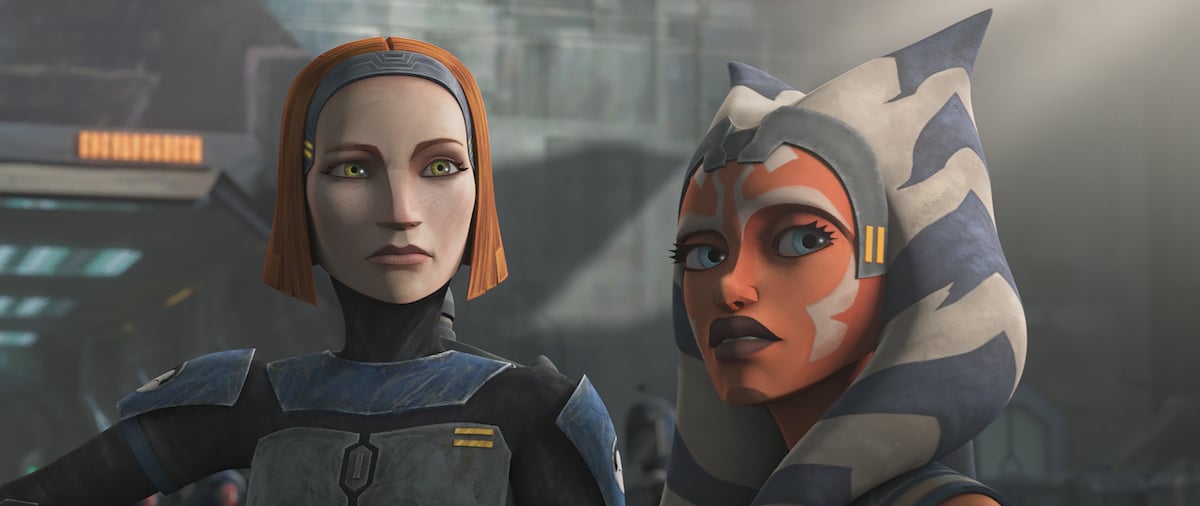 Katee Sackhoff is rumored to play live-action Bo-Katan in 'The Mandalorian' Season 2
On May 12, Slashfilm reported that Katee Sackhoff is reprising her role of Bo-Katan in live-action form for The Mandalorian's Season 2. Nothing has been confirmed by Lucasfilm nor Disney; it comes from the site's sources. They reported that Sackhoff already filmed the part in February before productions shut down due to the COVID-19 pandemic. 
Sackhoff originated the role of Bo-Katan in the animated series Star Wars: The Clone Wars in 2012. She also appeared in the most recent season, where Bo-Katan had a more pivotal. She was the driving force behind the Siege of Mandalore to overthrow Maul's hold on the planet. Sackhoff's Bo-Katan also appeared in Star Wars Rebels, which takes place 15 years after the events of Revenge of the Sith and the Siege of Mandalore arc. 
This is the perfect opportunity to show how Moff Gideon has possession of the Darksaber
One of the biggest questions that Star Wars: The Clone Wars' final season didn't answer was what happened to the Darksaber after Maul was captured. This weapon has a long history on-screen, first appearing in The Clone Wars Season 2, owned by Pre Vizsla. He was the leader of Death Watch, which Bo-Katan was a part of at that point. Death Watch was a terrorist group of Mandalorians who thought Duchess Satine's pacifist ways were against their birthright as warriors. 
In Season 5, Death Watch teamed up with Maul, against Bo-Katan's judgment. When Maul defeated Pre Vizsla in a duel, he took over Death Watch and the Darksaber, as those were the terms of the fight. Bo-Katan did not accept this since he's not a Mandalorian and shouldn't have power over either of those things. This is why she waged the Siege of Mandalore, and then won. 
However, this question was answered off-screen in the Son of Dathomir comics. The Darksaber stayed on Dathomir after Maul took it there following Darth Sidious's assault on him. It wasn't until Ezra, Sabine, and Kanan took it back in Rebels. Kanan held it for safekeeping until Sabine was ready to take it, again. 
At the end of Season 4, Sabine finally gave it to Bo-Katan, who had previously turned it down because she didn't feel worthy. The next time we see the Darksaber was when Moff Gideon held it in the season finale of The Mandalorian. 
Having Bo-Katan in Season 2 poses an excellent chance to see how Moff Gideon took the Darksaber. Unfortunately, this means Sackhoff's Bo-Katan would probably only appear in a flashback and show her death. That's really one of the only ways Moff Gideon would have taken it. 
Other animated favorites are rumored to join 'The Mandalorian'
That is, of course, just a theory of how Bo-Katan could show up in Season 2. The casting rumor still hasn't officially been confirmed by Lucasfilm, but if it is, this makes the most sense. The Darksaber was a major surprise bomb in the first season. Considering the weapon's owner history, it was also a major question for fans. How did Moff Gideon get control of this Mandalorian relic? 
This "flashback" idea could also calm fans who think this season will be overrun with animated series characters. Because in addition to the Sackhoff rumor, Rosario Dawson is also rumored to play the live-action version of Ahsoka in The Mandalorian. This was exciting for some, but made many weary since Ashley Eckstein's portrayal is so beloved. 
And in addition to Ahsoka, Boba Fett survived the sarlacc Pit and Temuera Morrison is reportedly coming back to play him. According to The Hollywood Reporter, Morrison is taking up the role, which is appropriate since he played Jango Fett in Attack of the Clones. There are rumors he could also play Captain Rex, which would fit in if Ahsoka is joining the cast. A reminder that they're all clones, and having the live-action actor who played Jango Fett makes perfect sense. The possibilities of Morrison's return are endless considering several clones did survive the Clone War. 
Basically, a lot of people are supposed to appear on Season 2 of The Mandalorian. Bo-Katan has good company, if all is true.