Bob Dylan Almost Didn't Come out of Hiding for George Harrison's Concert for Bangladesh
Bob Dylan almost didn't come out of hiding for George Harrison's Concert for Bangladesh. George had to coax him into agreeing to perform.
Bob Dylan kept George Harrison on his toes while the former Beatle planned his benefit concert, Concert for Bangladesh. Dylan had been in semi-retirement since 1966, so coaxing him out to perform a few of his most famous songs was a huge feat.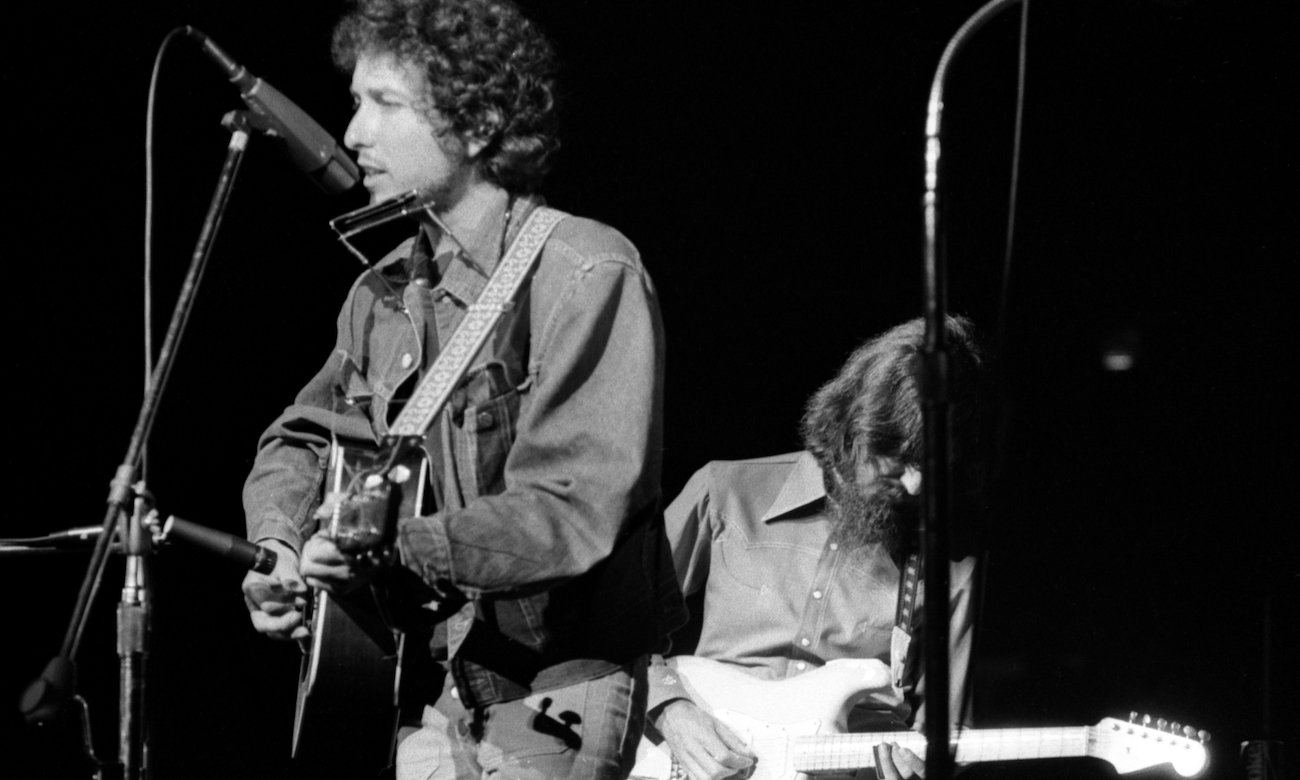 How the Concert for Bangladesh came to be
In late 1971, George's long-time friend and mentor, Ravi Shankar, told him about the full-blown humanitarian crisis in East Pakistan (formerly East Bengal).
A devastating cyclone had claimed the lives of 300,000 people. After months of inaction from the West Pakistani government, people wanted a change, and Eastern nationals declared themselves the independent country of Bangladesh. It started a bloody war with the Western Pakistani troops committing genocidal acts on the Bangladeshi people.
"I was in a very sad mood, having read all this news," Shankar told Rolling Stone, "and I said, 'George, this is the situation, I know it doesn't concern you, I know you can't possibly identify.' But while I talked to George he was very deeply moved … and he said, 'Yes, I think I'll be able to do something.'"
George organized the Concert for Bangladesh over six weeks. Somehow, he wrangled a star-studded lineup for two shows at New York's Madison Square Garden. The bill included Eric Clapton, Ringo Starr, Billy Preston, Leon Russell, Badfinger, and Bob Dylan.
George said (per Rolling Stone), "The Concert for Bangladesh was just a moral stance. These kinds of things have grown over the years, but what we did showed the musicians and people are more humane than politicians.
"Today, people accept the commitment rock 'n' roll musicians have when they perform for a charity. When I did it, they said things like, 'He's only doing this to be nice.'"
Bob Dylan almost didn't come out of hiding for George Harrison's Concert for Bangladesh
After a motorcycle accident in 1966, Dylan went into semi-retirement. Rolling Stone wrote that by the summer of 1971, he'd become "something of an apparition."
He'd moved back to New York's Greenwich Village with his family and quickly became a recluse. "It was beginning to look like he might drop out of the music scene entirely," Rolling Stone wrote.
By the time George started planning Concert for Bangladesh, Dylan had played only a hand full of shows since 1966 and none in the previous two years. George struggled to get Dylan to sign on to the benefit concert.
When George asked Dylan to perform "Blowin' in the Wind," which he hadn't played in seven years, Dylan snapped back, "Are you going to play 'I Want to Hold Your Hand?'"
Finally, George got Dylan to sign on, and he showed up to rehearsals. However, Dylan started to get cold feet. Phil Spector, who co-produced the live album, said Dylan's arrival was questionable.
"Dylan was a no-show up until the last minute," he said in Martin Scorsese's documentary, George Harrison: Living in the Material World. "I had to go down to his apartment and literally get him. It was chaos."
In 1987, George told Rolling Stone (per Harrison Archive) that Dylan was reluctant to show. "He never committed himself, right up until the moment he came onstage. On the night before Bangladesh, we sat in Madison Square Garden as the people were setting up the bandstand.
"He looked around the place and said to me, 'Hey, man, you know, this isn't my scene.' I'd had so many months… it seemed like a long time of trying to get it all together, and my head was reeling with all the problems. I'd gotten so fed up with him not being committed, I said, 'Look, it's not my scene, either. At least you've played on your own in front of a crowd before. I've never done that.'"
Dylan surprised George by showing up
There was no telling if Dylan would show up to support George at the Concert for Bangladesh. George didn't expect him to but was pleasantly surprised when Dylan did.
"So he turned up the next morning, which looked positive," George said to Rolling Stone. "I had a list, a sort of running order, that I had glued on my guitar. When I got to the point where Bob was going to come on, I had Bob with a question mark.
"I looked over my shoulder to see if he was around, because if he wasn't, I would have to go on to do the next bit. And I looked around, and he was so nervous — he had his guitar and his shades — he was sort of coming on, coming [pumps his arms and shoulders]. So I just said, 'My old friend, Bob Dylan!' It was only at that moment that I knew for sure he was going to do it."
Dylan blew the roof off of Madison Square Garden. He performed his biggest hits, "A Hard Rain's A-Gonna Fall," "Blowin' in the Wind," "It Takes a Lot to Laugh, It Takes a Train to Cry," "Love Minus Zero/No Limit," and "Just Like a Woman."
Better yet, Dylan actually enjoyed performing. "After the second show, he picked me up and hugged me and said, 'God! If only we'd done three shows,'" George said.
Performing at the Concert for Bangladesh wasn't the only thing George pushed Dylan to do during their friendship. However, it's one of the most significant. George knew Dylan better than he knew himself.