Bob Dylan Focused on John Lennon When With The Beatles Because He 'Knew Who Was the Leader'
When The Beatles met Bob Dylan in 1964, John Lennon, Paul McCartney, George Harrison, and Ringo Starr were some of the world's biggest names. Still, they were excited to meet the American musician. After their first meet up, during which Dylan famously gave the band marijuana for the first time, Dylan reportedly began focusing on one Beatle in particular. He believed Lennon was the band leader, so he paid him the most attention.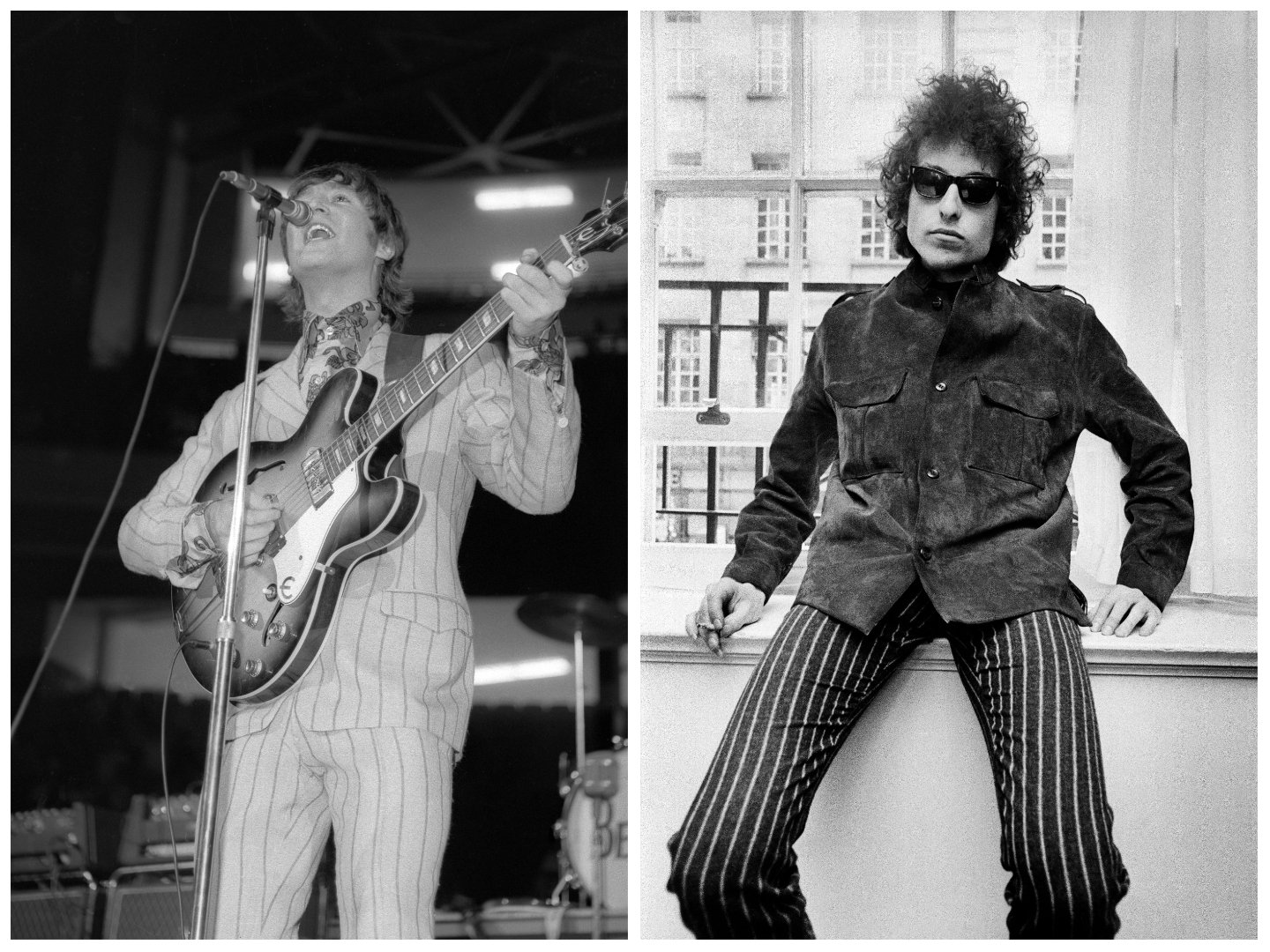 John Lennon tried to assert dominance of the band in front of Bob Dylan
In 1964, Dylan met The Beatles at the Delmonico Hotel in New York City. Dylan offered them a joint, but before anyone could take it, Lennon ordered Starr to try it first. Starr seemed hesitant, but Lennon told him he had to be the band's "royal taste tester." After a moment, he agreed. According to journalist Al Aronowitz, this move "instantly revealed The Beatles' pecking order" (via the book Ringo: With a Little Help by Michael Seth Starr).
Once Starr tried it and reacted positively, the rest of the band felt it was safe to do the same. 
Bob Dylan reportedly paid the most attention to John Lennon
After their first meeting at the Delmonico Hotel, Dylan met up with The Beatles a number of other times. By 1968, however, Lennon admitted that he hadn't seen the other musician in a while. Dylan had been in a motorcycle accident and had mostly retreated from public life, instead quietly residing with his family in Woodstock, New York.
"No, cause he's living his cozy little life, doing that bit," Lennon told Rolling Stone. "If I was in New York, he'd be the person I'd most like to see. I've grown up enough to communicate with him. Both of us were always uptight, you know, and of course I wouldn't know whether he was uptight, because I was so uptight, and then when he wasn't uptight, I was – all that bit. But we just sat it out because we just liked being together."
According to Beatles road manager Neil Aspinall, Dylan also looked forward to seeing Lennon more than anyone else in the band. 
"If ever Bob got together with the Beatles after that, John was always the one he zeroed in on," Aspinall said, per the book John Lennon: The Life by Phillip Norman. "He knew who was the leader of the band."
The American musician always found Paul McCartney impressive
Though he may have considered Lennon the leader of The Beatles, Dylan was most in awe of Paul McCartney.
"I'm in awe of Paul McCartney," Dylan told Rolling Stone in 2007. "He's about the only one that I am in awe of. But I'm in awe of him. He can do it all and he's never let up, you know. He's got the gift for melody, he's got the rhythm. He can play any instrument. He can scream and shout as good as anybody and he can sing the ballad as good as anybody, you know so … And his melodies are, you know, effortless. That's what you have to be in awe … I'm in awe of him maybe just because he's just so damn effortless."