Bob Dylan and God Inspired George Harrison to Write This 'White Album' Track
Lots of things inspired George Harrison, but God was his biggest influence. George tried many times to reach God, but he only got close when making music… and gardening. But he also got pretty close to God through his relationships with other people.
George's friends had just as much influence over him as God. So it's not surprising that God and one of the ex-Beatle's best friends, Bob Dylan, both inspired George to write a song–one that was a long, long, long time coming.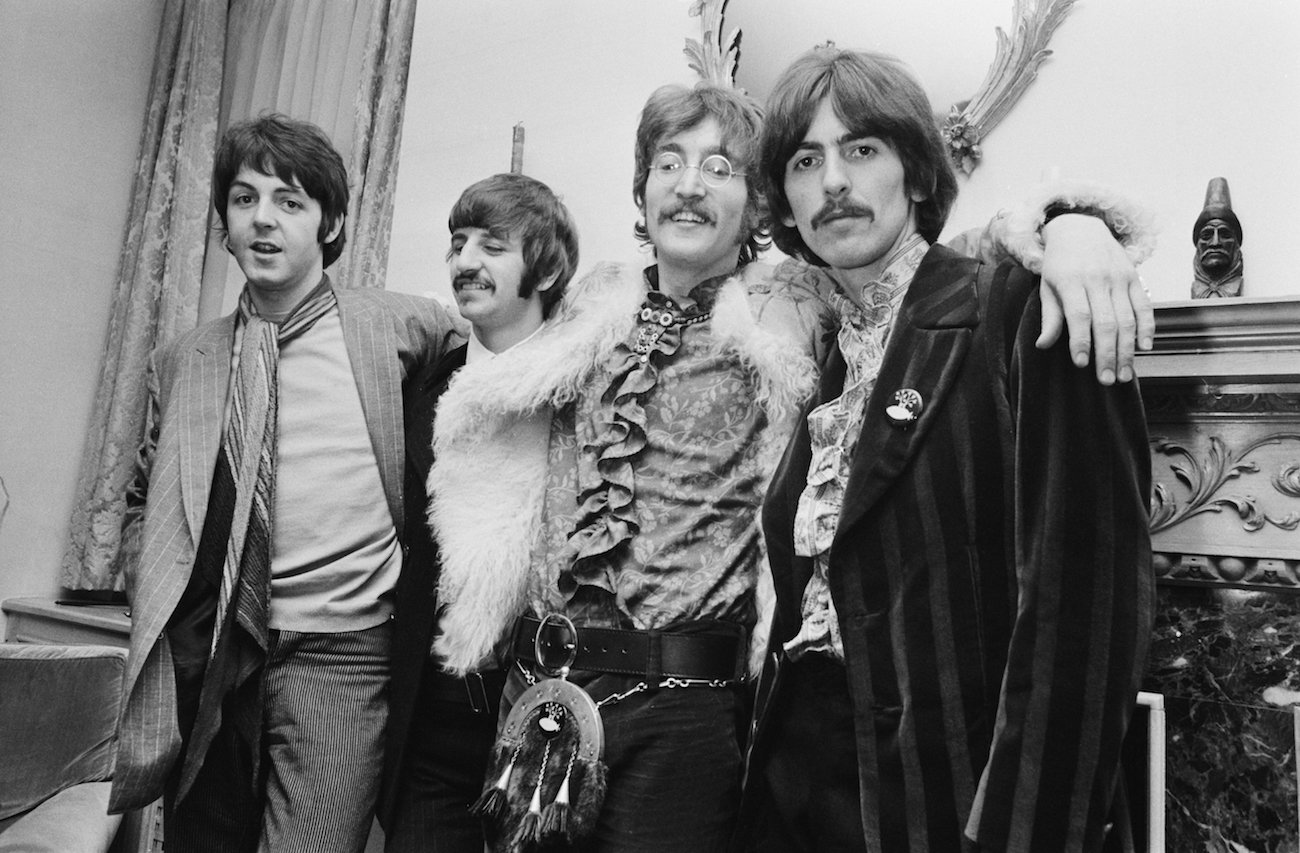 George Harrison is talking to God on 'Long, Long, Long'
Reading the lyrics of The Beatles' "Long, Long, Long," one might assume that George is talking to a loved one, perhaps his then-wife Pattie Boyd, but that's not exactly the case. The tune is a love song, and George is talking to a loved one, just not a person living in the material world. George is talking to God, saying he's thankful to have found him again.
George's spiritualism was kicking in at full force then. He was learning a lot from his friend Ravi Shankar, and he was chanting and meditating. So in "Long, Long, Long," George says he can't believe he lost touch with God and is so happy to have reconnected with him.
"How could I ever have lost you. When I loved you? Now I'm so happy I found you. How I want you. How I love you. You know that I need you," George sings in a calming voice. According to Rolling Stone, George explained in 1969, "I believe in the saying 'If there's a God, we must see him.'"
Beatles Bible calls the song a "wistful, hymnlike tribute to God" and one of the White Album's "most subtle recordings; a hushed waltz which only rouses itself from hypnotic slumber during the middle section. The dynamics are key: the calmness of the verses is only broken briefly as Harrison laments the 'many tears I was wasting' before his enlightenment."
God might have inspired the meaning of the lyrics, but Dylan influenced the melody.
Bob Dylan's song 'Sad-Eyed Lady of the Lowlands' inspired the chords for 'Long, Long, Long'
In his memoir, I, Me, Mine, George later wrote that the only thing he could recall concerning the song was its subject and the song that influenced its melody.
"The 'you' in 'Long, Long, Long' is God. I can't recall much about it except the chords, which I think were coming from 'Sad Eyed Lady Of The Lowlands' – D to E minor, A, and D – those three chords and the way they moved," George wrote.
Shortly after working on the White Album, George spent Thanksgiving with Dylan and the Band. He and Dylan later wrote "I'd Have You Anytime," which eventually appeared on George's All Things Must Pass. After that, George and Dylan became tight, and virtually everything that Dylan did constantly inspired George. He said Dylan was one of the most "consistent" artists there ever was.
But George and Dylan had a more profound relationship than that–one that was almost as deep as George's relationship with God.
George Harrison was close to God through Bob Dylan
George's wife, Olivia, told Rolling Stone that George and Dylan "had a soul connection." Meanwhile, Tom Petty said that George quoted Dylan "like people quote Scripture." But one of the reasons why George and Dylan connected so profoundly was because George connected with all of his friends as deeply as he connected with God.
In Martin Scorsese's documentary, George Harrison: Living in the Material World, Olivia explained that George had an almost romantic relationship with Dylan and the rest of his friends because he loved them so much. To get close to God, you have to perfect at least one human relationship, she said.
"They say in this life you have to perfect one human relationship in order to really love God," Olivia said. "You practice loving God by loving another human and by giving unconditional love. George's most important relationships really were conducted through their music and their lyrics. I mean 'I'd Have You Anytime,' the song that George and Bob wrote together. 'Let me in here, I know I've been here, let me into your heart.'
"He was talking directly to Bob because he'd seen Bob and then he'd seen Bob another time and he didn't seem as open and so that was his way of saying, 'Let me in here, let me into your heart.' And he was very unabashed and romantic about it in a sense. I found that he was very- he had these love relationships with his friends. He loved them."
So, "Long, Long, Long" is a tribute to God and Dylan. But George's love of Dylan was really his love of God. George once said that when you love someone, it's the God in them that you see. "The only complete love is for God."