Who Was Bob Saget's Ex-Wife, Sherri Kramer? How Many Kids Did They Have?
Bob Saget left behind a serious legacy thanks to his comedic relief in Full House and his excellent hosting skills on America's Funniest Home Videos. He'll certainly be missed by all of his fans — and, of course, by his family. Bob Saget's wife, Kelly Rizzo, and his kids survive him. But prior to Rizzo, Saget married Sherri Kramer and later divorced her. So, who was Kramer? And how many children did they have together?
Bob Saget met his first wife, Sherri Kramer, before he became famous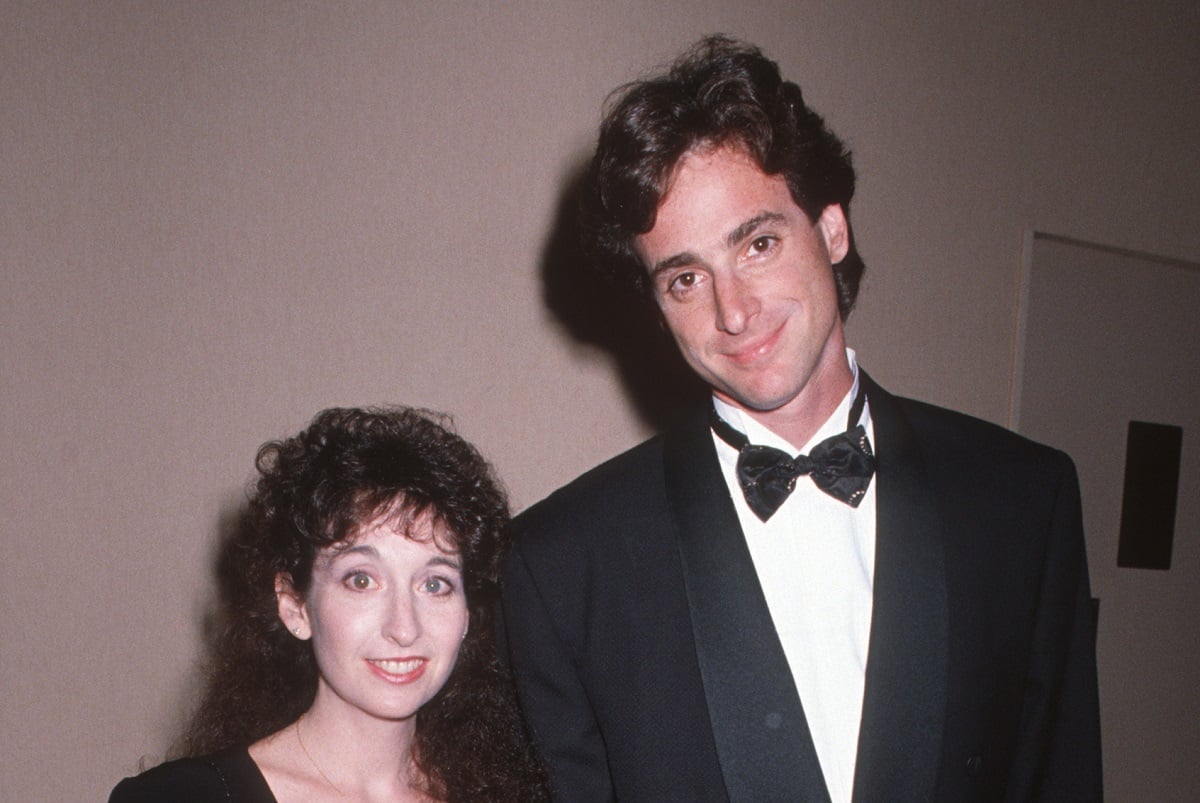 Prior to Kelly Rizzo, Bob Saget married Sherri Kramer — with whom he clearly had quite a height difference. So, who was Bob Saget's ex-wife, and how did they meet?
According to Bustle, Saget discusses Kramer in his book, Dirty Daddy. The book explains Saget and Kramer met when he was just 17 years old, and they attended high school together. They later married in 1982. The publication also notes Kramer is registered as an attorney under the State Bar of California, and CelebSuburb also discusses her career in law.
Not only does Kramer appear to have a law background, but she also dabbled in screenplays and briefly wrote for TV.
Neither Saget nor Kramer have commented too much on their divorce they settled 15 years after they wed. But it seemed painful for Saget, as he noted he had a difficult time moving forward. Thankfully, the Fuller House star told Closer Weekly that the kids he had with Kramer love Rizzo.
"My daughters love her!" Saget said. "She's a remarkable person, and she's really talented."
How many kids did he have with Sherri Kramer?
Bob Saget's wife and kids get along quite well. How many kids does he have? Saget and Sherri Kramer had three daughters together — one of whom used to have sleepovers with Jodie Sweetin during the Full House years. Saget raved about his now-adult children to the media.
"They are the light of my life," he told People in 2016. "I am a fortunate man in that all three of my daughters are exceptional. [They are] very high beings, very smart people, very wonderful and very brilliant, very beautiful."
According to Closer Weekly, his oldest daughter, Aubrey Saget, was born on Feb. 15, 1987. His second daughter, Lara Saget, was born on Oct. 16, 1989. And his third daughter, Jennifer, was born on Nov. 18, 1992.
Aubrey paints for a living and co-founded Studio200 in New York City, a "traveling art exhibition collective founded in 2013" that hosts "exhibitions, interdisciplinary workshops, performances and [a] new residency program." Lara also works in the art world and helped co-found Studio200. Not much is known about Jennifer Saget, as she's kept out of the spotlight through the years, but she did attend premieres with her father in the past.
Saget married Kelly Rizzo after his divorce
Bob Saget's Full House career earned him quite a following, and fans mourned his death on Jan. 9, 2022. According to The Hollywood Reporter, Saget was pronounced dead at the scene when he was found at the Ritz-Carlton Orlando, Grande Lake hotel. He died at 65 years old, and Saget's cause of death was blunt head trauma.
Saget's wife, Kelly Rizzo, survives him. They tied the knot in 2018 after they first met in 2015. According to Rizzo, Saget slid into her DMs and offered to take her on a date. She was hesitant at first, but she took the plunge — and she fell for him. Kelly Rizzo is also 23 years younger than Bob Saget — quite an age gap to get used to.
Saget noted he didn't believe he'd marry again after his first divorce. But after meeting Rizzo, he knew he wanted to make it work.

"I didn't think I'd have a relationship again," he told Closer Weekly. "I was kind of in that, 'just work, make people happy and take care of your kids until they're 90,' mindset."
Check out Showbiz Cheat Sheet on Facebook!