Bobby Flay on 'the Key' to Awesome German Potato Salad
Try Food Network star Bobby Flay's German Potato Salad and find out why many reviewers say it'll become your go-to spuds salad.
Complete your next picnic or barbecue gathering with Food Network star Bobby Flay's German Potato Salad recipe. With bacon, a killer vinaigrette dressing, onions, and of course, potatoes, the chef's salad is sure to be a hit.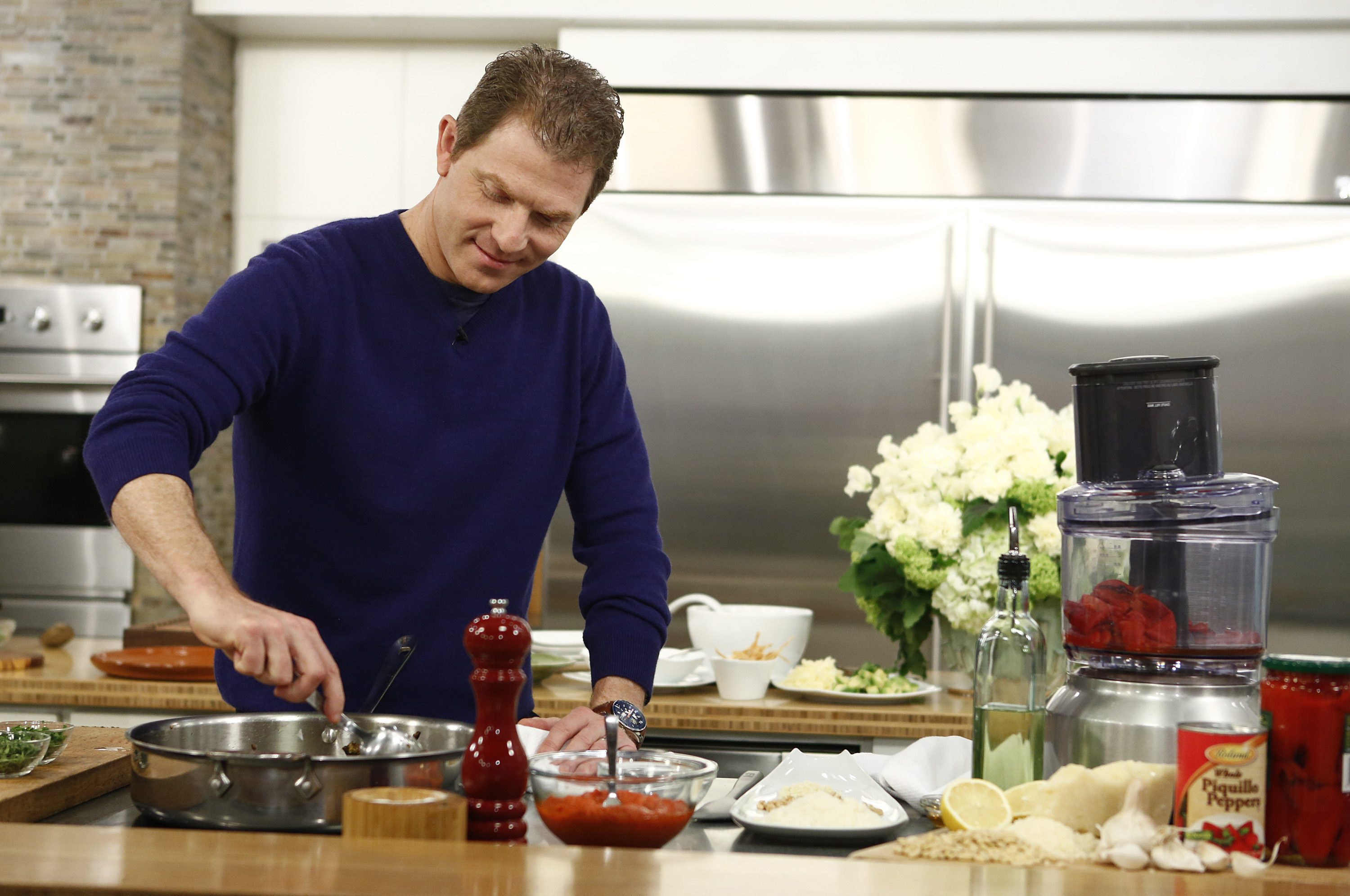 Flay uses three kinds of onions in his German potato salad
To make the Beat Bobby Flay star's potato salad, you'll need new potatoes, one yellow onion, sliced bacon, a red onion, cider vinegar, Dijon mustard, olive oil, thinly sliced green onions, and chopped fresh parsley.
"This is not a mayonnaise-based potato salad," Flay says in the Food Network video, below, for this recipe. "This is more like a vinegar-based potato salad."
Emphasizing the use of bacon in German-style potato salad, Flay noted, "I mean, really, how many better things in the world are there than bacon? When you put bacon in something, it tastes good. People love bacon, I do for sure."
Bobby Flay shares his secret to perfect potato salad
The chef boils the new potatoes and yellow onions together in the same pot in salted water, chopping both up into big chunks.
He chops up thick-cut bacon also into large pieces ("Get that nice smoky slab bacon") and cooks it in a skillet "slowly, so all the fat renders and it gets nice and crispy."
While the potatoes continue cooking, Flay spoons out the crispy bacon chunks, leaving behind its delicious grease for the red onions, which will cook in the bacon fat.
The potatoes are done, the chef says, when a "knife goes in without any resistance." He drains the hot water from the onions and potatoes and shares an important "key" to making this side dish perfectly.
"Whenever you make potato salad," he reveals, "any kind of potato salad, you want to cut up the potatoes, and you want to dress them while they're still warm. Why? Because the starch is going to be sort of open, the pores are going to be open, it's going to be a lot easier for the dressing to become part of the potatoes."
Cold cooked potatoes, he adds, "will actually repel the dressing."
He places the chopped, warm potatoes in a bowl and prepares the dressing by adding vinegar to the bacon-grease-sauteed-red onions and pouring that into the potato, onion, and bacon mixture. Green onions are added, followed by the mustard, olive oil and, of course, salt and pepper.
Get the complete recipe, video, and reviews on Food Network's site.
Many reviewers praised Flay's spin on German Potato Salad
With its generous use of bacon, onion, and its flavorful bacon-y vinaigrette, there's a lot to like about Bobby Flay's potato salad, as many Food Network reviewers noted in five-star reviews.
One home cook reported becoming a lover of potato salad lover thanks to this recipe: "I don't even like potato salad but when I make this, it is all I eat. The flavors are perfectly balanced. It isn't too hard to make and did I mention it tastes awesome?"
Another person added, "I was searching for a different kind of german potato salad recipe and this is the BEST one ever! I made this for a Father's Day BBQ and it was devoured."