Bobby Flay Reportedly Wanted a Guy Fieri-Sized Deal 'in the Ballpark of $100 Million' From Food Network
While it's been reported recently that celebrity chef Bobby Flay will be exiting from Food Network, it wasn't immediately clear why the long-time member of the network's family of talent was calling it a day. Now, the word is that Flay may have requested a higher paycheck that would have compensated him on scale with his Food Network colleague Guy Fieri.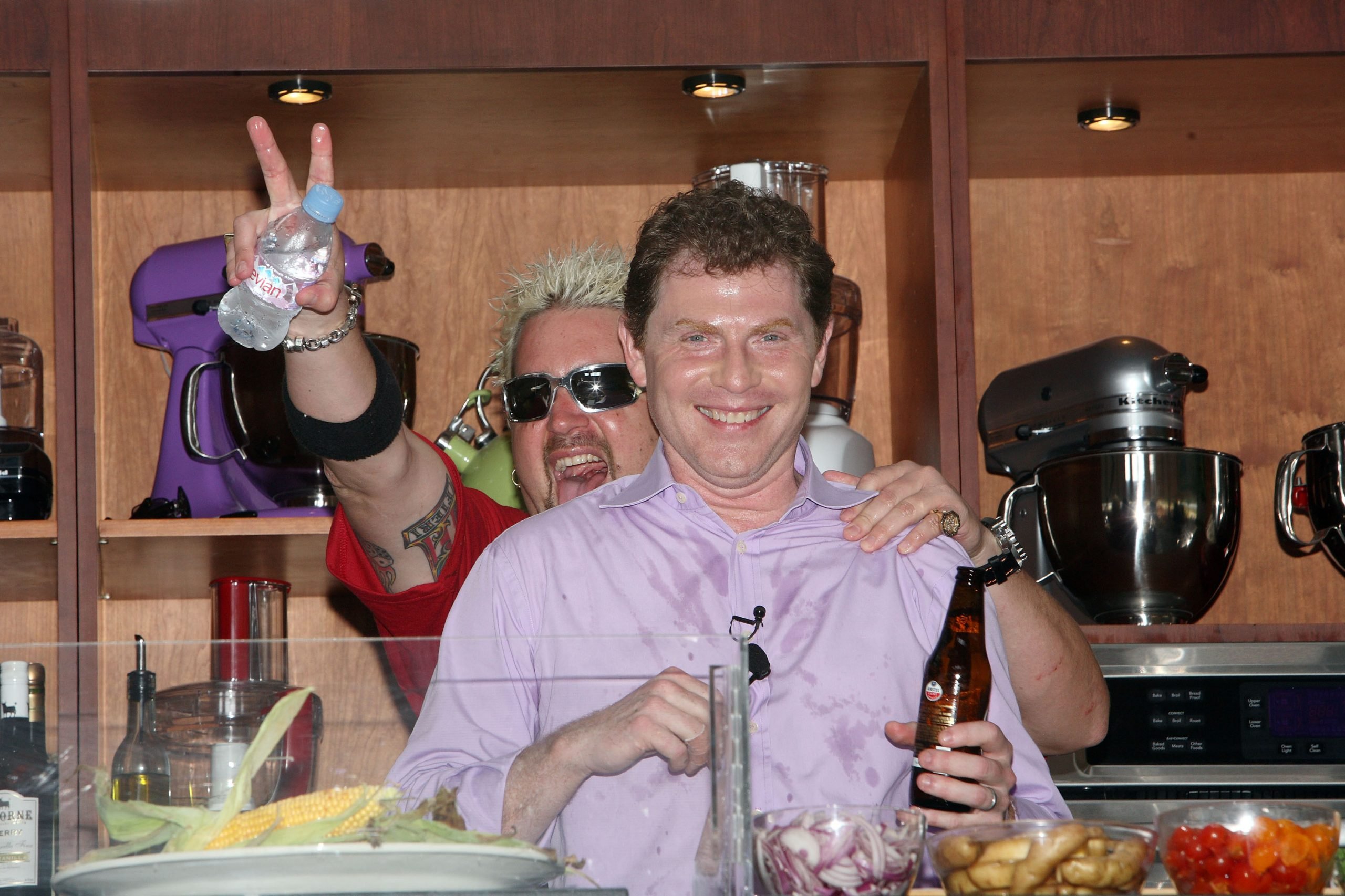 Flay is reportedly leaving Food Network
It was reported by Variety recently that Flay, who has been with Food Network since its debut in the mid-1990s, would be leaving the culinary channel but remain until end of 2021.
The chef, born and bred in New York City, renewed his contract with Food Network in 2018. At that time, Flay said of the deal: "I am thrilled to extend my partnership with Food Network and look forward to working under the new Discovery umbrella of networks. In my conversations with [CEO] David Zaslav, he's expressed a desire to bring the content I produce with my Rock Shrimp Productions team to an even more global audience, and I am excited that we get to continue to bring our viewers some of their current favorites like Beat Bobby Flay as well as some new concepts we have been cooking up."
As of last week, however, neither Flay nor Discovery had made any official statements regarding the veteran chef's current status at the network.
The 'Beat Bobby Flay' star is said to have asked for a paycheck similar to Guy Fieri's
According to People, Flay had been in talks with Food Network and its parent company Discovery, to renew his contract which expires at end of 2021. Once the company objected to his requested amount of money, it appears the time for talking was over.
"Bobby wanted a contract in the ballpark of $100 million," a source allegedly "close to the celebrity chef's team" revealed to the outlet, adding that it appeared that Flay had hoped to land a deal similar to Fieri's recent $80 million payday.
"Guy has a three-year deal," another source from the Food Network camp added. "The terms of what Bobby was looking for were gravely different than just cash. The terms were longer, the scope of work was different and thus the dollars were different. It's not just $80 million to $100 million."
The negotiation, the source reassured, "was really much more amicable than you'd think. It was strictly business."
Flay's fans shouldn't despair
It's not an exaggeration to say that Flay is a cornerstone of the cable channel. Throughout the years, he's hosted many popular hits on the network, including Hot Off the Grill with Bobby Flay, Grillin' & Chillin', Food Nation, Boy Meets Grill, BBQ with Bobby Flay, and Bobby and Giada in Italy. Eventually, the network began offering more and more food competition-style programs, and Flay rode the wave with Throwdown! with Bobby Flay, Worst Cooks in America, Bobby's Dinner Battle, and his perpetually-airing ratings darling, Beat Bobby Flay.
With the fan base he's built over the decades, Flay is practically guaranteed to find the deal he's looking for.
Forbes' Chloe Sorvino thinks so, writing recently: "There's still a chance Flay stays at Food Network, where Forbes estimates he has been making seven figures. But he could move to a streaming service where paydays for creators have skyrocketed in recent years."
We'll have to wait and see what Bobby Flay serves up next — and where.
RELATED: How Bobby Flay Reacted When He First Saw Giada De Laurentiis